NEXT STORY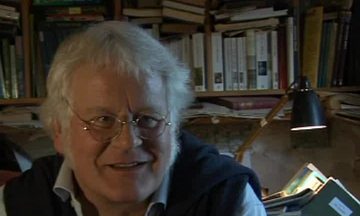 The disappointment of Lake Tele
'In my dreams the Babingas are always tall'
1
...
4
5
6
7
8
9
Anyway, we were deciding, there, to go across... I've always wanted to do this. Go right across a watershed, I mean leaving the dugout canoes, and expect to find another one. But it so happened, and it took about a month, the walk was a long walk, wonderful, right through this very, very wild jungle forest. But the village we were going to was called Berenzoca, which means the elephant hunter's settlement. And they didn't fish. They only had one dugout in the whole place. So it cost me a lot. But look...
[Q] How do you mean, it cost you a lot?
Well, to hire it. I mean, I could see it would. That's Muko, and the minute that the Babinga pygmies are in a village with the Bantu living along the rivers, they immediately become non-people, slaves, really. So we were staying in a hut, and this man, well, Muko is my pygmy. I own him. And so he's in the master's shoes and shirt and unhappy about it. And the weird thing about this picture, if I hadn't got this picture, I would swear to you that it was just a nonsense about Babinga, about pygmies being small.
Because in my dreams, still in my dreams, these guys are immensely tall. I'm the one who's shrunk because they know what they're doing. They've been doing it for 60,000 years and you are just, well, worse than useless. Well, he looked after me. In every way, extraordinary. An amazing hunter. And he would... we would hear him calling up duiker, these little antelope, he would put his fingers up his nose and he would [sound effect]. Terrific. And it worked, it's a mating call.
And now... This is Larry's gone by now. We've really fast-forwarded here. But back to Impfondo and then off to as it was a gateway to Lake Tele as it was an extensible high tail of this expedition. To go and find this Sauropod dinosaur that was meant to be living in this lake. Now, here's the chief of the village of Boa, the guardians of the lake. Now this place was in some ways very unpleasant but reflects the way that the Congo was set up once it became a Marxist-Leninist state. The government had money from Russia then, not now. And they set up a people's vice-president of the village committee. Now these are all labelled men, nobody knows exactly everybody's ancestry forever. Almost always descended from slaves. I mean, slaves taken in battle one group of Bantu fighting another.
British author Redmond O'Hanlon writes about his journeys into some of the wildest places in the world. His travels have taken him into the jungles of the Congo and the Amazon, he has faced some of the toughest tribes alive today, and has sailed in the hurricane season on a trawler in the North Atlantic. In all of this, he explores the extremes of human existence with passion, wit and erudition.
Title: 'In my dreams the Babingas are always tall'
Listeners: Christopher Sykes
Christopher Sykes is a London-based television producer and director who has made a number of documentary films for BBC TV, Channel 4 and PBS.
Tags: Impfondo, Lake Tele, Muko
Duration: 3 minutes, 30 seconds
Date story recorded: July - September 2008
Date story went live: 01 November 2017