NEXT STORY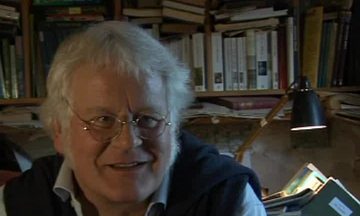 Marcellin's need for a woman
The disappointment of Lake Tele
1
...
4
5
6
7
8
9
So he gave us his blessing, and what was it? Five days, I think, the walk through swampland. But then, this. Wonderful, sudden, extraordinary feeling. I think because, for months, I had no rest for the eyes, no wide, wide spaces. Marvellous, suddenly coming across this. And almost a perfect oval. And only what? Eight miles across or so, but magical. And impossible to tell distances. And indeed, river cormorants flying past, look like pterodactyls. And there's a huge bat, Hypsignathus monstrosus, I think. Anyhow, big snooter and an enormous wingspan, and you hear [sound effect] and you think if you're going to have a monster surviving from the wipe-out of 67 million years ago, this would be the place. But there were bad things about it, like Doubla. I'll show you, introduce you in a moment. But when his spear went into the lake, he's very, very strong, so set go... it went... it was eight feet long, and give it a foot into the mud... well, it was obvious that this lake, you know, it's four-feet deep, so probably very flat dinosaur, you'd think. And... So that was a bit of a disappointment. I was so proud of this picture. And then my wife, Belinda said, 'Yes, well it's fine, but it could be in Switzerland', she said to me.
Now, this is the chief's favourite, Vicky, and he loved flowers. But there was always screams coming from his house in the evening. And he said to me, 'Well, Redmond, it's because I have a very young wife and she needs correction.' And one day, well, I was absolutely lost in the forest and I was very pleased that in the evenings he... she'd scream, and some real volume, because then I realised which direction the village was, and I could get back there. And I was saying to myself, 'Please, please keep beating her.'
So... and ah, well. Yes, I'll tell you about Lake Tele after this and show you some filthy objects, but this little guy I fell in love with, a baby gorilla, and he'd seen his mother speared in front of him and cut up into steaks. And I got him, refused to pay anything for him, I just... I do that. And I had diarrhoea and he had diarrhoea and we slept wrapped up together in a tarpaulin, and he was the kindest person I met in the Congo. He was consistently lovely to me at all times. And once I'd worked out that, of course, he'd be hanging around his mother when he wanted to defecate, so he'd make these little squeaks and I'd get down on all fours, and then there was no problem. Well, just on the floor of the hut, but not on me.
And now look. You see how small he is? But even at that... oh, this is the schoolmaster's hut, and they'd actually got some bricks, and they'd... that's got mango and the rest of our powdered milk and pineapple in it. And when he'd... nothing I could do. He thought it was really funny. There would be some left in the bottom, and he'd grab it, and his legs were really powerful, and then he'd face that way as if he was going to... and then bop, drop it all over me, and then go [panting], which is... that's the gorilla laugh. But if you jiggled him up and down and kissed him right on top there, he smelled of fresh leaves, just on the top. And then I got him out, eventually abandoned everything, really, got him out to Aspinall's orphanage in Brazzaville. And I've had a wash and this is the reunion. And I sent him postcards and nappies. And he's wearing a nappy there. You can't see it, but that was a great improvement. And the trouble is, they... they're like us, but only... perhaps more sensitive. He was the first gorilla in there, got all the attention, and then other baby gorillas came in and they were all equally traumatised, and he just couldn't take the social competition. And he died of a burst ulcer, you know, just like us. A duodenal ulcer from anxiety. Yes, pretty sad. But beautiful.
British author Redmond O'Hanlon writes about his journeys into some of the wildest places in the world. His travels have taken him into the jungles of the Congo and the Amazon, he has faced some of the toughest tribes alive today, and has sailed in the hurricane season on a trawler in the North Atlantic. In all of this, he explores the extremes of human existence with passion, wit and erudition.
Title: The disappointment of Lake Tele
Listeners: Christopher Sykes
Christopher Sykes is a London-based television producer and director who has made a number of documentary films for BBC TV, Channel 4 and PBS.
Tags: Lake Tele, Congo, Brazzaville, Brazzaville gorilla orphanage, John Aspinall Foundation
Duration: 5 minutes, 44 seconds
Date story recorded: July - September 2008
Date story went live: 11 August 2009