NEXT STORY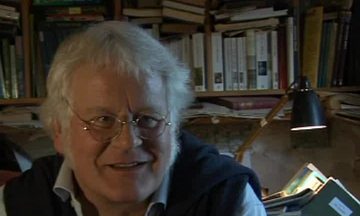 Childhood books in the fetish room
1
...
5
6
7
8
9
I told you I'd show you some horrible objects. Well, this really is horrible. Doku would have one of these. And it's why you need a fetish, a powerful fetish. Your fetish will protect you. It's for your own protection. Against what? Well, against this kind of thing. Now you can see it's really functional and powerful, and especially when you see, look, here, the wood has been scraped. A lot of the wood has been scraped. Do you see? Now that, scrapings and wood shavings from that, Doku would do that and then mix them with herbs and then dry it, so it's a dry powder. And this... he'd have all kinds of dolls, but this one is a hanging doll. This is if you particularly want your enemy to hang himself or herself. And Doku's wife, one of his wives, after this... so Doku's client would come and say to the old, old man with the goitre, 'I want you to do this thing. Now it will cost you a year's salary', as it were. A lot more than getting a fetish, I'm glad to say. So, say, half your earnings from your work in the plantation that entire year. It's all in chickens, so the number of chickens. So it's got to be serious. You've got to really, really hate somebody to do this thing. It costs you.
Now she goes around and says, which is always the message, she will say to the victim, 'Your palm wine has been tampered with', and then she'll drop a message, 'You're going to hang yourself.' And then she'll tell three or four of his friends, everybody in the village will know. And not even your closest friends, the people that you've done tasks for in their plantations. You know, you grew up with them, as it were. There is no school, but you went to school with them. And you've known them all your life. Well, that makes it even worse, because a curse is really infectious. Your friends won't even look at you, walk straight past you on their way to tend the plantains. If you're very lucky, your youngest wife might be brave enough to feed you. No one will look at you, you're totally isolated. And Doku said, you know, 'You die within three to four months.'
Well, when I got back to Oxford, much later, I checked out one of Anthony Storr's friends, said, 'Yes, that's about right.' That is what happens with acute reactive depression, and that kind of thing happens when, I imagine, you know, you go into the office and the boss says – and you love your job – says, 'Now just come in here a minute. Now look, you see, thing is, you stink and we can't bear it. But that's no grounds to make you redundant or sack you, so we've come up with another option, which I'm sure you'll like. Everybody here has contributed, each one of them, a lot of money to send you away so we don't have to see you again in the office. Alright? Oh, and sorry, I almost forgot, but your wife's just phoned, I told her this and she said, yes, she'd like to contribute half of her life's savings, too, so that she need never see you again. Oh, and yes, and she said your children, they're so happy until they hear your key in the door, and then they are miserable beyond belief. They know that Daddy has come home.'
Now that would do it. It has to be work, family. It's got to involve all your life. And it takes four months. Well, they die in four months. Same. No wonder. Sorcery really works. It's social pressure. And this doll I got, I got for two chickens, because somebody'd got a more powerful fetish, been to a more expensive sorcerer, or paid Doku more or something. He won't give a damn when told that he was going to hang himself. 'Up yours', he said, he was fine. But look, it has worked, though. I think there are 12 knots. Each knot is a success. So there are 12 on this. So 12 hangings, probably over a long time, but all the time, and then it didn't work anymore. Nothing wrong with the theory, he's got exhausted. So I get him for two chickens. Ahaha.
British author Redmond O'Hanlon writes about his journeys into some of the wildest places in the world. His travels have taken him into the jungles of the Congo and the Amazon, he has faced some of the toughest tribes alive today, and has sailed in the hurricane season on a trawler in the North Atlantic. In all of this, he explores the extremes of human existence with passion, wit and erudition.
Title: A horrible object
Listeners: Christopher Sykes
Christopher Sykes is a London-based television producer and director who has made a number of documentary films for BBC TV, Channel 4 and PBS.
Tags: Suicide, horrible object, sorcerer, hanging doll, hanging, curse, depression, social pressure
Duration: 5 minutes, 55 seconds
Date story recorded: July - September 2008
Date story went live: 11 August 2009