NEXT STORY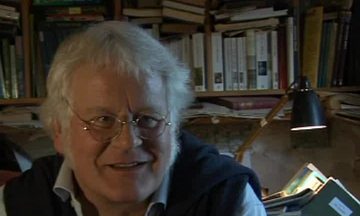 The horror of coming ashore
The awfulness of life aboard the trawler
1
...
5
6
7
8
9
Even as the hurricane was dying away, and I'm allowed to call it a hurricane. It's a baby hurricane, which I find offensive, but it was a force 12, so that's the smallest hurricane you can get. But that's very nasty and, to me, overwhelming. Quite appalling.
You see, the ship would be pitching and rolling and yawing with such power that I would be lifted off my bunk and carried gently, yes, gently, right across above Luke in the next-door bunk.
And then into the steel plates. Then I'd hope nobody had seen it and I'd crawl back. And the same thing would happen. The violence of it. Now I didn't know that actually you sleep by tying your belt around you to the bunk, but I learned. But then that's not really interesting, because the hurricanes are, you know, a one or two or three-off event that happens in January and February in those seas. But the normal process of fishing all year round that these guys undergo, and one has to remember the better a skipper is, the more he can feel his way toward fish, the worse for you, the crew, because the hauls will come in as fast as they can. So the minute you've gutted, on this rotating fish table, to which I had to roped to a stanchion, in order to... The minute that's over, and that in itself is unbelievably gruelling. You're desperate not to put the sharpest little knife you have ever held in your life through a finger. And you gut tons and tons of fish. And then you may, if you're lucky, have an hour after that haul. But in our case, Jason was so good, you see, that the net's gone out while you're... of course, while you're gutting.
And when the nets about to come in [siren] and if you just, just got into bed and you're in your sleeping bag and you've just moved your ankles apart, and everything aches, off it goes. You have to get up. And there are times when we only had one hour's sleep in 36. Normally you can expect to have three hours in 24, so those hours won't ever come as three hours. There's never time enough for a 90-minute sleep cycle, a full cycle, which the brain demands.
And so strange things happen. You are sleep-deprived for two or three weeks. I mean, exactly like torture, keeping soldiers awake. And the brain does strange things. You're absolutely convinced, even if you've had half an hour of sleep that then it's a new day. So you've no sense of time. I mean, I thought the trip was about six months, and to begin with, the brain, I think, says to itself, look, I can't... you're not letting me sleep, so I'm going to try and order myself by talking. Everybody talks in the galley, anyway. All kinds of things that they would never, ever normally talk about at all. Anybody from Shetland or Orkney, especially Shetland, I mean if they put three sentences together and especially if one of them has anything whatever to do with the emotional life, and you say this in the pub, world will get around. You are perfectly obviously a fairy. You're homosexual. He said three sentences. Total silence, ashore.
On the Norlantean, you can't stop. Great, wonderful for a writer, except that of course I couldn't stop, either. Describing their inner lives, their trouble with their girlfriends, or in Brian's case, how much he loved his woman and how it must be terrible, real pain for him, that every time he came back home: 'I say to her, I just love you. I couldn't stop myself telling her I love her. It's weak. Weakness. I'm going to drive her away.' And then he wanted me, because I was... came from the same place that the dictionary he had. 'And it's a disgusting word, the most disgusting word in the world, it's called uxorious. It's somebody loves his wife. That's me. '
And I had to... but I don't think any woman has ever been put off by a man telling her how much he loves her. And I said, 'Well, then what happens?' And he said, she says, 'Come in here, you big softie, get in off, get into the house. And I cry and I cry. I never cry. You go to bed for a day and a night and a night and a day, and then, you big softie, then we'll go shopping.' No, I got that wrong, it was: 'and then we'll have sex, and then we'll go shopping.'
British author Redmond O'Hanlon writes about his journeys into some of the wildest places in the world. His travels have taken him into the jungles of the Congo and the Amazon, he has faced some of the toughest tribes alive today, and has sailed in the hurricane season on a trawler in the North Atlantic. In all of this, he explores the extremes of human existence with passion, wit and erudition.
Title: The awfulness of life aboard the trawler
Listeners: Christopher Sykes
Christopher Sykes is a London-based television producer and director who has made a number of documentary films for BBC TV, Channel 4 and PBS.
Tags: Norlantean, Shetland and Orkney
Duration: 6 minutes, 42 seconds
Date story recorded: July - September 2008
Date story went live: 11 August 2009