NEXT STORY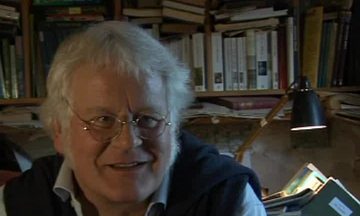 The aftermath of the trawler
Reflections on life at sea
1
...
5
6
7
8
9
I can't imagine anything tougher. There's a major in the SAS said, you know, those guys, no one can handle that. No wonder they all end up in prison or... you can't. The fittest, toughest, youngest SAS troop couldn't do with one hour's sleep in 36, going on for two weeks. It's insane. And of course, not only is there not a union, it's a cooperative, so everybody is keeping an eye on everybody else to see how hard they're working. Sleep is a sort of dirty word. It's terrible. And it's very, very cold. And you need thighs not like mine. You need thighs of another order altogether, like Tyrannosaurus Rex, is what you really need.
[Q] To stand up?
Yes, to stand up on the deck at all. And the scuppers. They're very generous scuppers. You know, they take six foot. An old fat man lying flat, boom, gone. No problem. You've got to hang onto things. But they have these massive thighs. And of course, they don't need a gym, their thighs are growing even as they stand there. And they... you see, they buy their jeans many, many sizes too tight, and the waist, flat muscly stomach, but the belts are pulled right in, so it looks ridiculous, all puckered up. But that's the only way, you know, you can get their thighs into those things.
We had a party here for Penguin, to launch Trawler, and Jason came. The skipper came. Robbie came, too. And Jason, I can see him now, standing there. And I was passing with a bottle. Couldn't get anywhere near him. Just surrounded by all these models, beautiful women is what I mean, but publicity girls from the publisher, and editors and... and they should have been ashamed of themselves, all these young girls, just eyes for nobody except Jason. And they'd never seen a guy who's a real macho guy. These massive shoulders, enormous biceps. I mean, they get terrific upper chests from pulling on the nets. But of course, the main thing is the thighs. I mean, the muscles. And as I passed, he said, 'Redmond, you bastard, it's all your fault. The wee... they're looking at me thighs', he said.
[Q] Are you glad you did it?
Yes. God yes. Yes, that was wonderful, extraordinary. But I wouldn't go back to sea, I don't think.
Yes, it was wonderful. It was meant to be a book about life in Orkney and Shetland and so on, but this... nothing bad happened to me. Everybody was so kind, it was wonderful. This was the only time that I could tell myself, oh, you're suffering. Not just your opinion, anybody would say you: are in a very, very bad way. It was the nastiest thing that's happened for a very long time. Then I know I can write about it. Not a single landlady in the B&Bs in Shetland or anywhere else, actually, got a Kalashnikov and stuck it in my stomach. There was nothing bad happened, really.
And the wonderful feeling of the great, still a bit unknown, the richness of marine life. The way that it goes back so far into the past, way before life even began on land, and it's still there. And as Luke Buller said to me, I think, actually: if you measure the plankton in terms of vegetable life, from the surface down 50 feet, it works out you've got three times the density of a tropical rainforest in some places of the ocean. So the plant life is just rich beyond belief.
[Q] Do you like the sea?
I don't like the surface of the sea at all. I like the thought of what's under it. No, no, it's always out to get you eventually. They hate the sea, too.
[Q] The trawler men?
Yes. After a bit, there's absolutely no getting away from the fact that this is an entirely inhuman entity, all utterly indifferent. This is something that has its own life and power and rhythm. You know, it doesn't care about you. Or at least, it wouldn't even do that. I mean, you don't feature, at all. But weirdly, you don't feel as lonely as you can do in the middle of a 200-foot-high tropical forest months away from anywhere. That's also humbling, as it were. Or not humbling, that's not right. It's like looking up at the stars at night, lying on your back. You know, you shouldn't do that too often unless you're an astronomer. Just go home and...
British author Redmond O'Hanlon writes about his journeys into some of the wildest places in the world. His travels have taken him into the jungles of the Congo and the Amazon, he has faced some of the toughest tribes alive today, and has sailed in the hurricane season on a trawler in the North Atlantic. In all of this, he explores the extremes of human existence with passion, wit and erudition.
Title: Reflections on life at sea
Listeners: Christopher Sykes
Christopher Sykes is a London-based television producer and director who has made a number of documentary films for BBC TV, Channel 4 and PBS.
Tags: SAS, Penguin Books, Trawler, Shetland
Duration: 6 minutes, 45 seconds
Date story recorded: July - September 2008
Date story went live: 11 August 2009