NEXT STORY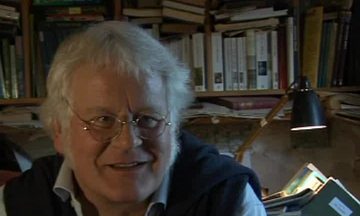 Why writing is tougher than the trawler
The aftermath of the trawler
1
...
5
6
7
8
9
Just the physical things about coming ashore. Luke and I put up in a bed and breakfast, owned by Robbie's auntie. Now our little room was at one end of a small corridor. And the bathroom was at the other end of it. And it was bizarre, because I absolutely had to wait until the doorway of... the door of our room, was up, and then I'd run down the corridor into the bathroom, and then get back from the bathroom, and wait until the corridor... and I'd run down. And I thought this would maybe last just for a day or two. Now maybe it does with young people, but I got... I managed to get Luke back to Aberdeen, which is quite a drive. And that was okay, I suppose because you have somebody with you and you've got to... the brain knows it's got to hang onto itself. So I drop him off, again at about five in the morning. And I set off south. And I realised this is quite dangerous, because the road is going up and down. I get a bit south of Aberdeen, and this is a disgusting story. It's never happened to me before or since, but everything, every bodily function, has collapsed.
So I think I'm just breaking wind, and I'm in my little Clio, a little tiny car, and I'm covered in diarrhoea. So I pull into a lay-by, and in the back of the car, I have, well, the towels. There are towels and that's all. And a couple of bottles of water. So I drench myself in all that and change into some other combat gear, and then I remember that Robbie's auntie said that we stank of fish. 'You two, you stink of fish. I'd kick you out if you weren't friends of my nephew Robbie.'
So I think, 'Well, I hope the fish stink is going to overpower anything left from all of this.' I mean, your sense of smell's gone, everything's gone. So then I get to the... turn into the very first inn I see and park. I can't drive another yard. And I walk into the place and I say, 'Have you got a room for the night?' And this girl behind the bar. And she says, 'Oh no, it's not the season, it's not the season at all. No, we only do it in the summer.' And I say, 'Look here, you listen to me. You call yourself an inn. That means you have rooms. You have a room for the night. I'm going to sleep right here.' And she says, 'Manager!' And down the stairs comes, bom, bom, bom. And I say – this huge guy – I say, 'Look here, I'm just off the trawler, and I'm fucking well going to sleep here, I'm sorry to say. You call yourself an inn, that's that. I can't drive another... and I'm not staying in the car.' And then clever enough not to say why not, don't want to be in the car anymore. And he says, 'You're off a trawler?' And his whole face lights up. Turns out he was a cook on an offshore oil platform. You know, wonderful, perfectly flat, not tough at all, cinemas, bedrooms. Nothing moves. And he said, whenever he felt that he'd got a rotten life in the heat in the kitchen, he'd 'go up to the platform, take my binoculars, I'd look around for a trawler. And I'd see these poor buggers that are there one minute and gone the next. And I'd think, they're all going to fucking drown, and then I'd go back to the cooking, you know.' And he said, he wanted to shake my hand, and I thought... but anyway, then he opened up a room right next to his, and he said, 'I'm afraid it's pay night, there'll be terrible, terrible noise.' And I said, 'Look, I won't be hearing anything.' And I got in and I was frozen, freezing. So I took... I'm afraid I took the curtains down. I put every... and the carpet. I put everything on top of me. And I didn't wake up until three in the next afternoon. And he was so full of admiration for trawler men. I was afraid he was going to check my hands out. And he gave me, personally cooked me this huge, huge breakfast in his place. Not quite like a trawler man's breakfast, because you get two meals a day, if you're lucky, on the trawler, but the main meal is the breakfast, as it were. You know, who knows what time it is? But it's a deep-fried pizza for two and then, well, half a pig, bacon on it. And then fried taties and then, on top of that, four friend eggs. And then... what? Something else went on top of that, but if you really wanted it, you could also have a deep-fried Mars Bar right on top of this pyramid. So he didn't quite manage that.
Yes, that's right, and then people were looking at trawler men because they have really high rate – it's not funny – really high rate of abdominal cancer. Thought it might be being in the ultraviolet all the time and whatever else could happen at sea. And then somebody said, 'Well, let's check out their diet.' And once they saw the breakfast... Anyway, and then the terrible thing is, you know, it's not that far, but it took me ten days to get back to Oxford.
British author Redmond O'Hanlon writes about his journeys into some of the wildest places in the world. His travels have taken him into the jungles of the Congo and the Amazon, he has faced some of the toughest tribes alive today, and has sailed in the hurricane season on a trawler in the North Atlantic. In all of this, he explores the extremes of human existence with passion, wit and erudition.
Title: The aftermath of the trawler
Listeners: Christopher Sykes
Christopher Sykes is a London-based television producer and director who has made a number of documentary films for BBC TV, Channel 4 and PBS.
Tags: Trawler, Aberdeen, Oxford
Duration: 7 minutes, 11 seconds
Date story recorded: July - September 2008
Date story went live: 11 August 2009