NEXT STORY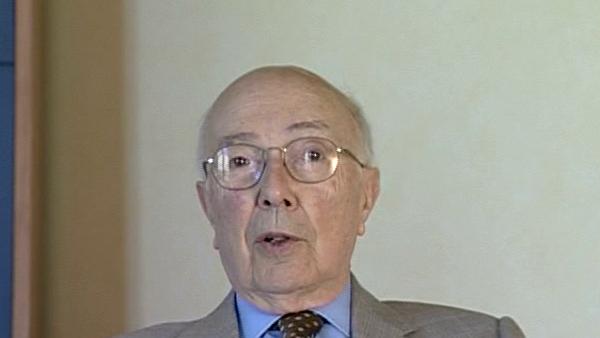 Discovery of photoreactivation
Bureaucracy and citizenship in America
Renato Dulbecco
Scientist
1
2
3
4
5
...
7
When I was talking about the landing in New York, I forgot something very important, because I referred to the fact that the immigration officer came over to me on the pier and changed the letters on my passport, but what I didn't explain was the significance of this. In fact, when this happened, I didn't understand why and I only understood this afterwards when I arrived at Bloomington and asked people. The significance was very important because when he left me the first time, he thought I was a student and he gave me a student visa, which means that after two years I would have had to leave the country; whereas, instead, having thought about it he realised that I wasn't a student, but I was fundamentally a teacher and so he changed my visa to one that... There are three main categories: one is for teachers, one is for maids and the other- is for priests and clergymen, so these are the three categories. And this was wonderful for me because with this visa I was able to stay in the USA indefinitely.
[Q] This was important.
Very important. While, with the other visa I would have had to go and I know the mishaps that have occurred, for example, a German doctor who worked with me for many years, Margherita Vogt, well she had this student visa so when her two years were up she had to... She wanted to stay but she had to leave and then apply for another visa. She went to Mexico, then at a certain point there was all this trouble between the two countries. Something wasn't working well and she found herself in the middle of the two customs offices without the right papers, on no man's land, you see? Then in the end, finally, she was cleared. Therefore that...
[Q] This is why I meant. And this permanent visa afterwards allowed you to adopt citizenship which you took on later?
Yes. As soon as I arrived, I could have requested citizenship. I didn't do it straightaway, I did it a little time afterwards. I applied for it when I saw that things were going so well, so in essence, that was the country in which I wanted to continue to work, the working conditions of which I was enjoying and also I liked people's attitudes, as I said before, people were so nice and helpful.
Quando parlavo dello sbarco a New York, ho dimenticato una cosa molto importante, perché ho riferito del fatto che l'ufficiale di servizio mi è venuto a cercare sulla banchina e ha cambiato le lettere del passaporto, però non ho spiegato che significato aveva quello. In fondo, quando questo è successo, io non capivo perché e questo l'ho capito dopo, quando sono arrivato a Bloomington e ho chiesto alle persone, insomma. Il significato è molto importante perché, quando lui mi aveva lasciato la prima volta, mi aveva considerato uno studente e mi aveva dato un visto di entrata come studente, il che significava che, dopo due anni, avrei dovuto lasciare il paese; mentre, invece, pensandoci sopra, si vede che ha capito che non ero uno studente, ma ero in fondo un insegnante e allora mi ha cambiato il visto di entrata a un visto che... Ha tre classi veramente notevoli: uno sono insegnanti, un altro sono donne di servizio e l'altro... sono preti o persone del clero, insomma queste tre categorie, così. E per me questo è stato magnifico, perché con quello io potevo rimanere negli Stati Uniti indefinitamente.
[Q] Questo era già importante.
Molto importante. Mentre, invece, con l'altro, avrei dovuto andare e io so le peripezie che ha passato, per esempio, una dottoressa tedesca che ha lavorato con me per molti anni, Margherita Vogt, e lei aveva questo visto da studente perciò passati i due anni ha dovuto... Lei voleva rimanere ma doveva andare fuori e farsi ridare un altro visto. Andava in Messico, poi a un certo punto è successo qualche pasticcio al limite dei due paesi. Qualcosa non ha funzionato bene e si è trovata in mezzo tra le due dogane senza i documenti adatti, nella terra di nessuno, capisci? Poi alla fine insomma, l'hanno svincolata. Perciò quello...
[Q] E per questo che lo volevo dire... E questo visto a tempo indeterminato, indefinito, ti ha consentito dopo di prendere la cittadinanza... che l'hai presa più tardi?
Quello sì. Dal momento che sono arrivato, potevo fare la domanda per la cittadinanza. Non l'ho fatta immediatamente, l'ho fatta poco tempo dopo l'ho fatta quando avevo visto che le cose andavano così bene, che in fondo, quello era il paese in cui volevo continuare a lavorare, che mi piaceva per condizioni di lavoro e anche mi piaceva per l'attitudine della gente, come avevo detto prima, che era così simpatica e che aiutava.
The Italian biologist Renato Dulbecco (1914-2012) had early success isolating a mutant of the polio virus which was used to create a life-saving vaccine. Later in his career, he initiated the Human Genome Project and was jointly awarded the Nobel Prize in Physiology or Medicine in 1975 for furthering our understanding of cancer caused by viruses.
Title: Bureaucracy and citizenship in America
Listeners: Paola De Paoli Marchetti
Paola De Paoli Marchetti is a science journalist who graduated with an honours degree in foreign languages and literature from the University Ca'Foscari, Venice. She has been a science journalist since the 1960s and has been on the staff of the newspaper Il Sole 24 Ore since 1970. She was elected president of UGIS (Italian Association of Science Journalists) in 1984. She has been a Member of the Board of EUSJA (European Union of Science Journalists' Associations, Strasbourg), and was its president in 1987-1988 and 1998-2000. In May 2000 she was unanimously elected president emeritus. She was a member of the National Council of Italian Journalists (1992-1998). From 2002 to 2004 she was member of the working group for scientific communication of the National Committee for Biotechnology. She has also been a consultant at the Italian Ministry of Research and Technology and editor-in-chief of the publication MRST, policy of science and technology. She has co-authored many publications in the field of scientific information, including Le biotecnologie in Italia, Le piste della ricerca and Luna vent'anni dopo.
Tags: USA, Margherita Vogt
Duration: 3 minutes, 21 seconds
Date story recorded: May 2005
Date story went live: 24 January 2008