NEXT STORY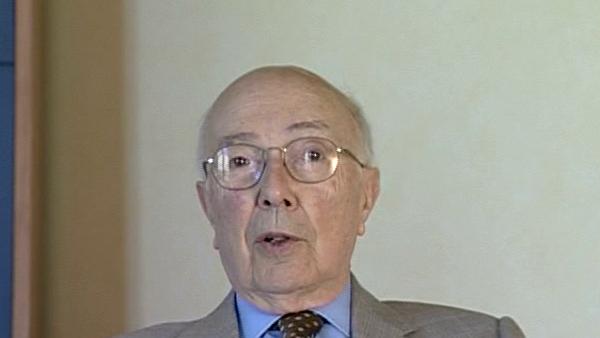 Work on 'temperature mutants' leads to a discovery
Renato Dulbecco
Scientist
1
2
3
4
5
...
7
So then we reached this point of cellular integration... but this still didn't explain the functioning; for example, it didn't explain why in certain cells the DNA did not integrate, thus lyse the cell and the DNA multiplied, while, instead, in others the DNA did not multiply, but inserted into and transformed the cell. This clearly must be some interaction between the genes of the cell and the genes of the virus. And this in fact we have shown... for example, the type of experiment that we carried out is this: starting with the fact that the mouse cells were lysed, while the hamster cells were not lysed. The experiment that we carried out is this: we took a transformed hamster cell, therefore the DNA is there, we know this, combined it with a mouse cell to form this hybrid. What happens in this hybrid? Because now there we have the mouse genes and in fact this hybrid dies...
[Q] So it virtually rejects it?
No, the virus multiplies, you see? Therefore it's a question of the virus... what happens, that is... if the virus multiplies in the cell or it doesn't depend on the genes of the cell, therefore if there are certain genes of the cell, the virus multiplies, if there are not, the virus... or vice versa, in fact, it is a relationship with the genes of the cell, therefore this shows the influence of the cellular genes on the virus.
Then another important thing, was to say... there have to be, if this is what is happening, that there are genes for virus growth and another for transformation, we have to identify the genes that are different. And how do we do this? How to do this emerged clearly. If the genes are active in a cell, these genes give rise to what we call the messenger RNA, as we know, the RNA is a molecule that is very similar to DNA, but only with a small difference, and it is easy to obtain the RNA of the cells and see what type of RNA there is making them hybridise, as I said before, with different pieces of DNA. And doing this, we saw that in the transformed cells, there are certain messengers, in the cells that lyse there are other messengers. Therefore, there are two groups of genes in the DNA, of which one is dedicated to the multiplication of the virus and the other to the transformation. Thus, for this reason...
[Q] This is a large step forward.
Yes, that's for certain.
Bene allora dunque siamo arrivati a questo punto dell'integrazione del DNA cellulare... ma questo ancora non spiegava il funzionamento; per esempio, non spiegava perché, in certe cellule, il DNA non si integrava, anzi causa la lisi della cellula e il DNA si moltiplica, mentre, invece, in altre il DNA non si moltiplica, ma si inserisce e trasforma la cellula. Questo evidentemente doveva esserci qualche interazione tra i geni della cellula e i geni del virus. E questo infatti abbiamo dimostrato... per esempio, il tipo di esperimento che abbiamo fatto è questo: partendo dal fatto che le cellule di topo venivano lisate, mentre invece le cellule di 'hamster' non erano lisate. L'esperimento che abbiamo fatto è questo: prendere una cellula di 'hamster' trasformata, perciò il DNA è lì, lo sappiamo questo, fonderla a una cellula di topo e forma questo ibrido. Cosa succede in questo ibrido? Perché ora lì abbiamo i geni del topo e difatti questo ibrido si muore...
[Q] Cioè, lo rifiuta praticamente?
No, il virus si moltiplica, capisci? Perciò è questione del virus... quello che succede, cioè... se il virus si moltiplica nella cellula o no dipende dai geni della cellula, perciò se ci sono certi geni della cellula, il virus si moltiplica, se non ci sono, il virus... o viceversa, insomma, è una relazione coi geni della cellula, perciò questo dimostra l'influenza dei geni cellulari sul virus.
Poi, un'altra cosa importante, era quella di dire... ci devono essere, se le cose son così, che ci sono dei geni per la crescita del virus e un'altro per la trasformazione, dobbiamo identificare questi geni che son diversi. E come fare quello? Come farlo è venuto fuori chiaramente, cioè, se i geni sono attivi in una cellula, questi geni danno luogo a quello che si chiama l'RNA messaggero e, come sappiamo, l'RNA è una molecola molto simile al DNA, ma solo con una piccola differenza, ed è facile ottenere l'RNA delle cellule e vedere quanti tipi di DNA ci sono facendolo ibridare, come dicevo prima, con pezzi diversi del DNA. E facendo questo, si è visto che nelle cellule trasformate, ci sono certi messaggeri, nelle cellule che si lisano ci sono altri messaggeri. Dunque, perciò, ci sono due gruppi di geni nel DNA, di cui uno è dedicato alla moltiplicazione del virus e l'altro alla trasformazione. Dunque, perciò...
[Q] Questo è un grande avanzamento.
Sì, sì questo è certo.
The Italian biologist Renato Dulbecco (1914-2012) had early success isolating a mutant of the polio virus which was used to create a life-saving vaccine. Later in his career, he initiated the Human Genome Project and was jointly awarded the Nobel Prize in Physiology or Medicine in 1975 for furthering our understanding of cancer caused by viruses.
Title: Understanding cancer
Listeners: Paola De Paoli Marchetti
Paola De Paoli Marchetti is a science journalist who graduated with an honours degree in foreign languages and literature from the University Ca'Foscari, Venice. She has been a science journalist since the 1960s and has been on the staff of the newspaper Il Sole 24 Ore since 1970. She was elected president of UGIS (Italian Association of Science Journalists) in 1984. She has been a Member of the Board of EUSJA (European Union of Science Journalists' Associations, Strasbourg), and was its president in 1987-1988 and 1998-2000. In May 2000 she was unanimously elected president emeritus. She was a member of the National Council of Italian Journalists (1992-1998). From 2002 to 2004 she was member of the working group for scientific communication of the National Committee for Biotechnology. She has also been a consultant at the Italian Ministry of Research and Technology and editor-in-chief of the publication MRST, policy of science and technology. She has co-authored many publications in the field of scientific information, including Le biotecnologie in Italia, Le piste della ricerca and Luna vent'anni dopo.
Tags: viruses, DNA, RNA, cancer, hamster, hybridisation
Duration: 3 minutes, 28 seconds
Date story recorded: May 2005
Date story went live: 24 January 2008