NEXT STORY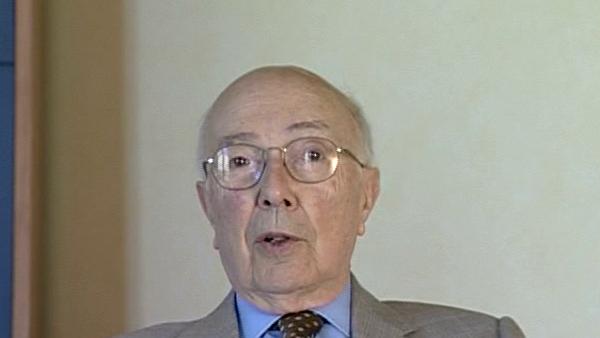 Working with Paul Berg and the birth of genetic engineering
Levi's lesson, Watson's theft
Renato Dulbecco
Scientist
1
2
3
4
5
...
7
[Q] Ma la concomitanza... siccome tu hai detto è, 'per questo che mi hanno dato il Premio Nobel', e per me lo hai detto con grande semplicità questo... ma la concomitanza del Nobel con Temin e con Baltimore.
No, ma queste son cose diverse. Tutti indipendenti ma... questo è perche evidentemente c'era qualche cosa di comune nell'attaccare il problema... cioè nell'attaccarlo, c'era una certa logica, un certo modo di agire, un modo di comportarsi che era simile, insomma. Ed è questo quello che dicevo... che non solo noi che eravamo parte di un gruppo in partenza, ma anche quelli che son venuti fuori dal mio laboratorio, che non erano parte di questo gruppo. Anche quelli avevano ereditato, diciamo così, questa capacità insomma. Questa, insomma, è una piramide che parte da Giuseppe Levi, capisci?
[Q] Eh appunto, sì sì la lezione avevi cominciato dicendo la grande lezione di Levi, proprio.
Come?
[Q] La lezione di Levi, avevi detto.
Sì, senz'altro. E tutti lo riconoscono, sai? Non sono solo io che lo riconosco, la Rita lo riconosce, Salvador Luria lo riconosceva, lui purtroppo non c'è più. Vabbene, perciò... vediamo un poco... dopo di quello... ah, ecco, dopo di quello cosa succede? Questo grande lavoro, questo grande successo che avevamo fatto, che era dovuto, in parte, a un gruppo di collaboratori bravissimi che avevo, non c'è dubbio, questo ha attratto l'attenzione appunto a questi ricercatori e Jim Watson voleva costruire, a Cold Spring Harbor, un gruppo di ricerca, appunto, sopra il virus del cancro, ecc. e quello che ha fatto è stato offrire delle condizioni bellissime a tutti i miei ricercatori, tutti i miei collaboratori. Se li è portati via tutti quanti!
[Q] Tutto depauperato!
Tutto depauperato.
[Q] But the concomitance, as you said, 'this is why they gave me the Nobel Prize', and for me... you said it with great simplicity... but the concomitance of the Nobel with Temin and with Baltimore.
No, but these are different things. All independent but... this is clearly why there was something in common in approaching the problem that is in the approach to it, there was a certain logic, a certain way of acting, a way of behaving that was similar. And this is what I was saying: that it was not only us who were part of the starting group, but also those who came out of my laboratory, who were not part of this group. These people also inherited this capacity. This, in short, is a pyramid that starts with Giuseppe Levi, you see?
[Q] Oh, yes, the lesson you started, Levi's great lesson, in fact.
What's that?
[Q] Levi's lesson, you said.
Yes, without a doubt. And everyone recognises it. It's not only me that recognises it, Rita recognises it, Salvador Luria recognised it, although unfortunately he's no longer around. So let's see a little... after which... oh, here, after this what happened? This great work, this great success that we achieved, which was due in part to a group of excellent collaborators that I had, there's no doubt, this attracted attention to these researchers and Jim Watson wanted to build a research group at Cold Spring Harbour into the cancer virus, etc. and what he did was to offer great conditions to all my researchers, all my colleagues. And so he took all of them away!
[Q] They all deserted you!
They all deserted.
The Italian biologist Renato Dulbecco (1914-2012) had early success isolating a mutant of the polio virus which was used to create a life-saving vaccine. Later in his career, he initiated the Human Genome Project and was jointly awarded the Nobel Prize in Physiology or Medicine in 1975 for furthering our understanding of cancer caused by viruses.
Title: Levi's lesson, Watson's theft
Listeners: Paola De Paoli Marchetti
Paola De Paoli Marchetti is a science journalist who graduated with an honours degree in foreign languages and literature from the University Ca'Foscari, Venice. She has been a science journalist since the 1960s and has been on the staff of the newspaper Il Sole 24 Ore since 1970. She was elected president of UGIS (Italian Association of Science Journalists) in 1984. She has been a Member of the Board of EUSJA (European Union of Science Journalists' Associations, Strasbourg), and was its president in 1987-1988 and 1998-2000. In May 2000 she was unanimously elected president emeritus. She was a member of the National Council of Italian Journalists (1992-1998). From 2002 to 2004 she was member of the working group for scientific communication of the National Committee for Biotechnology. She has also been a consultant at the Italian Ministry of Research and Technology and editor-in-chief of the publication MRST, policy of science and technology. She has co-authored many publications in the field of scientific information, including Le biotecnologie in Italia, Le piste della ricerca and Luna vent'anni dopo.
Tags: Cold Spring Harbor, Howard Temin, David Baltimore, Rita Levi-Montalcini, Salvador Luria, James Watson, Giuseppe Levi
Duration: 2 minutes, 15 seconds
Date story recorded: May 2005
Date story went live: 24 January 2008