NEXT STORY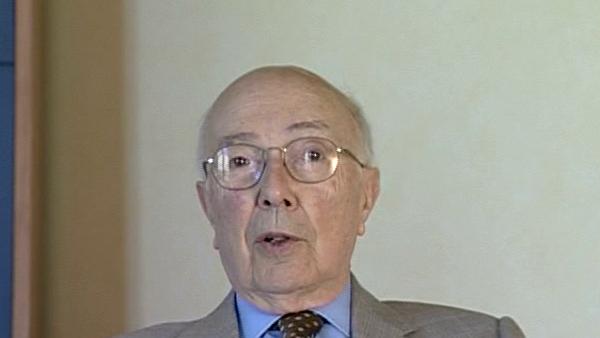 The Nobel Prize changed my life
Renato Dulbecco
Scientist
1
...
3
4
5
6
7
The question is how... let's look at the scientist a little, at what he does and how he meets objectives, etc. Therefore, if I look at myself, and think how did I do all these things, what I see is that, every time that there was something interesting, again, that interested me, I tried to commit myself to it. So that there are all these changes, that are, in essence, a logical sequence of starting ideas that were very simple. And one thing that I would say is very important for a researcher is that he must get to the bottom of his research, try to make as much progress as possible, independent of the value that he thinks it has.
I tell you that at a certain point – I don't recall what year it was: in 1966 or 1965 – when I had already started working on the genes of the cancer virus, I was given an honorary degree from Yale University. Now, an honorary degree from Yale is no mean feat, there are only a few, and most of these honorary degrees are in recognition of people who helped the university directly, therefore this didn't apply to me. But the thing that amazed me most was their motivation because the motivation said that I was a type of modern-day Christopher Columbus, that I arrived from Europe and that I had done... brought such important innovations. Now, I say, I didn't expect this at all, because I didn't think that what I did had was an important thing. But, in fact, things had to be put into perspective at the time, for example, so, probably, in relation to the level of knowledge in the field in which I was working at that time, what I had contributed truly was very important, because it progressed from a stage of relatively little interest to a stage of a lot of movement, you see? Therefore, up to a certain point, now I understand their motivation which, at the time, seemed to me to be unbelievable. Therefore, I believe that this is an important point.
La domanda è come... guardiamo un po' allo scienziato, a quello che fa e come raggiunge gli scopi, ecc. Dunque, se io guardo me stesso, e penso come ho fatto tutte queste cose. Quello che vedo è che, ogni volta che c'era qualche cosa di interessante, di nuovo, che mi interessava, io cercavo di impegnarmi in quello. Per quello che c'è tutte queste variazioni, che sono, in fondo, una sequenza logica delle idee di partenza, che erano molto semplici. E una cosa che direi, che è molto importante per un ricercatore è che deve andare a fondo delle sue ricerche, cercare di fare andare avanti il meglio possibile, indipendentemente dal valore che pensa che abbiano.
Ti dico che- a un certo punto, non so che anno fosse – nel '66, credo, '65, – perciò già quando avevo cominciato a fare quel lavoro sui geni del virus del cancro- mi hanno dato la laurea ad onore alla Yale University. Ora, la laurea d' onore alla Yale non è una cosa semplice, ce n'è ben poche, e la maggior parte di queste lauree d' onore sono in riconoscimento a gente che ha aiutato l'università direttamente, perciò questo io non c'entravo, così. Ma la cosa che mi ha stupito di più poi è stata la giustificazione, perché la giustificazione diceva che io ero una specie di nuovo Cristoforo Colombo, che ero arrivato dall'Europa e che avevo fatto... portato delle novità così importanti. Ora, io dico, questo non me l'aspettavo affatto, perché io non pensavo che quello che avevo fatto aveva era una cosa importante. Ma, infatti, le cose dovevano essere messe in prospettiva al tempo, ad esempio, perciò, probabilmente, in relazione allo stato delle conoscenze nel campo in cui io lavoravo a quel tempo, in fondo quello che avevo contribuito veramente era molto importante, perché muoveva da uno stadio relativamente di poco interesse ad un altro stadio di grande movimento, capisci? Perciò, fino a un certo punto, adesso capisco la loro motivazione che, a quel tempo, mi sembrava impossibile. Dunque, perciò, è un punto che credo sia importante.
The Italian biologist Renato Dulbecco (1914-2012) had early success isolating a mutant of the polio virus which was used to create a life-saving vaccine. Later in his career, he initiated the Human Genome Project and was jointly awarded the Nobel Prize in Physiology or Medicine in 1975 for furthering our understanding of cancer caused by viruses.
Title: Hard-earned success
Listeners: Paola De Paoli Marchetti
Paola De Paoli Marchetti is a science journalist who graduated with an honours degree in foreign languages and literature from the University Ca'Foscari, Venice. She has been a science journalist since the 1960s and has been on the staff of the newspaper Il Sole 24 Ore since 1970. She was elected president of UGIS (Italian Association of Science Journalists) in 1984. She has been a Member of the Board of EUSJA (European Union of Science Journalists' Associations, Strasbourg), and was its president in 1987-1988 and 1998-2000. In May 2000 she was unanimously elected president emeritus. She was a member of the National Council of Italian Journalists (1992-1998). From 2002 to 2004 she was member of the working group for scientific communication of the National Committee for Biotechnology. She has also been a consultant at the Italian Ministry of Research and Technology and editor-in-chief of the publication MRST, policy of science and technology. She has co-authored many publications in the field of scientific information, including Le biotecnologie in Italia, Le piste della ricerca and Luna vent'anni dopo.
Tags: Yale University
Duration: 3 minutes
Date story recorded: May 2005
Date story went live: 24 January 2008