NEXT STORY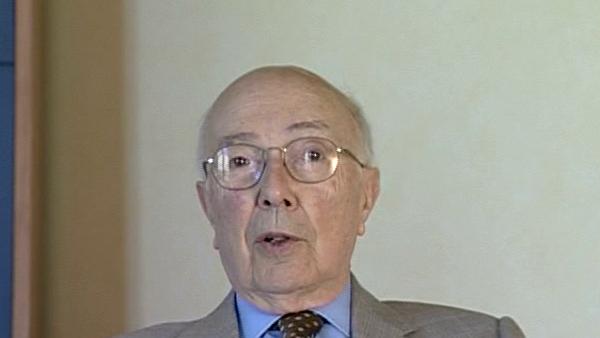 Science and politics
The Nobel Prize changed my life
Renato Dulbecco
Scientist
1
...
3
4
5
6
7
Dopo tutti questi passaggi che ci sono stati nelle tue scoperte, poi si è arrivato al Nobel, ma è stato un altro passaggio in fondo, però hai detto che il Nobel ti ha cambiato la vita. Ma ha cambiato la vita in che senso, appunto? Hai dato di più ancora all'umanità e hai sottratto qualcosa alla tua scienza oppure sei andato di pari passo? No, certo, dal punto di vista della scienza, il Nobel mi ha fatto cambiare, perché, come dicevo ieri, quando ho preso il Nobel, ho pensato che quello che avevo fatto fino a quel momento lì era- avevo lavorato sul cancro- ma era un lavoro, diciamo, molto generale, cancro ai geni, valore dei geni, insomma, senza indirizzarmi a niente di specifico, specialmente senza indirizzarmi agli aspetti della malattia, del cancro come malattia umana. Ed è per questo che ho pensato allora, di mettermi a lavorare sopra il cancro del seno, per le ragioni che ho spiegato ieri e questo, appunto, questo è veramente il risultato del Premio Nobel. Se non avessi avuto il Premio, io non credo che avrei fatto quel passaggio, avrei continuato a lavorare nelle direzioni in cui ero fino allora. Insomma, tutti i passaggi, generalmente, hanno una motivazione, capisci, perché, come spiegavo anche ieri, abbastanza, insomma-
After all the paths you have taken through your discoveries, then came the Nobel Prize, and this was another path. You said that the Nobel changed your life, but in what sense exactly did it change your life? Did it give you more humanity and subtract something from your science or did you continue at the same pace? No, sure, from the science viewpoint, the Nobel changed me, because, as I was saying yesterday, when I received the Nobel prize, I thought that what I had done up to that time was- I had worked on cancer- but it was work that was very general in nature, cancer and genes, value of genes, in short, without concentrating on anything specific, especially without focussing on aspects of the disease, on cancer as a human disease. And this is why I then thought about starting to work on breast cancer, for the reasons that I explained yesterday and this was precisely the outcome of receiving the Nobel Prize. If I hadn't received the Nobel Prize, I don't think I would have taken this path, I would have continued to work in the directions I was focussing on up to then. In short, there is generally a reason for everything, because, as I was also explaining yesterday, anyway-
The Italian biologist Renato Dulbecco (1914-2012) had early success isolating a mutant of the polio virus which was used to create a life-saving vaccine. Later in his career, he initiated the Human Genome Project and was jointly awarded the Nobel Prize in Physiology or Medicine in 1975 for furthering our understanding of cancer caused by viruses.
Title: The Nobel Prize changed my life
Listeners: Paola De Paoli Marchetti
Paola De Paoli Marchetti is a science journalist who graduated with an honours degree in foreign languages and literature from the University Ca'Foscari, Venice. She has been a science journalist since the 1960s and has been on the staff of the newspaper Il Sole 24 Ore since 1970. She was elected president of UGIS (Italian Association of Science Journalists) in 1984. She has been a Member of the Board of EUSJA (European Union of Science Journalists' Associations, Strasbourg), and was its president in 1987-1988 and 1998-2000. In May 2000 she was unanimously elected president emeritus. She was a member of the National Council of Italian Journalists (1992-1998). From 2002 to 2004 she was member of the working group for scientific communication of the National Committee for Biotechnology. She has also been a consultant at the Italian Ministry of Research and Technology and editor-in-chief of the publication MRST, policy of science and technology. She has co-authored many publications in the field of scientific information, including Le biotecnologie in Italia, Le piste della ricerca and Luna vent'anni dopo.
Duration: 1 minute, 43 seconds
Date story recorded: May 2005
Date story went live: 24 January 2008