NEXT STORY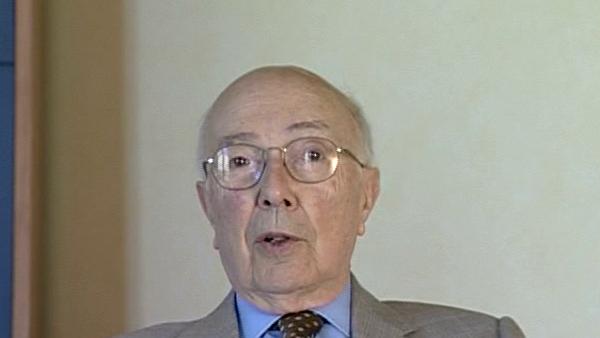 War experiences
Renato Dulbecco
Scientist
1
2
3
4
5
...
7
Naturalmente, durante l'università ho dovuto studiare, ho dovuto fare ricerca anche fuori del laboratorio di Levi, perché dovevo fare la tesi per prendere la laurea. E la tesi avevo deciso di farla non in anatomia normale, ma in anatomia patologica, perché l'anatomia patologica riflette le malattie, mentre l'anatomia normale insomma è la base ma... e questo perciò sono andato a diventare interno in questo istituto di anatomia patologica a Torino e ho lavorato... la mia tesi è stata su alterazioni del parenchima epatico nelle malattie come la cirrosi epatica, l'ostruzione del coledoco, insomma tutte queste condizioni. Quello che è venuto fuori veramente è stato molto interessante, cioè per esempio guardando quando c'è una forma degenerativa, molto spesso queste forme degenerative, che spesso venivano attribuite all'alcolismo, ma adesso sappiamo che non lo sono, non è l'alcolismo, il più delle volte sono virus, e quello che notavo è che... sai la struttura del fegato è fatta... ci sono come delle punte rotonde, dei barili con le cellule che vanno tutte convergendo verso il centro e il sangue dall'intestino viene dal di fuori, attraversa tutto e poi va a finire nella vena che va nella circolazione generale, per cui il fegato filtra, diciamo, tutto. E quello che notavo è che quando c'erano queste forme degenerative, molto spesso la degenerazione avveniva sulla lunghezza di questi barili nel radio, insomma, questo era il percorso del sangue come sembrava, appunto suggeriva che questo era dovuto al fatto che qualche cosa di tossico fosse nel sangue derivato dall'intestino e questo poi alterasse le cellule e poi le cellule andavano a queste lesioni bivenose, come le chiamavo e infatti, a quel momento, non ha fatto molta impressione questo risultato, ma infatti questo si può benissimo capire che era dovuto appunto al fatto che questo virus proveniva dall'intestino e poi attaccava le cellule e una dopo l'altra il virus continuava a riprodursi ma sempre nella direzione del sangue, perché quella era la direzione del sangue, ma questo è insomma.
Naturally, during university I had to study, I had to conduct research outside Levi's laboratory, because I had to write my thesis to pass my degree. And I decided not to write my thesis on normal anatomy, but on pathological anatomy, because pathological anatomy reflects diseases, while normal anatomy is the basis but... and this is why I became an intern at the Department of Pathological Anatomy in Turin and I worked... my thesis was on changes in liver parenchyma in diseases such as hepatic cirrhosis, the obstruction of the bile duct, in fact all these conditions. What emerged was really very interesting, for example looking at when there is a degenerative form, very often these degenerative forms are attributed to alcoholism, but now we know that they are not, it is not alcoholism, most of the time they are viruses, and what I was noting is that... you know the structure of the liver is made... there are round points, barrels with cells that are all converging towards the centre and blood from the intestine comes from outside, through it all and then ends up in the vein that leads to the general circulation, and the liver filters everything. And what I was noting when there were these degenerative forms, very often the degeneration was happening along the length of these barrels in the radius, in short, this was the path of the blood as it seemed, it suggested precisely that this was due to the fact that something toxic was in the blood coming from the intestine and this then altered the cells and then the cells went to these 'lesioni bivenose', as I called them and actually at that time this result did not make much of an impression, but this can be understood to be due to the fact that this virus came from the intestine and then attacked the cells and one after another the virus continued to reproduce itself but always in the direction of the blood, but this is just a summary.
The Italian biologist Renato Dulbecco (1914-2012) had early success isolating a mutant of the polio virus which was used to create a life-saving vaccine. Later in his career, he initiated the Human Genome Project and was jointly awarded the Nobel Prize in Physiology or Medicine in 1975 for furthering our understanding of cancer caused by viruses.
Title: Working on the thesis
Listeners: Paola De Paoli Marchetti
Paola De Paoli Marchetti is a science journalist who graduated with an honours degree in foreign languages and literature from the University Ca'Foscari, Venice. She has been a science journalist since the 1960s and has been on the staff of the newspaper Il Sole 24 Ore since 1970. She was elected president of UGIS (Italian Association of Science Journalists) in 1984. She has been a Member of the Board of EUSJA (European Union of Science Journalists' Associations, Strasbourg), and was its president in 1987-1988 and 1998-2000. In May 2000 she was unanimously elected president emeritus. She was a member of the National Council of Italian Journalists (1992-1998). From 2002 to 2004 she was member of the working group for scientific communication of the National Committee for Biotechnology. She has also been a consultant at the Italian Ministry of Research and Technology and editor-in-chief of the publication MRST, policy of science and technology. She has co-authored many publications in the field of scientific information, including Le biotecnologie in Italia, Le piste della ricerca and Luna vent'anni dopo.
Tags: Department of Pathological Anatomy in Turin
Duration: 2 minutes, 48 seconds
Date story recorded: May 2005
Date story went live: 24 January 2008