NEXT STORY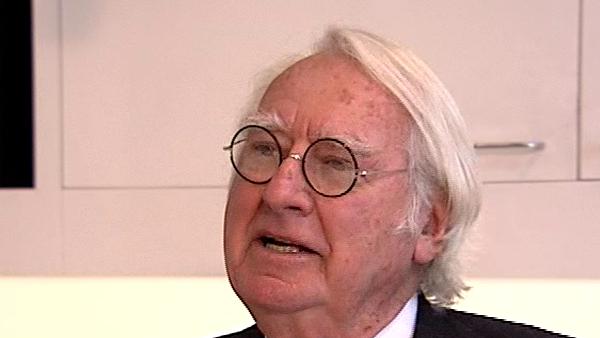 Frankfurt and Atlanta: my first museums
Why I developed the metal panels
1
2
3
4
The reason the metal panels investigation began was that the nature of the projects had, no... had... let me just go back a bit. The natures of the projects were such that you could interpret what... how they might be expressed, that, you know, that they could be something different because they were... of the use that they had. And... and after the... for instance, the Athenaeum has no use, has no preconceived notion of what, you know, that should be in relation to where it is, what it's next to. It's out in a field, you know, you don't have to work in a... in a historic context. If it were in the center of New Harmony, which is all of these kind of historic buildings, you might have to think about it differently, but it's not. It's, sort of, aside, it's separate. And that began a sort of investigation into building materials that, sort of, could be made in a factory, be economical, shipped to the field where you would have control over the way in which it's made. So even if it's in some remote place, you know, doesn't mean you have to use unskilled labour. You know, you can control the quality. And the size of the panels were, as I said a scaling device to relate to human scale, so we began with panels which were two foot six by two foot six, two foot four, two foot eight. You know, kind of working around a dimension, like a door dimension, you know, that you could relate to and then, of course, in the beginning the joints were caulked and not where we wanted so we invented a system where the water would run behind the panels. You know, the panels would become the cladding but not necessarily the exterior surface in terms of weather. Then we would have a back-up system and block; and that would keep the water out of the solid portion. So we experimented with all different ways of doing it to find the best way and to get the cleanest expression of the panels and the tightest and cleanest joints. So the joints read, you know, in a... in a way that, you know, the building was designed - never with, kind of, pieces of panels, you know, always... and so the whole module of the building was then based on the panel dimension. And in this way, you know, everything can be interrelated, as I said earlier. I mean every aspect of the building then can relate to the module of the panel.
[Q] You were the one that developed the panel?
Oh yeah, no, no, we developed...
[Q] It's wasn't something around before?
No, no.
[Q] You just, in a sense you invent your own material to express your own architecture.
Right. Well, you know, Frank Lloyd Wright experimented with those concrete blocks in California, which as a... as his kind of building material. Unfortunately, you know, they weren't that well made and they deteriorated and I wanted to make sure we had a building material that we could use that would look as good in 50 years as it did the day that building was completed and that's proven to be true. In all these cases I go back to a building that was done 10, 20, 30 years ago and I'm amazed, you know, at how... how it looks. I was in Florida last week and I saw the house that was completed in 1979, so it's almost... almost 30 years. It looked brand new. I said, I couldn't believe it, I mean it was so... I'd looked at this and I said look at this, this is phenomenal. Well, they keep it well and they maintain it well, without question, but I said, I... I was just so happy to see it. So I think that, you know, that, you know, that's what architects do, they make buildings that have a life and hopefully it's a long life.
The prominent American architect Richard Meier (b. 1934) is best known for the Getty Centre in Los Angeles, one of his many public projects which broke from his usual style of sleek, white buildings. In all his work – carried out with characteristic refined style – he refuses to bend to the trends of modern architecture. He has won many awards including the Pritzker Prize for Architecture, considered the field's highest honour.
Title: Why I developed the metal panels
Listeners: Massimo Vignelli
Massimo Vignelli was born in Milan and studied architecture in Milan and Venice. He is the co-founder and President of Vignelli Associates and Chief Executive Officer of Vignelli Designs in New York. His work includes graphic and corporate identity programs, publication designs, architectural graphics, interiors, furniture, and consumer product designs. His work has been published and exhibited throughout the world and entered in the permanent collections of several museums. He has taught and lectured on design in the major cities and universities in the United States and abroad. Included among Massimo Vignelli's awards are the Gran Premio Triennale di Milano, 1964, the Compasso d'Oro, awarded by the Italian Association for Industrial Design (ADI), 1964 and 1998, the 1982 Art Directors Club Hall of Fame, the 1983 AIGA Gold Medal, the 1992 Interior Product Designers Fellowship of Excellence, The 1995 Brooklyn Museum Design Award for Lifetime Achievement and The 2001 Russel Wright Award for Design Excellence.
Tags: Athenaeum, Frank Lloyd Wright
Duration: 4 minutes, 46 seconds
Date story recorded: March 2007
Date story went live: 23 December 2008