NEXT STORY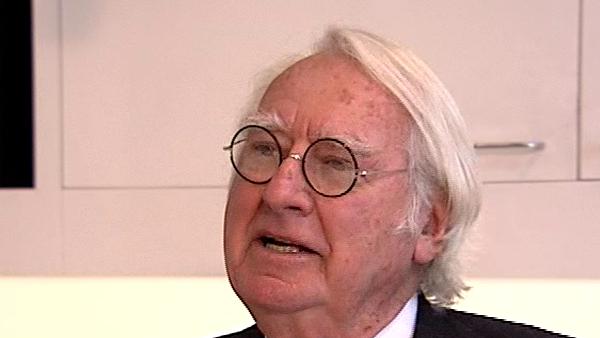 My work in Germany
Frankfurt and Atlanta: my first museums
1
2
3
4
It was the late '70s that I was invited to take part in a competition in Frankfurt for a... a new museum. And in fact actually, it's an addition... the Frankfurt Museum is an addition to an existing building from 1803, [unclear] which was like a four square. It was a cube and this building had to attach to that but it was really separate from it. And I remember Hans Hollein, and Venturi, and someone else and I were invited to do this competition and I won. And that building then moved ahead. And it was approximately, in area, approximately 100,000 square feet, and so as I... after I won the competition I was working on that museum I was interviewed in Atlanta to do the High... for the High Museum and I remember all I had to show was the model of the Frankfurt Museum. I had never done a museum. You know, I had done exhibitions but I'd never done a museum before. So I showed them the model of the Frankfurt Museum. I said. oh, you know, this is the kind of museum we're doing and I am amazed but we were selected as architects, never having really built a museum before. And so the High Museum was really the first built museum because the Frankfurt Museum although it started before the High Museum and the way they built in Europe and in Germany in particular, you know, it takes a lot longer. They were both the same size and both about the same budget. And the Frankfurt Museum was built in five years and the High Museum in three years. So the High Museum, although it started later, finished earlier, you know, received a good bit of acclaim at the time and was very important then in, sort of, my getting other museums as a result. And the whole idea that I wanted to have for the High Museum, because Atlanta's cultural community was decimated with an aeroplane accident at Orly Airport in which 110 people lost their life, from Atlanta on a trip to Paris to look at art. And so in a sense, this building was to commemorate, you know, those in the community and to show that the community loves art and it's sort of moving on, you know, after this terrible accident. And so if you... it seemed it needed a social space, being Atlanta, as much as a museum space, and so the museum is organized around a top lit atrium in the center and you take a ramp from one level to another. And you know, I've always loved the Guggenheim Museum, it's a great building. New York is so lucky to have this building of Frank Lloyd Wright. And I did a little reading room renovation in the Guggenheim, but it always seemed to me that the sloping floors, and the sloping ceilings and the sloping walls, sort of, put you on a, kind of, propelling motion as you're going down the ramp as you're looking at art. That the great thing about that space is you can look at a work close up and then you move away and you see it from a distance, you see it from a different way and then you move again and you see it again. And this whole idea of seeing a work of art from multiple points of view, I felt was very important. So at the High Museum, the idea was to straighten out the Guggenheim by putting art on flat floors and having a ramp, which took you from level to level but enabled you to look through the galleries and see the galleries from different perspectives. So in a sense, you can say the High Museum was straightening out the Guggenheim.
[Q] And then, Frankfurt?
Well, Frankfurt was again another kind of situation because you move by ramp from level to level and again, the circulation space is different from the gallery space but the nature of the collection at Frankfurt was such that... you know, it's decorative art... it's relatively small-scale objects. And so the spaces that show the art had to be kind of broken down in scale to be in relation to the collection and so the ramp hall that you move through, again, looks into the galleries but also looks out to the city and to the river, to the Rhine on which it sits and is located. Yeah, it seemed to me again, the movement system should be gradual. It should be leisurely and it should relate both to the interior and to the exterior space. And it's similar in concept to the High Museum but different in form.
The prominent American architect Richard Meier (b. 1934) is best known for the Getty Centre in Los Angeles, one of his many public projects which broke from his usual style of sleek, white buildings. In all his work – carried out with characteristic refined style – he refuses to bend to the trends of modern architecture. He has won many awards including the Pritzker Prize for Architecture, considered the field's highest honour.
Title: Frankfurt and Atlanta: my first museums
Listeners: Massimo Vignelli
Massimo Vignelli was born in Milan and studied architecture in Milan and Venice. He is the co-founder and President of Vignelli Associates and Chief Executive Officer of Vignelli Designs in New York. His work includes graphic and corporate identity programs, publication designs, architectural graphics, interiors, furniture, and consumer product designs. His work has been published and exhibited throughout the world and entered in the permanent collections of several museums. He has taught and lectured on design in the major cities and universities in the United States and abroad. Included among Massimo Vignelli's awards are the Gran Premio Triennale di Milano, 1964, the Compasso d'Oro, awarded by the Italian Association for Industrial Design (ADI), 1964 and 1998, the 1982 Art Directors Club Hall of Fame, the 1983 AIGA Gold Medal, the 1992 Interior Product Designers Fellowship of Excellence, The 1995 Brooklyn Museum Design Award for Lifetime Achievement and The 2001 Russel Wright Award for Design Excellence.
Tags: Frankfurt, Atlanta, Frankfurt Museum for the Decorative Arts, High Museum of Art, Guggenheim Museum, Frank Lloyd Wright, Robert Venturi, Hans Hollein
Duration: 6 minutes, 8 seconds
Date story recorded: March 2007
Date story went live: 23 December 2008