NEXT STORY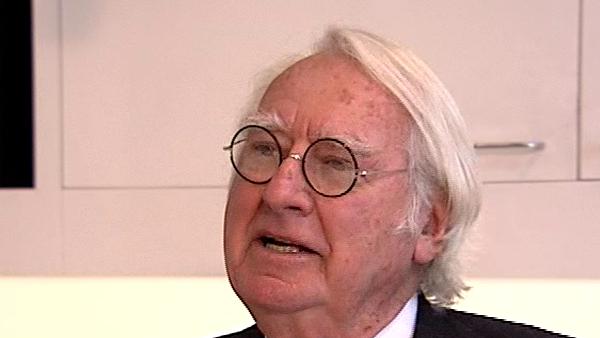 Why it took 12 years to build the Getty Center
1
2
3
4
Before that even in Germany, you know, again, again because of the recognition from some of the smaller works. You know, people like Siemens and Daimler-Benz all asked me to do projects for them, you know, of a fairly large scale, office complexes. The Getty was an amazing experience in terms of the whole selection process. Since, they didn't quite know what they were doing, they asked 110 architects to send a resume and samples of their work for them to review. They had a professional advisory committee that went through all those brochures and out of the 110, selected 30 architects, so then from the 30 they asked more information, recommendations and interview. From the 30, they then selected nine and they disbanded that first committee, had a 2nd committee which was composed of members of the board of trustees and other advisors. They went to all of the nine to look at a building and to come to the office; and from that, they selected three. With the three, you had, they went, I remember the committee came to the office at different times. We had to take them to show them different projects. I remember going to Atlanta three times with different people to show them the High Museum and went to Frankfurt. They went everywhere, I mean they travel around the world and after a year of this, finally I was chosen as the architect. Who were the other two? Jim Sterling and Maki were the other two finalists. [Unclear] That was the beginning of, of the Getty and that took a year. I remember when I- it was, it was a Sunday night and I was sitting at home with my children, Joseph and Anna. We were having dinner and the phone rang, it was Harold Williams, who was the president of the Getty Trust. He called to say, Richard, we're very happy to tell you that the board of trustees have finally chosen you as the architect for the Getty. I said- that's great, Harold that's wonderful and he said- do you think we could have the building completed in three years? I said- it's taken a year to select the architect, I don't think we're, we don't even have a program for the, for the, what we're going to build there. I don't think we're going complete it in three years. I said but maybe in 12 years it would be finished. It took 12 years. Yes, I remember when you were moving the mountains. That took three years, just to move the earth but it was worth it. Today it's amazing. It's really, if ever I'm seriously depressed, I should just get on a plane and go to the Getty.
The prominent American architect Richard Meier (b. 1934) is best known for the Getty Centre in Los Angeles, one of his many public projects which broke from his usual style of sleek, white buildings. In all his work – carried out with characteristic refined style – he refuses to bend to the trends of modern architecture. He has won many awards including the Pritzker Prize for Architecture, considered the field's highest honour.
Title: The Getty Center
Listeners: Massimo Vignelli
Massimo Vignelli was born in Milan and studied architecture in Milan and Venice. He is the co-founder and President of Vignelli Associates and Chief Executive Officer of Vignelli Designs in New York. His work includes graphic and corporate identity programs, publication designs, architectural graphics, interiors, furniture, and consumer product designs. His work has been published and exhibited throughout the world and entered in the permanent collections of several museums. He has taught and lectured on design in the major cities and universities in the United States and abroad. Included among Massimo Vignelli's awards are the Gran Premio Triennale di Milano, 1964, the Compasso d'Oro, awarded by the Italian Association for Industrial Design (ADI), 1964 and 1998, the 1982 Art Directors Club Hall of Fame, the 1983 AIGA Gold Medal, the 1992 Interior Product Designers Fellowship of Excellence, The 1995 Brooklyn Museum Design Award for Lifetime Achievement and The 2001 Russel Wright Award for Design Excellence.
Duration: 3 minutes, 40 seconds
Date story recorded: March 2007
Date story went live: 23 December 2008