NEXT STORY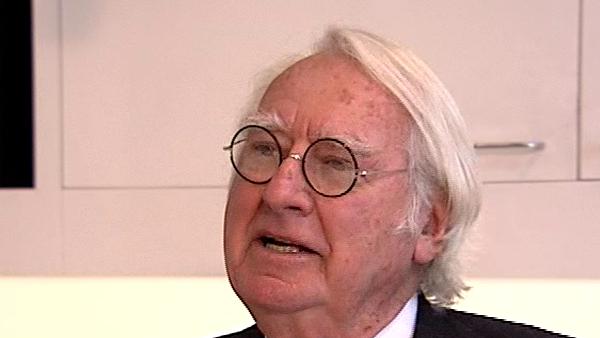 Light and white
1
2
3
4
I think that, you know, as I look back, it probably began with the Smith House and then went to the Douglas House, you know, somewhat later but it was a different expression because of the nature of the site. Looking down on Lake Michigan and on a steep slope where you enter from the roof, you know, not in the middle of the house and this desire to create an articulation, separation of reading, as it were, the difference between public and private space. The difference in the architectural expression and, and therefore the private spaces were closed, contained and cellular. The public spaces were open, transparent and interrelated to one another and I think it was you know this kind of desire to just, you know, to have the architecture, talk about the difference between public and private space that was I think in the sense something, which I would like to think, continues to this day. It may be very different, for instance, looking at a house in Florida, the Neugebauer House. There is public and private space; and they are differentiated but maybe not in the same way but there, the difference is that the public side, which is the entry side, is really the closed down side; and the private side, which is the transparent side is the water side and it looks out to the water. And the light really comes down and animates that circulation space between the walls separating the outside and the cellular spaces that open out to the water. That differs from, say, some of the earlier houses, in that it doesn't have the kind of vertical movement system. It's really concentrated on a horizontal movement system and therefore has a different kind of organisation and idea behind it but it's animated, it seems to me, by the requirement. You know, when I first was approached by the Neugebauers, they told me that they had, were about to purchase the site in a gated community and in Florida. I said- it sounds like trouble but I said, you know, do they any requirements in this gated community, in terms of where you can build? They said- oh, no, no, don't worry about it, it's going to be fine. I told them that I was going to select you as the architect and they're thrilled and I'm sure whatever you want to do is going to be all right, well, I wouldn't be so sure and do they have any regulations? They say, I think they have a little pamphlet. I said well, why don't you get it, send it to me and let me see what it says. So he sends me this pamphlet put out the Naples Homeowners Association and one of the things it says, is that all the roofs of all the houses had to be sloped roofs with a 1 and 12 slope. I said, you know, I don't think this is, I don't know how to do a sloped roof house. I don't think this is for me, so, oh, no, no, I'm sure it's going to be fine, don't worry. I say, yeah but I can't do, you know, a sloped roof, so he says, oh, no, don't, so I said, oh, we'll give it a try. We worked on it where we worked on it and he said, okay, let's take this sloped roof and kind of, do this with it, with the priority of direction towards the water and then the lower roof on the entry side. Then light comes in both, from both the East and West as well as through the skylight that separates the two and we had to present it to the building committee. We took a model to them to show the design and they said no, no, you don't understand, you know, it needs a sloped roof, it's like this. I said no but it says 1 and 12, this is a 1 and 12 slope. No but it's like this, so we went back another time. No, you're not, do you not understand us? I said but it doesn't say that. It just says 1 and 12, so they had no; they had no real way to refuse it. Of course, afterwards they rewrote the code, you know, to say it had to have an apex in the centre but otherwise, you know, we would never have done that house.
The prominent American architect Richard Meier (b. 1934) is best known for the Getty Centre in Los Angeles, one of his many public projects which broke from his usual style of sleek, white buildings. In all his work – carried out with characteristic refined style – he refuses to bend to the trends of modern architecture. He has won many awards including the Pritzker Prize for Architecture, considered the field's highest honour.
Title: The Neugebauer house
Listeners: Massimo Vignelli
Massimo Vignelli was born in Milan and studied architecture in Milan and Venice. He is the co-founder and President of Vignelli Associates and Chief Executive Officer of Vignelli Designs in New York. His work includes graphic and corporate identity programs, publication designs, architectural graphics, interiors, furniture, and consumer product designs. His work has been published and exhibited throughout the world and entered in the permanent collections of several museums. He has taught and lectured on design in the major cities and universities in the United States and abroad. Included among Massimo Vignelli's awards are the Gran Premio Triennale di Milano, 1964, the Compasso d'Oro, awarded by the Italian Association for Industrial Design (ADI), 1964 and 1998, the 1982 Art Directors Club Hall of Fame, the 1983 AIGA Gold Medal, the 1992 Interior Product Designers Fellowship of Excellence, The 1995 Brooklyn Museum Design Award for Lifetime Achievement and The 2001 Russel Wright Award for Design Excellence.
Duration: 4 minutes, 45 seconds
Date story recorded: March 2007
Date story went live: 23 December 2008