NEXT STORY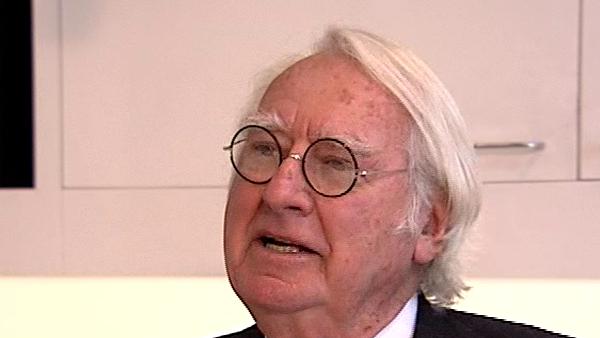 Changes in the architectural community
1
2
3
4
We were all teaching and working in New York, Peter Eisenman, John Hejduk, Charles Gwathmey...
[Q] Michael Graves...
Michael Graves and myself. And I taught at Princeton with Michael and then Peter came to Princeton and I went to Cooper Union where I taught with John Hejduk, so, you know, we're all kind of, milling around, you know, talking together and I think it was Peter that said, look, why don't we have a, sort of, little session. And we'll get a conference room somewhere and the five of us will each present a project that we're working on at the time. We'll get... invite a few other people to be, kind of, critics, Colin Rowe, Stan Anderson, I don't remember who else was there but and then they would kind of, criticise the work that we present and... we got Arthur Drexler, who was a chairman of the Department of Architecture to agree that we could use a conference room at MOMA, you know, for this session. And there must have been a dozen people there, not many more, maybe a few more than a dozen, not many and we each presented a project and we had a discussion. And, you know, of course, Peter had a tape recorder there. I think I still have the tape somewhere and the whole thing was taped. And that was really fun, you know, why don't we put out a little pamphlet to commemorate this event, six, eight or ten pages, nothing. Maybe ten pages, everyone gets two pages, I remember, so it was going to be ten pages plus a little introduction by Arthur Drexler and maybe some comments by Colin Rowe; and that would be it. So it took, you know, in order to put all this material together because what we presented was the work that we were doing at the time but we didn't really have it all in presentable form. So it took up a long time to kind of, get it together. By the time we'd got it together, Peter said, look, it's taking so long, why don't we not just show that project but we'll show what we're currently working on as well, so each person gets two projects to show. And instead of two pages each, you get ten pages each, I don't know, something like that. And that went on, you know for another year, putting this together because John Hejduk wanted colour to show his project and then we said well if John has colour, does Michael get colour then all the expense goes up and it became a real point of discussion. Anyway, then we didn't have a publisher because you know, we were doing all of this and we got George Wittenborn because I used to go to Wittenborn every Saturday morning to buy books. We said, okay Wittenborn, would you publish it and they did. We then finally got out the book, Five Architects, just as a, just as a memento but little did we know, it would have this huge influence on what was happening.
The prominent American architect Richard Meier (b. 1934) is best known for the Getty Centre in Los Angeles, one of his many public projects which broke from his usual style of sleek, white buildings. In all his work – carried out with characteristic refined style – he refuses to bend to the trends of modern architecture. He has won many awards including the Pritzker Prize for Architecture, considered the field's highest honour.
Title: The New York Five
Listeners: Massimo Vignelli
Massimo Vignelli was born in Milan and studied architecture in Milan and Venice. He is the co-founder and President of Vignelli Associates and Chief Executive Officer of Vignelli Designs in New York. His work includes graphic and corporate identity programs, publication designs, architectural graphics, interiors, furniture, and consumer product designs. His work has been published and exhibited throughout the world and entered in the permanent collections of several museums. He has taught and lectured on design in the major cities and universities in the United States and abroad. Included among Massimo Vignelli's awards are the Gran Premio Triennale di Milano, 1964, the Compasso d'Oro, awarded by the Italian Association for Industrial Design (ADI), 1964 and 1998, the 1982 Art Directors Club Hall of Fame, the 1983 AIGA Gold Medal, the 1992 Interior Product Designers Fellowship of Excellence, The 1995 Brooklyn Museum Design Award for Lifetime Achievement and The 2001 Russel Wright Award for Design Excellence.
Tags: Princeton, Cooper Union, MOMA, Five Architects, Peter Eisenman, John Hejduk, Charles Gwathmey, Michael Graves, Colin Rowe, Stan Anderson, Arthur Drexler, George Wittenborn
Duration: 3 minutes, 46 seconds
Date story recorded: March 2007
Date story went live: 23 December 2008