NEXT STORY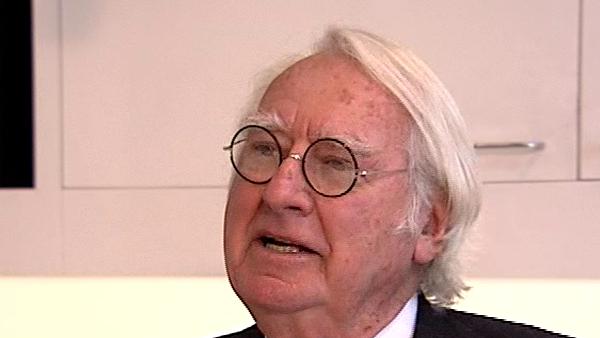 Architectural critics
A global playing field for architects
1
2
3
4
The change that also has occurred during this period in the... I should say, I can't say, ease of transportation but in fact it is. Because today you can get on a plane and tomorrow you're in Tokyo or Rome or wherever. The ease of communication, it's something. For reasons, which are not that clear to me, only in recent times has the United States embraced architects from all over the world and in fact sought them out in order to, in a sense, attract attention to what they're doing. When the High Museum decided that they were going to have an addition, they didn't come to me. They said, we need to have an architect that can make the headlines the way Richard Meier put the High Museum on the map when he designed the first building and we can't do it with Richard Meier because everyone knows Richard Meier. Therefore, we have to find a foreign architect to do that and so they chose someone that would in a sense, bring attention to the new building in the way that they had hoped that it would. And a lot of institutions say, gee, if they did that, that's what we should do and so the, you go to a place like Des Moines, Iowa and they hire an English architect because they say, you know, he'll make a splash for our museum because he's not from Des Moines. He's not from the Midwest. He's not from the United States, you know...
[Q] But not hire you?
But that was before the splash of the culture up here. And so it's, sort of, the idea of splash that then enables lots of people from all over the world, you know, to get work here. People in India don't, or Japan or elsewhere, you know, don't come to American architects for the same reasons, except in Dubai, or Abu Dhabi or places like that, where it's being run by splash masters. They feel this is a way of not only giving it credibility but giving it some pizzazz that it wouldn't have if there was a... another way of doing it.
[Q] But they came to you recently also for a beautiful project in China.
Well, that doesn't mean that you know, the Chinese government doesn't also have this attitude and therefore came to me to do six houses in China in order that, you know, these houses, in a sense, show a different way of creating space and a different lifestyle, in a sense. So when they came to me and I started working on these houses, I said to one of the members of our client, I said... you know, I, we have a Chinese kitchen and a Western kitchen in the house. I said, well, I know how to design a Western kitchen but I'm not familiar with, you know, the organisation of a Chinese kitchen, so I need a little help to, kind of, tell me, you know, how do I organise the Chinese kitchen... does it have a refrigerator, a stove, you know, these things. He said, don't worry. I said, what do you mean? Well no-one's going to cook there. I said, what do you mean no-one's going to cook there? These houses are not for someone to live in. These are houses for exhibition. These are houses, which we're going to have, and people will come from the countryside and all over. This is what they'll aspire to but no-one's going to live there.
[Q] No [unclear].
Can I make up a story like that? So that's what we're doing.
[Q] So tell us about, in your lifetime, how did the client change, the developers in the sense that the client change, 40 years ago, 20 years ago and today?
The clients are all... I mean, all the clients are different. I mean with the Chinese client, there's no one person. I mean, it's a, sort of, a kind of, group. It changes, you know, floats in and out. There's no one head of the organisation. Well, I met someone in China and presented the project to him. He said yes, I mean, that's all he said. He said yes, okay, you know but it's not like he said make the Chinese kitchen bigger.
[Q] But for instance, you know, the client in Miami is a different kind of client than the client in...
Well, no, the client in Miami is very different from the client in New York because both developers and attitude is very different, so I don't think it's more... I don't think it's so much the times as the people who are different and they're...
[Q] They didn't have these kind of people before.
No, actually, one of the things, which has changed quite dramatically is that in many of the situations in which we work, whether it's with a developer, an institution or even a government, many of the people that we're dealing with are architects, trained as architects. And therefore, come with, in a sense, a greater understanding of the process and also everything else, you know and that has.. that has really been helpful in many respects because they understand, you know, what it takes to... to make something and how it's done. And they understand the process and so it's not really dealing with... with someone who's not knowledgeable. The clients are much more knowledgeable and much more professional than before.
The prominent American architect Richard Meier (b. 1934) is best known for the Getty Centre in Los Angeles, one of his many public projects which broke from his usual style of sleek, white buildings. In all his work – carried out with characteristic refined style – he refuses to bend to the trends of modern architecture. He has won many awards including the Pritzker Prize for Architecture, considered the field's highest honour.
Title: A global playing field for architects
Listeners: Massimo Vignelli
Massimo Vignelli was born in Milan and studied architecture in Milan and Venice. He is the co-founder and President of Vignelli Associates and Chief Executive Officer of Vignelli Designs in New York. His work includes graphic and corporate identity programs, publication designs, architectural graphics, interiors, furniture, and consumer product designs. His work has been published and exhibited throughout the world and entered in the permanent collections of several museums. He has taught and lectured on design in the major cities and universities in the United States and abroad. Included among Massimo Vignelli's awards are the Gran Premio Triennale di Milano, 1964, the Compasso d'Oro, awarded by the Italian Association for Industrial Design (ADI), 1964 and 1998, the 1982 Art Directors Club Hall of Fame, the 1983 AIGA Gold Medal, the 1992 Interior Product Designers Fellowship of Excellence, The 1995 Brooklyn Museum Design Award for Lifetime Achievement and The 2001 Russel Wright Award for Design Excellence.
Duration: 6 minutes, 50 seconds
Date story recorded: March 2007
Date story went live: 23 December 2008