NEXT STORY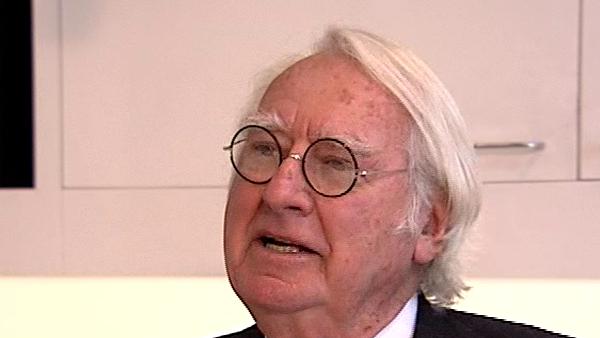 A beach house in Fire Island
1
2
3
4
After I finished Cornell, studying architecture, I went into the army for 6 months and when I got out I decided... I took my little portfolio of student work and decided I would go to Europe and work for somebody. And I went first to Israel. I travelled around Israel, and looked at the work being done there, and met architects and was offered a job, but since it was the first place I went, I didn't really want to stay there. You know, I wanted to move on so I went to Greece from Israel. Saw architects, saw architecture, had a great time and then went to Rome and spent a month or two in Rome, travelling around, going to Florence, went north to Milan. And of course, not so easy for a foreigner to work in Italy, so when I carried my portfolio of student works, they all thought, that's interesting, but, you know, it's hard to work here. So I left Rome and I went to Germany, travelled through and looked at Baroque churches, met architects. I wasn't offered any work in Germany.
I really wanted to go and work in France and work for Le Corbusier, so when I went to Paris, I knocked on Le Corbusier's door at 35 Rue de Sevres and they... 'What do you want?' I said, you know: 'I would like to come and be interviewed for a job'. 'Get out of here!' We don't do that, but anyway, I went back the next day, knocked on the door, the same thing happened. So I decided, oh, I'll just go and look at things in Paris while I'm here and I went to see the Cité University, you know the Swiss Pavillion of Le Corbusier's and other things, and I happened to be there at the Cité University the day of the opening of the Maison du Brésil, a building that Le Corbusier did with Lúcio Costa. And it was an opening ceremony, and Le Corbusier was there and it was early, so I went up and I introduced myself and I explained to him that I was trying to get to see him to come and work for him. We were sitting on this bench in the lobby while they were kind of preparing for the opening event. And he explained to me why he would not have an American in his office, which went back to the League of Nations competition from which he was disqualified because he used the wrong kind of ink. And then at the United Nations when his sketch books were lost and American interest sort of didn't appreciate his talent; that he was supposed to have a show at the Museum of Modern Arts which was cancelled during the... that's because it was... that's the beginning of the war and that never happened. And then at Unesco in Paris, he was supposed to do the project, but it went to Marcel Breuer instead. So he was angry against American interests and therefore he wouldn't have an American in his office.
So I left and I came back and worked for Skidmore, Owings & Merrill for 6 months. Then I went to work for Marcel Breuer, where I stayed until I opened my own office. Opened my own office - I slept in one room and I worked in the other room. Not really an office but I called it an office.
The prominent American architect Richard Meier (b. 1934) is best known for the Getty Centre in Los Angeles, one of his many public projects which broke from his usual style of sleek, white buildings. In all his work – carried out with characteristic refined style – he refuses to bend to the trends of modern architecture. He has won many awards including the Pritzker Prize for Architecture, considered the field's highest honour.
Title: Meeting Le Corbusier
Listeners: Massimo Vignelli
Massimo Vignelli was born in Milan and studied architecture in Milan and Venice. He is the co-founder and President of Vignelli Associates and Chief Executive Officer of Vignelli Designs in New York. His work includes graphic and corporate identity programs, publication designs, architectural graphics, interiors, furniture, and consumer product designs. His work has been published and exhibited throughout the world and entered in the permanent collections of several museums. He has taught and lectured on design in the major cities and universities in the United States and abroad. Included among Massimo Vignelli's awards are the Gran Premio Triennale di Milano, 1964, the Compasso d'Oro, awarded by the Italian Association for Industrial Design (ADI), 1964 and 1998, the 1982 Art Directors Club Hall of Fame, the 1983 AIGA Gold Medal, the 1992 Interior Product Designers Fellowship of Excellence, The 1995 Brooklyn Museum Design Award for Lifetime Achievement and The 2001 Russel Wright Award for Design Excellence.
Tags: Skidmore, Owings & Merrill, Marcel Breuer, Swiss Pavillion, Cité Universitaire, Maison du Brésil, Charles-Édouard Jeanneret, Le Corbusier, Lúcio Costa
Duration: 4 minutes, 10 seconds
Date story recorded: March 2007
Date story went live: 23 December 2008