NEXT STORY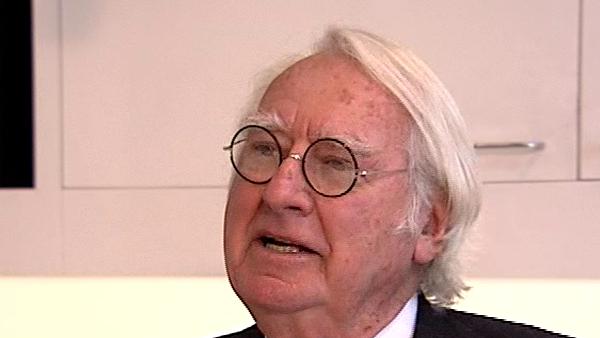 Photographing architecture is more than art
1
2
3
4
One of the things that occurs to me, when I look back at, you know, those times when... more or less, you know, the beginning of things, which is really a combination, not only of working but also teaching and of doing, you know, a lot of things that simultaneously because, it wasn't so much work but you know 8 hours a day, every day of the week I had work to do. And so teaching at Cooper Union, a whole other change had took place there with Michael at Princeton and other things. You know, it all... it was a vibrant time. You know, it was a unique time, in many respects and even, sort of, the way in which things happened. Not only to me but I think to other people as well, in a sense, you know, the Fire Island House, more or less, I mean maybe if my parents wouldn't have asked me to do their house if I hadn't done the house on Fire Island... I don't know, but after that was published in the New York Times then I got this call from people named Smith, and so the Smith House was in a sense a really, the first, you know, time in which I could start to think about things a little bit differently. And I remember going up to the site with the Smiths, this beautiful site overlooking the Long Island Sound, on the water and they said, you know, they bought this site fairly reasonably because there were people who had owned the site and had a house designed and the house was so expensive that they decided to sell the site, you know, for what they paid for it. I said, well, maybe we had better look at what they had designed for the site before we begin because if that was so expensive, I mean, we don't want to go through the same exercise. And I looked at the drawings and they had this big sprawling house on this bluff overlooking the water, which was all rock and so of course the blasting of the rock in order to build this house, you know, caused it to be very expensive. And I said, you know, it doesn't make sense. The only sensible way to build on this site is to build vertically because then you have the minimum foundation and you know you have a maximum view. It makes the most sense, so the Smith House, in a sense, was something which... you know, after it was published, really led to many other things happening. And it makes you realise the importance of publication in terms of conveying ideas about architecture because you know, most people don't go and look at the works. They see it either when it's published and I hope that's different today.
The prominent American architect Richard Meier (b. 1934) is best known for the Getty Centre in Los Angeles, one of his many public projects which broke from his usual style of sleek, white buildings. In all his work – carried out with characteristic refined style – he refuses to bend to the trends of modern architecture. He has won many awards including the Pritzker Prize for Architecture, considered the field's highest honour.
Title: The Smith House
Listeners: Massimo Vignelli
Massimo Vignelli was born in Milan and studied architecture in Milan and Venice. He is the co-founder and President of Vignelli Associates and Chief Executive Officer of Vignelli Designs in New York. His work includes graphic and corporate identity programs, publication designs, architectural graphics, interiors, furniture, and consumer product designs. His work has been published and exhibited throughout the world and entered in the permanent collections of several museums. He has taught and lectured on design in the major cities and universities in the United States and abroad. Included among Massimo Vignelli's awards are the Gran Premio Triennale di Milano, 1964, the Compasso d'Oro, awarded by the Italian Association for Industrial Design (ADI), 1964 and 1998, the 1982 Art Directors Club Hall of Fame, the 1983 AIGA Gold Medal, the 1992 Interior Product Designers Fellowship of Excellence, The 1995 Brooklyn Museum Design Award for Lifetime Achievement and The 2001 Russel Wright Award for Design Excellence.
Tags: Smith House, Cooper Union, Fire Island House
Duration: 3 minutes, 6 seconds
Date story recorded: March 2007
Date story went live: 23 December 2008