NEXT STORY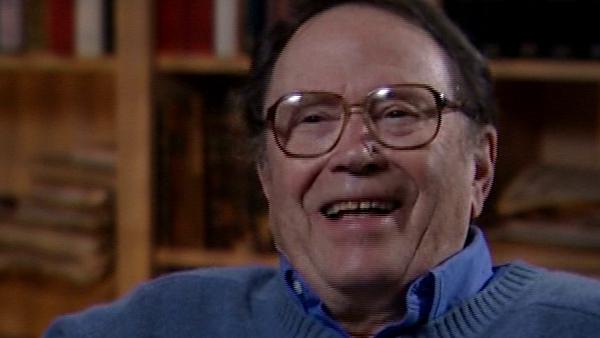 Hoboing across America
Amherst College: a good place for poets
1
2
3
4
5
...
9
One thing about Amherst College was, although the student body was not a bunch of long-hairs and exquisites, there was considerable tolerance for artistic effort. I never felt that I was doing anything odd at Amherst when I interested myself not merely in journalism, but also in the writing of short stories and poems.
People are always asking me why so many poets have come out of Amherst, and I...one reason of course is that the spirit of Emily Dickinson hovers there. Another was that Robert Frost was for so long associated with the College, and that a good poet like Ralph Humphries taught there for some time. People like David Ferry, James Merril, Tom Whitbread, it's a long list of really quite good poets, very good poets, Robert Bagg, another who came out of Amherst, and I think it had something to do with the... with the hovering influences I've mentioned. Also I think with the readiness of teachers to take you seriously if you tried to write a poem. I always found that my teachers, without exception, would take lots of time out to read anything I wrote and would criticize me and encourage me. Once when I... once years later when I was at Harvard's Graduate School, Theodore Baird of the Amherst faculty wrote me a letter about things in general, but in the course of it he said, 'The best intellectual life in Amherst goes on in the classroom'. And I think he was not boasting, I think that was true. The teachers I had, especially in the English department, devoted themselves to preparing exciting classes and devoted themselves to their students, in class and out, and all of that I think was contributory to my becoming a poet and to other having... Amherst poets having been shaped by the College.
Acclaimed US poet Richard Wilbur (1921-2017) published many books and was twice awarded the Pulitzer Prize. He was less well known for creating a musical version of Voltaire's "Candide" with Bernstein and Hellman which is still produced throughout the world today.
Title: Amherst College: a good place for poets
Listeners: David Sofield
David Sofield is the Samuel Williston Professor of English at Amherst College, where he has taught the reading and writing of poetry since 1965. He is the co-editor and a contributor to Under Criticism (1998) and the author of a book of poems, Light Disguise (2003).
Tags: Amherst College, Emily Dickinson, Robert Frost, Ralph Humphries, David Ferry, James Merril, Tom Whitbread, Robert Bagg
Duration: 3 minutes, 3 seconds
Date story recorded: April 2005
Date story went live: 24 January 2008