NEXT STORY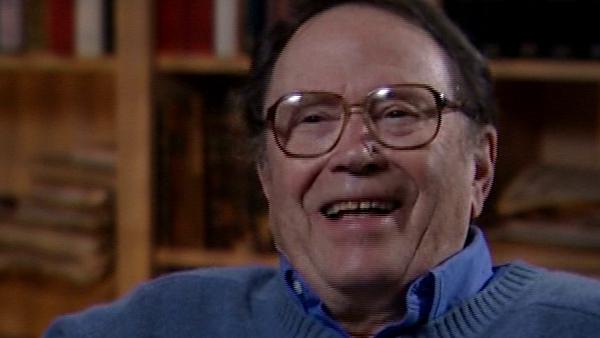 Influences
The poetic play I didn't write
1
2
3
4
5
...
9
In 1952,after I'd been teaching at Harvard for a bit, I applied for a Guggenheim saying that I would like to write a poetic play. That was the fashion at that moment. On Broadway there was The Lady's Not For Burning and Elliott's The Cocktail Hour, and in Cambridge, perhaps somewhat in response to that sort of thing on the commercial stage, there was an organization called The Poet's Theatre, to which I belonged from the beginning. And the idea was to write poetic plays and produce them, also to produce the poetic plays of people like William Butler Yates and Archibald McLeish; some extremely fine productions came of it.
Well, I told the Guggenheims that I wanted to write a poetic play and I took their $3,000 and went to Corrales, New Mexico to which I had been directed by a friend, and lived in an adobe house on the desert for a year. We loved it there, my children loved it, we had a quarter horse and could ride off into the desert, go up to the Jemez Pueblo and visit our Indian friends. There were all sorts of advantages of that kind, and it was a very quiet place in which to write. But as I have told, it was also a place in which there were times when I couldn't come up with a play or a poem. I found indeed that I definitely did not have the talent for putting live characters on the stage. Playwriting in verse soon ceased to be a possibility for me. I kept on writing poems, but there came to be time in which to undertake the Misanthrope translation and so I did. When I, when I got back to Eastern civilization, I often began throwing a scene or two of my Misanthrope translation into a poetry reading, and I found that despite my limitations as an actor, people found them funny, and I began insensibly to feel that it was going to work out all right on the stage if I could just finish it. Well I did finish it and we had a first production of it by The Poet's Theatre in 1955. Peter Davison, later poetry editor of The Atlantic, played Alceste and there were a number of excellent actors. We started out modestly in a sort of attic, and it succeeded so well that it had to be moved to the new Kresge Auditorium at MIT, and indeed the next year it had made it to New York.
Acclaimed US poet Richard Wilbur (1921-2017) published many books and was twice awarded the Pulitzer Prize. He was less well known for creating a musical version of Voltaire's "Candide" with Bernstein and Hellman which is still produced throughout the world today.
Title: The poetic play I didn't write
Listeners: David Sofield
David Sofield is the Samuel Williston Professor of English at Amherst College, where he has taught the reading and writing of poetry since 1965. He is the co-editor and a contributor to Under Criticism (1998) and the author of a book of poems, Light Disguise (2003).
Tags: Harvard University, Guggenheim Museum, Broadway, The Lady's Not For Burning, The Cocktail Hour, The Poet's Theatre, New Mexico, Misanthrope, The Atlantic, MIT, William Butler Yates, Archibald McLeish, Peter Davison
Duration: 3 minutes, 55 seconds
Date story recorded: April 2005
Date story went live: 24 January 2008