NEXT STORY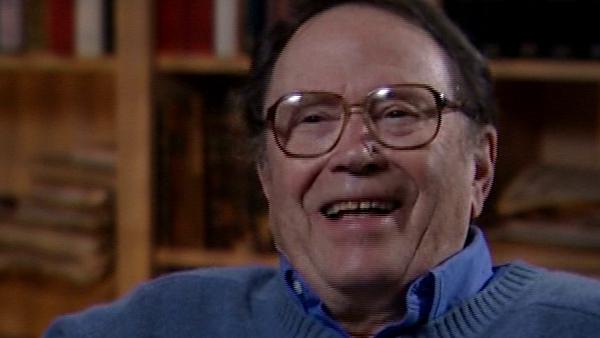 A year in Rome
Becoming acquainted with Baroque Rome
1
2
3
4
5
...
9
We found ourselves an apartment on the margin of the Janiculum Hill and found ourselves a donna de servizio so that we could eat well at home and, and made full use of the American Academy, which has a wonderful library and which always has, has a lot of fascinating people about.
I think the big thing that happened to me that year was that I made the acquaintance of the Baroque. A couple of English friends who were very interested in church architecture and especially interested in the Baroque, kindly trotted us all over Rome over a considerable period of time showing us every bit of Baroque that there was and attuning us to the spirit of it. And this was important not only for the sake of art appreciation, it was important also because it got into my blood and I think that poems like Love Calls us to the Things of This World, which I wrote in Rome, are full of the spirit of the Baroque, full of a kind of aesthetic in which the spiritual must embrace the concrete and the everyday. That's one aspect of the Baroque which was important to me. I don't think I can now lecture at length on it, but the entire aesthetic appealed to me and was something utterly new. I think if I'd been asked in America what Baroque was before I went over there in '54 and '55, I'd have confused it with the Rococo mirrors you see in beauty parlours and... not that at all. I didn't associate the word Baroque with the extraordinary power of Bernini or of Borromini's architecture.
So, that was a big thing. I met a number of people who were of consequence to me. One of them was Anthony Hecht who was returning to the Academy for a stay. He had had the pleasure of being there for a year before and I shared a lot of talk of Rome and a lot of information about it with him.
Acclaimed US poet Richard Wilbur (1921-2017) published many books and was twice awarded the Pulitzer Prize. He was less well known for creating a musical version of Voltaire's "Candide" with Bernstein and Hellman which is still produced throughout the world today.
Title: Becoming acquainted with Baroque Rome
Listeners: David Sofield
David Sofield is the Samuel Williston Professor of English at Amherst College, where he has taught the reading and writing of poetry since 1965. He is the co-editor and a contributor to Under Criticism (1998) and the author of a book of poems, Light Disguise (2003).
Tags: Janiculum Hill, Rome, Love Calls us to the Things of This World, Francesco Borromini, Gian Lorenzo Bernini, Anthony Hecht
Duration: 3 minutes, 8 seconds
Date story recorded: April 2005
Date story went live: 24 January 2008