NEXT STORY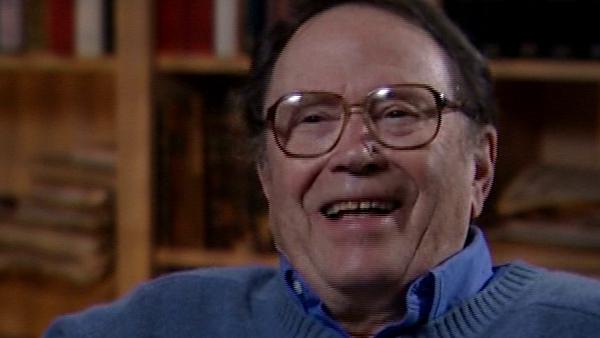 Poetry reading: Pangloss's Song
Candide comes to Broadway
1
2
3
4
5
...
9
Lillian Hellman was looking for a collaborator in her project of adapting Voltaire's Candide for the musical stage. She and Leonard Bernstein had been tinkering with this project since about 1950, and various people, among them John LaTouche and Dorothy Parker had tried their hands at the lyrics, but in all cases, for some reason they had left the show, and so Lillian was looking for a replacement. Harry Levin said to her, well, maybe you ought to look at Wilbur's translation of The Misanthrope. If he did fairly well with one witty Frenchman, he might do well right with Voltaire.
And so I was invited to go down to New York and talk it over with her and Leonard Bernstein, and we all seemed to hit it off. I especially hit it off with her. We simply had a great time throughout the whole experience. They asked me to do a sample number, so I wrote them a lyric in which three kings marooned in the middle of the ocean were resolving to lead the simple life if they happened to survive, and Lenny, Lenny Bernstein liked that, Lillian liked that, and they signed me on. We spent the summer of 1956 therefore on Martha's Vineyard, writing the show, and that was exactly as intense as show-writing is always said to be, or shown to be in horror movies about such experiences. But there were a lot of good things about it too, a lot of moments of joy and self-congratulation. At one, point there was enough discord amongst the collaborators so that it was good to... it was seen as a happy thing that Tyrone Guthrie, who was to be our director, arrived on Martha's Vineyard. Lillian said, 'He looks like Charles de Gaulle and I think that perhaps he can get us all into line'. Actually, he was not particularly dictatorial, though I have one fond memory of him. I had written what I guess was the best lyric I wrote for the show, one called Dear Boy, also called Pangloss's Song, and given it to Lenny for setting, and he spent a couple of days trying to set it and said to me with a face full of misery that he simply could not get inspired, at which point Tyrone Guthrie said to him, 'Lenny, we all know that you were water-skiing at Piggy Warburg's yesterday. Now, you sit down and write a nice piece of music for Mr Wilbur's song'. Which he did, he wrote a perfectly wonderful tune once Guthrie had given him the de Gaulle treatment.
We, we opened in New York that winter at the Martin Beck Theatre, and we had the sort of reviews which should have kept it running forever, but the show was over-produced. There was much too much money in it. One would have had to fill every seat in a much larger theatre than the Martin Beck where we were playing, and so the show was technically a money-loser and actually it didn't last as long on Broadway as my Misanthrope translation, which was at the same time playing nearby at Theatre East. Since then of course the show has been repeatedly exhumed and revised, and those who invested in it have been well paid.
At some point during the, during the period in which I was working on the show, I found that I had won the Pulitzer Prize, and that of course had an effect on my career, if not on my poems. I don't think that prizes make a great difference to poets if they're at all serious, but I was gratified that that happened and that probably had something to do with the fact that I was offered a teaching job at Wesleyan University at a living wage. By that time I had to... I did have to think of what I needed in the way of a salary because my children were multiplying and they were having to go off to school and college.
Acclaimed US poet Richard Wilbur (1921-2017) published many books and was twice awarded the Pulitzer Prize. He was less well known for creating a musical version of Voltaire's "Candide" with Bernstein and Hellman which is still produced throughout the world today.
Title: "Candide" comes to Broadway
Listeners: David Sofield
David Sofield is the Samuel Williston Professor of English at Amherst College, where he has taught the reading and writing of poetry since 1965. He is the co-editor and a contributor to Under Criticism (1998) and the author of a book of poems, Light Disguise (2003).
Tags: Candide, The Misanthrope, New York, Martha's Vineyard, Dear Boy, Pangloss's Song, Martin Beck Theatre, Pulitzer Prize, Wesleyan University, Lillian Hellman, Voltaire, Leonard Bernstein, John LaTouche, Dorothy Parker, Harry Levin
Duration: 6 minutes, 30 seconds
Date story recorded: April 2005
Date story went live: 24 January 2008