NEXT STORY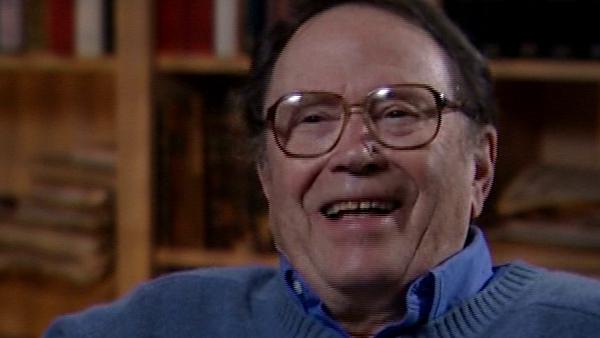 The process of translation
Translating Joseph Brodsky's Six Years Later
1
2
3
4
5
...
9
Back in 1950... '61 or so, Peter Viereck and I made a trip to the Soviet Union as part of a cultural exchange programme intended to increase understanding, or at least tolerance, between the two nations, and the Russians... the Russians played ball with us pretty well. I think they wanted to show in fact that they could be more welcoming and loose than we. We sent them a list of some 50 writers we would like to talk with, and by the time we were through, we had met just about 48 of them.
Our first visit was paid to the dacha of the 'Old Fox', Ilya Ehrenbourg, and we had a very pleasant teatime talk of two hours or so with him. We talked in French, which was at times a little awkward for me, because Ehrenbourg was very fluent in that language, and because we believed that the communist party watchdog who had come with us did not understand that language.
In later encounters, I met people like Evgeny Evtushenko and Andrei Voznesensky, very good and then young poets about whom the Russian populace were very excited at the time. After I came home from Russia, I did some translations from Voznesensky at the invitation of Max Hayward and Patricia Blake, who were extremely good linguists and extremely good at conveying the flavour and tone of the original. I did several translations for an anthology of Voznesensky's poems, and later when Joseph Brodsky defected to the United States or was sent over here, I hastened to do something of his because I had been told when in the Soviet Union that the best translations of my poetry into Russian had been done by Joseph. I wanted to pay him back and, because I had heard he was very choosy, very finicky about translations, I wanted to do something that he would approve of. So, when I... my first translation from a Brodsky poem took me a month, and the second was done slowly too, with the help of linguistic counsel and with the help of dictionaries as well. By that time I was trying to teach myself the Russian language. Here's a poem of Brodsky's, and I think it's probably the best effort I've made in translating a Russian poem, a poem of Brodsky's called Six Years Later.
So long had life together been that now
The second of January fell again
On Tuesday, making her astonished brow
Lift like a windshield wiper in the rain,
   So that her misty sadness cleared, and showed
   A cloudless distance waiting up the road.

So long had life together been that once
The snow began to fall, it seemed unending;
That, lest the flakes should make her eyelids wince,
I'd shield them with my hand, and they, pretending
   Not to believe that cherishing of eyes,
   Would beat against my palm like butterflies.

So alien had all novelty become
That sleep's entanglements would put to shame
Whatever depths the analysts might plumb;
That when my lips blew out the candle flame,
   Her lips, fluttering from my shoulder, sought
   To join my own, without another thought.

So long had life together been that all
That tattered brood of papered roses went,
And a whole birch grove grew upon the wall,
And we had money, by some accident,
   And tonguelike on the sea, for thirty days,
   The sunset threatened Turkey with its blaze.

So long had life together been without
Books, chairs, utensils—only that ancient bed—
That the triangle, before it came about,
Had been a perpendicular, the head
   Of some acquaintance hovering above
   Two points which had been coalesced by love.

So long had life together been that she
And I, with our joint shadows, had composed
A double door, a door which, even if we
Were lost in work or sleep, was always closed:
   Somehow, it would appear, we drifted right
   On through it into the future, into the night.
As I remember, Joseph Brodsky was very approving of this translation, though not quite sure of one or two lines in the latter stanzas. He went down to Oklahoma to judge some contest or other in the company of Derek Walcott, and he told me later that on the flight back from Oklahoma, he and Derek had studied my translation and had decided that one or two tinkerings should be made in the latter stanzas. I of course had no business objecting to any changes he might make in my translation of his poem, but I did cling, when I put this poem into a book of my own, I did cling to my original and perhaps mistaken lines. Joseph publishing the translation in a book of his own, used the improved version.
Acclaimed US poet Richard Wilbur (1921-2017) published many books and was twice awarded the Pulitzer Prize. He was less well known for creating a musical version of Voltaire's "Candide" with Bernstein and Hellman which is still produced throughout the world today.
Title: Translating Joseph Brodsky's "Six Years Later"
Listeners: David Sofield
David Sofield is the Samuel Williston Professor of English at Amherst College, where he has taught the reading and writing of poetry since 1965. He is the co-editor and a contributor to Under Criticism (1998) and the author of a book of poems, Light Disguise (2003).
Tags: Soviet Union, Russia, Six Years Later, Peter Viereck, Ilya Ehrenbourg, Evgeny Evtushenko, Andrei Voznesensky, Max Hayward, Patricia Blake, Joseph Brodsky
Duration: 7 minutes, 9 seconds
Date story recorded: April 2005
Date story went live: 24 January 2008