NEXT STORY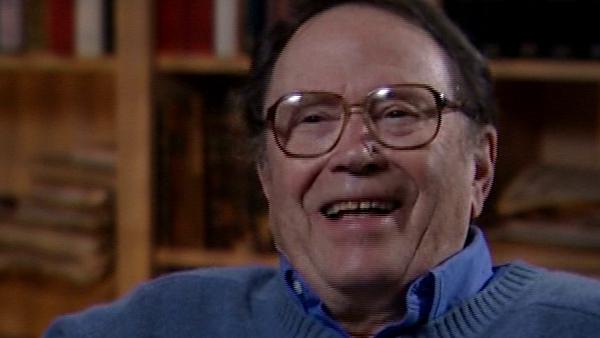 Editing The Laurel Tree Poets' Series
Wesleyan University Press poetry series
1
2
3
4
5
6
...
9
I went to Wesleyan in '57 or so and stayed there for 20 years teaching all kinds of things, but especially enjoyed teaching in their freshman humanities programme where once again, as at Harvard in its humanities programme, I had to read epics and all sorts of long books, which otherwise I might not have slogged my way through, and all of which did me good, and did me good to be articulate about.
One thing that happened rather promptly when I got to Wesleyan was that the university, which had lately been enriched through a gift of an alumnus, decided that it wanted to have a university press. And I remember conferring with Willard Lockwood, the director of this new university press and making what turned out to be a useful suggestion. I said a very new university press can't possibly take the best scholarly books away from the Yale University Press or the Harvard, but it seems to me that there is one way that the Wesleyan University Press could put itself on the map right away, and that would be through having a poetry series. And they happily bit on that after some consultation with people like Norman Holmes Pearson of Yale. It sounded like a good idea to a number of people. And so we got ourselves a Board, which initially I think consisted of Norman Pearson and Donald Hall and Howard Nemerov, perhaps John Brinnin, I don't know. We were commonly a Board of four and of course it changed year after year as people became tired of reading 200 and 300 manuscripts a year. The programme was successful from the start because there were all sorts of good poets around of whom we knew and who either didn't have publishers or were ready to be detached from their publishers for the sake of the Wesleyan Press. For example we published all of the early volumes of James Dickey. We published the volumes he wrote when he was good, and one of our great triumphs was to write to Robert Francis who was living in his usual seclusion and quiet in Amherst, Massachusetts and who I think had been... had felt rebuffed by the publishing world. We asked him if he didn't happen to have some poems around and he sent us a perfectly splendid manuscript that had piled up for some years and we published it under the title of The Orb Weaver. Well, there were many satisfactions like that, and of course we were somewhat innovative in view of what happened later. All sorts of other colleges and universities decided to have poetry series' and there are now a number of highly respectable poetry series' all around the country, most of them based in educational institutions.
Acclaimed US poet Richard Wilbur (1921-2017) published many books and was twice awarded the Pulitzer Prize. He was less well known for creating a musical version of Voltaire's "Candide" with Bernstein and Hellman which is still produced throughout the world today.
Title: Wesleyan University Press poetry series
Listeners: David Sofield
David Sofield is the Samuel Williston Professor of English at Amherst College, where he has taught the reading and writing of poetry since 1965. He is the co-editor and a contributor to Under Criticism (1998) and the author of a book of poems, Light Disguise (2003).
Tags: Wesleyan University, Wesleyan University Press, Harvard University, Yale University Press, Yale University, Massachusetts, Amherst, The Orb Weaver, Willard Lockwood, Norman Holmes Pearson, Donald Hall, Howard Nemerov, John Brinnin, James Dickey, Robert Francis
Duration: 4 minutes, 15 seconds
Date story recorded: April 2005
Date story went live: 24 January 2008