NEXT STORY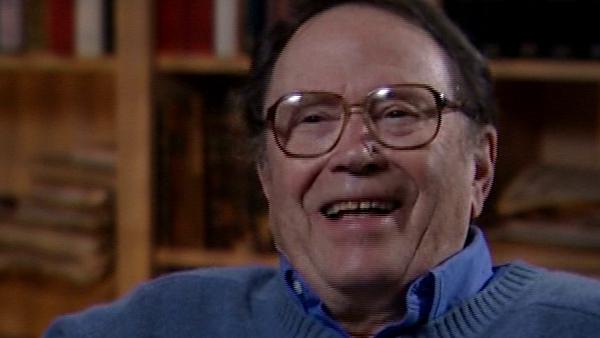 Becoming writer in residence at Smith College
Editing The Laurel Tree Poets' Series
1
2
3
4
5
6
...
9
Another thing I was doing at the same time - I seem to have been very busy - was editing The Laurel Poet's Series. My friend Frank Taylor, who was associated with something called Western... Western Printing, came to me and said, 'How would you like to be a general editor of a series of paperback volumes of English and American poets?' and I signed on for that, and began to line up editors for the individual volumes we were contemplating. All these came out under... under the title of The Laurel Poet's Series, and it was wonderful how many very good people were ready to do the pleasant but laborious job of putting together - for not too much money - a little paperback, and doing an authoritative introduction. We had people like Andrews Wanning editing John Dunne, Howard Nemerov editing Longfellow, Reed Whittemore did Browning for us, John Brinnin did Dickenson, I did Poe, of course, William Meredith edited a Shelley volume, Leslie Fiedler a Whitman volume, Dudley Fitts a Herbert volume, and WH Auden kindly did a volume called 19th Century British Minor Poets, which was quite a splendid collection. And for a while there, one could enjoy walking through any air terminal in America and seeing on the news-stands books like this, well designed and well selected and well introduced, and selling for 35 cents. I felt very virtuous about that, I felt like a... like a promoter of our culture.
[Q] A bit like Penguins back in those days, too.
Yes.
[Q] Which were not so available in America.
No, and I don't think... and I think they were... they were more expensive than... than our little editions, though, though when we... when we came to be publishing Chaucer, for example, we had to do him in sufficient quantity to make it a 75 cent volume, and that was the case with Spencer as well.
Acclaimed US poet Richard Wilbur (1921-2017) published many books and was twice awarded the Pulitzer Prize. He was less well known for creating a musical version of Voltaire's "Candide" with Bernstein and Hellman which is still produced throughout the world today.
Title: Editing "The Laurel Tree Poets' Series"
Listeners: David Sofield
David Sofield is the Samuel Williston Professor of English at Amherst College, where he has taught the reading and writing of poetry since 1965. He is the co-editor and a contributor to Under Criticism (1998) and the author of a book of poems, Light Disguise (2003).
Tags: The Laurel Poet's Series, Andrews Wanning, John Dunne, Howard Nemerov, Reed Whittemore, Robert Browning, Henry Wadsworth Longfellow, John Brinnin, Edgar Allan Poe, Emily Dickinson, William Meredith, Percy Bysshe Shelley, Leslie Fiedler, Walt Whitman, Dudley Fitts, George Herbert, WH Auden, Geoffrey Chaucer
Duration: 3 minutes, 1 second
Date story recorded: April 2005
Date story went live: 24 January 2008