NEXT STORY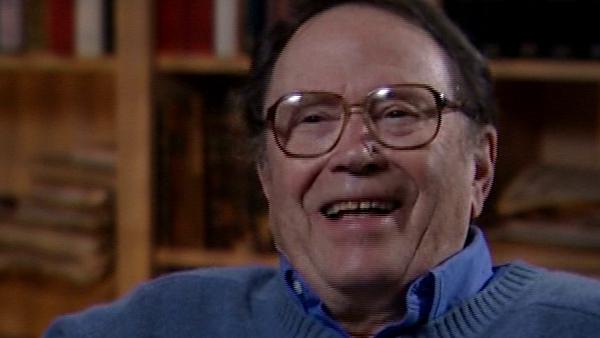 Poetry readings: This Pleasing Anxious Being
1
...
3
4
5
6
7
...
9
My idea of a great riddle is the riddle which I think was originally in Latin, but somebody got over very nicely into English. It goes:
   White bird featherless 
   Flew from paradise, 
Perched on the castle wall; 
   Along came Lord Landless, 
   Took it up handless, 
And bore it off horseless, to the king's white hall.

It's a magnificent poem as well as being a fine riddle about snow and sun. How fine to call the sun Lord Landless. And let me read you a few of the riddles I've been translating from the Latin riddle-maker, Symphosius, over the years. Well, here's one I like:
I have borne more than a body ought to bear. 
Three souls I harboured; when I lost a pair, 
The third one all but perished then and there.

That's a soluble riddle. I think if anyone thinks hard about that for a bit he realises that it's a mother of twins who therefore has had three souls in her. And here's an onion:
I bite, when bitten; but because I lack 
For teeth, Ino biter scruples do attack, 
And many bite me to be bitten back.

This one I think, this next one, is splendid in the original, and I think I caught the beauty of its third line in this translation:
Unequal in degree, alike in size, 
We make our flight, ascending toward the skies, 
And rise with those who by our help can rise.

And that's a staircase, and of course there's a bit of a pun on degree there, and as a matter of fact, there's a pun on flight:
Unequal in degree, alike in size, 
We make our flight, ascending toward the skies, 
And rise with those who by our help can rise.

Symphosius didn't know what our scientists have recently discovered that fish are very voluble actually. They do a lot of noise-making under water. It was his opinion in the 6th century or whenever he wrote, that fish were mute.
Sweet pearlings in an earth-walled inn resound. 
Within that inn, a silent guest is found. 
Together, guest and inn are onward bound.

That's a river with fish in it, of course. Well, there are some samples, and I think, though the riddle is usually associated nowadays with the nursery, if you read a bit of Symphosius and his like, it's clear why an ancient Greek was said to have died for shame because he was unable to solve a great riddle. It is really a high form of poetry, or can be, and Aristotle knew it, he says it over and over again in his poetics, or at least he says it once.
Acclaimed US poet Richard Wilbur (1921-2017) published many books and was twice awarded the Pulitzer Prize. He was less well known for creating a musical version of Voltaire's "Candide" with Bernstein and Hellman which is still produced throughout the world today.
Title: Riddles
Listeners: David Sofield
David Sofield is the Samuel Williston Professor of English at Amherst College, where he has taught the reading and writing of poetry since 1965. He is the co-editor and a contributor to Under Criticism (1998) and the author of a book of poems, Light Disguise (2003).
Tags: Symphosius, Aristotle
Duration: 3 minutes, 59 seconds
Date story recorded: April 2005
Date story went live: 24 January 2008