NEXT STORY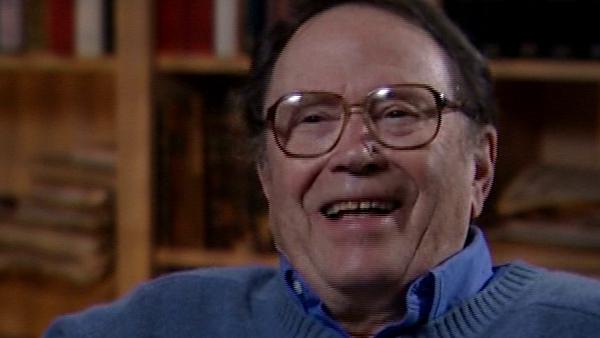 Poetry readings: A Prayer to Go to Paradise with the Donkeys
Poetry readings: The Prisoner of Zenda
1
...
5
6
7
8
9
For variety sake, I'd like to read a goofy poem which I wrote at a terribly early hour of the morning, although that's no excuse. My wife was away and I at loose ends, and so I saw the late movie on the television. Having seen that, I saw the next movie on television, the late, late movie, which was a remake of The Prisoner of Zenda with Stewart Granger and Deborah Kerr, and having seen that, I wrote down this poem in a sort of groggy spirit.
The Prisoner of Zenda.

At the end a
The Prisoner of Zenda,
The King being out of danger,
Stewart Granger
(As Rudolph Rassendyll)
Must swallow a bitter pill
By renouncing his co-star,
Deborah Kerr.
It would be poor behavia
In him and in Princess Flavia
Were they to put their own
Concerns before those of the Throne.
Deborah Kerr must wed
The King instead.
Rassendyll turns to go.
Must it be so?
Why can't they have their cake
And eat it, for heaven's sake?
Please let them have it both ways,
The audience prays.
And yet it is hard to quarrel
With a plot so moral.
One redeeming factor,
However, is that the actor
Who plays the once-dissolute King
(Who has learned through suffering
Not to drink or be mean
To his future Queen),
Far from being a stranger,
Is also Stewart Granger.
Acclaimed US poet Richard Wilbur (1921-2017) published many books and was twice awarded the Pulitzer Prize. He was less well known for creating a musical version of Voltaire's "Candide" with Bernstein and Hellman which is still produced throughout the world today.
Title: Poetry readings: "The Prisoner of Zenda"
Listeners: David Sofield
David Sofield is the Samuel Williston Professor of English at Amherst College, where he has taught the reading and writing of poetry since 1965. He is the co-editor and a contributor to Under Criticism (1998) and the author of a book of poems, Light Disguise (2003).
Tags: The Prisoner of Zenda, Stewart Granger, Deborah Kerr
Duration: 2 minutes, 7 seconds
Date story recorded: April 2005
Date story went live: 29 September 2010