NEXT STORY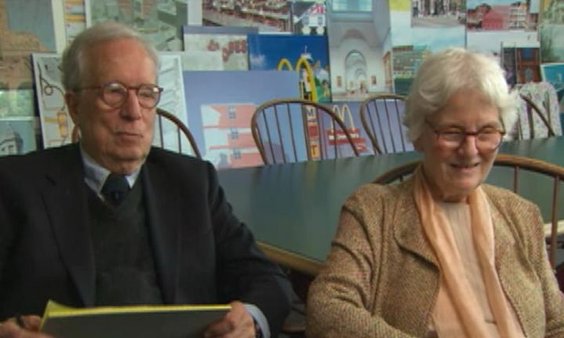 Words: oppression and persecution
Robert Venturi and Denise Scott Brown
Architect
1
...
8
9
10
11
12
[RV] Well, we… it was just sort of platonic, friendly… and we would have dinner together as Denise said. We were often at the Quaker Lady. The dates I'm not good at, I'm usually good at dates but the dates are a little confusing at this point.
And there was that famous time when we had… went together to Louis Kahn's lecture at the Art Alliance, and went and sat in Rittenhouse Square. I think I told that story. And I, kind of, said, 'Oh my God, half those ideas… coming from his building… he got from me'. But, anyhow… Then, when she went to California, she invited me and took me to Las Vegas, corrupted me. And it was then, when we, kind of, got separated that we became maybe more friendly and more… was more a love… love relationship than before.
[DSB] You went to England and you met my mother there. Remember that?
[RV] Yes, it was '66 I went to England.
[DSB] Yes.
[RV] '65 I went to the Soviet Union; '66 I went to England and I met Phyllis Lakofski, who I was very impressed by.
[DSB] You came to see me in '66 and you were considerably warmer than you had been and it might be because of my mother.
[RV] I don't know, might have been, I don't know, could be, and, yeah, '66 that's when I came to visit you there. When did we go to Las Vegas?
[DSB] Then, 1966, November.
[RV] '66 Okay. And, so, I think that's it.
So, what year did it move from just friends having dinner to something more?
[RV] It was, sort of, '66 when I went out to California.
[DSB] Yes.
[RV] It was… she was more exotic in California and, sort of…
[DSB] Well, he was now successful, he'd published a book and he'd built a house, and he'd got some renown and he had his feet on the ground. And he was in a situation where he was thinking about next steps, I suspect.
So, you got married one year afterwards?
[DSB] Yes.
[RV] '67.
[DSB] And really there was not a courtship in the normal sense, until that time.
[RV] Yeah.
Who proposed to whom?
[DSB] I proposed to him.
[RV] We both proposed to each other at the same time. It was both and...
Internationally renowned architects Robert Venturi (1925-2018) and Denise Scott Brown (b.1931) have helped transform contemporary design through their innovative architecture and planning. Winners of numerous prestigious awards, their designs have championed multiculturalism, social activism, symbolism, pop culture, history and evolving technologies.
Title: Our courtship
Listeners: Thomas Hughes
Thomas Hughes is Mellon Professor Emeritus of the History of Science at the University of Pennsylvania and Distinguished Visiting Professor at the Massachusetts Institute of Technology. His most recent books include Human Built World, Rescuing Prometheus and American Genesis. He is a member of the American Philosophical Society, US National Academy of Engineering, Royal Swedish Academy of Engineering Sciences and the American Academy of Arts and Sciences.
Duration: 2 minutes, 19 seconds
Date story recorded: 22nd to 23rd September 2006
Date story went live: 27 May 2010