NEXT STORY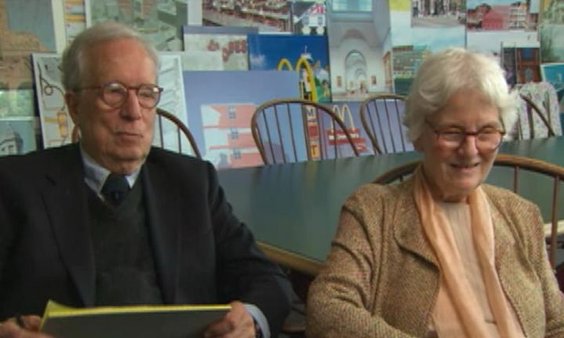 My choice of colour for the Vanna Venturi House
The importance of good clients; Vanna Venturi House
Robert Venturi and Denise Scott Brown
Architect
1
2
3
4
5
...
12
[RV] One thing I would like to talk about is the significance of clients in an architect's work. Speaking of Louis Khan again, he said, 'For a building to be good, there must be a good… there must be a good client as well as a good architect', and clients have been so important to us. With some clients we have had difficulties – some we've had difficulties – but in the end it turned out okay, but clients have been very important. We have here with us today, a person who is not exactly a client, our dear, dear friend Tom, Thomas Hughes, distinguished historian of technology and science and sociology at the University of Pennsylvania and other places. But he is also the inhabitant and owner of what's called my mother's house, which is a significant building in my life, and I think in architecture in the 20th century, to some extent. That he is the owner of that house, he and his then wife… she since died… Agatha, bought the house from my mother in 1970 it was…
'73.
[RV] '73, that's right, '73, thank you. And after it was sold I thought, oh my God, this is terrible, will this person respect the house and maintain it well? And I realised then it was a little bit like when an architect turns over his house, or his building, to the client or to the owner, it is a little like turning over a child of yours, to be, oh, a child you don't maintain, they seem to be adopted and brought up. And there just could have been no one, no couple of people, who were so good to that house, so understanding over the years. And something goes wrong, technically there's a leak or with something like that – not only does Tom Hughes not get mad at the architect, but he also immediately goes to the architect and together we figure out the right way to deal with it. And when we modify the colour of the house on the outside of it, we get together and talk about that very much. And just the way the house is maintained and used and furnished inside, it is accommodating, and friendly and appropriate. So Tom we consider extremely important in our lives as architects, and as a friend, because besides architects we are people.
Internationally renowned architects Robert Venturi (1925-2018) and Denise Scott Brown (b.1931) have helped transform contemporary design through their innovative architecture and planning. Winners of numerous prestigious awards, their designs have championed multiculturalism, social activism, symbolism, pop culture, history and evolving technologies.
Title: The importance of good clients; Vanna Venturi House
Listeners: Thomas Hughes
Thomas Hughes is Mellon Professor Emeritus of the History of Science at the University of Pennsylvania and Distinguished Visiting Professor at the Massachusetts Institute of Technology. His most recent books include Human Built World, Rescuing Prometheus and American Genesis. He is a member of the American Philosophical Society, US National Academy of Engineering, Royal Swedish Academy of Engineering Sciences and the American Academy of Arts and Sciences.
Duration: 3 minutes, 8 seconds
Date story recorded: 22nd to 23rd September 2006
Date story went live: 27 May 2010