NEXT STORY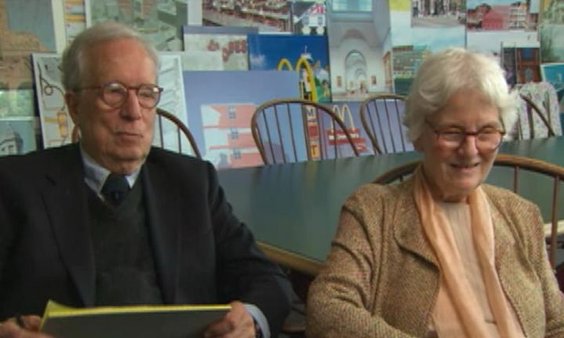 Paranoia and bad reviews
How men and women are treated differently
Robert Venturi and Denise Scott Brown
Architect
1
...
8
9
10
11
12
[DSB] I would say something with interruptions and how they're getting it out and people going on without responding or even listening, in the morning and then, I'd hear someone like William Wheaton in the afternoon, saying just the same thing. And people would say, 'Oh, yes'. They never interrupted him, of course, 'You're so right, how wise, how true'. And if got to feel resentful about that, I don't blame me. But then, if I did behave in an aggressive way that was terrible, that meant the world was against me. Whereas, if a man is aggressive it's… he should be that's the right thing to do. Well, women have been taught to make nice, to get their way by wile. And I think the toll that takes on a soul is really, very bad and I have not done that. So, I haven't smiled and said, 'Oh, yes, and how wise', and all of that kind of thing, because I felt it would destroy me, as well as, not being right. And there ought to be other models of behaviour open to women. But you find a lot of feminism talks about that. But, I think, I saw in my younger sister when she was very small that tendency and I just felt, first of all, anything she did, I couldn't do. So, if she was making nice and getting the attention of my father by being cute and small, I had to do something different. And I think, these are some of the reasons for it in me, but if I were a man, I think, they wouldn't be saying, 'She thinks the world is against her and she's insular and she's all these things'.
Internationally renowned architects Robert Venturi (1925-2018) and Denise Scott Brown (b.1931) have helped transform contemporary design through their innovative architecture and planning. Winners of numerous prestigious awards, their designs have championed multiculturalism, social activism, symbolism, pop culture, history and evolving technologies.
Title: How men and women are treated differently
Listeners: Thomas Hughes
Thomas Hughes is Mellon Professor Emeritus of the History of Science at the University of Pennsylvania and Distinguished Visiting Professor at the Massachusetts Institute of Technology. His most recent books include Human Built World, Rescuing Prometheus and American Genesis. He is a member of the American Philosophical Society, US National Academy of Engineering, Royal Swedish Academy of Engineering Sciences and the American Academy of Arts and Sciences.
Duration: 1 minute, 42 seconds
Date story recorded: 22nd to 23rd September 2006
Date story went live: 27 May 2010