NEXT STORY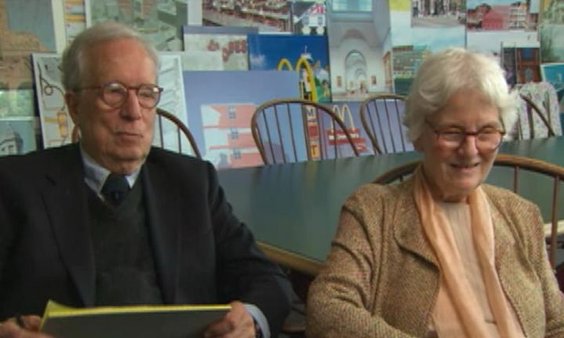 Why we are misunderstood
Beethoven, Milton and changes in the kind of work we get
Robert Venturi and Denise Scott Brown
Architect
1
...
8
9
10
11
12
[RV] Well, I imagine whatever I do wouldn't be quite up to Beethoven's Ninth Symphony, which is maybe one of the greatest works of art in the history of civilisation. But, no, I was just using that as an example that we have to spend so much time doing this, sort of, bureaucratic promotional and bureaucratic work, that we don't have the energy and time to put into creative production. And I really think that I'm being objective. I think that this is very different from what it was, even 10 years ago. Much different from what it was 20 years ago. And I think it's very sad and ominous.
[DSB] Could I just say something about that? For Bob's early career, I used to use the metaphor of Milton's poem, a sonnet on his blindness, because Bob had all this talent and the talent that applied to complex large projects and he wasn't being hired for them. So, he was frustrated. And the words in Milton are: That one talent, which is death to hide, lodged with me useless, though my soul more bent to serve… no, my soul more bent to… I forget… to serve therewith and present my true account lest he… wait… lodged with me useless though my soul more bent to serve therewith my best account and present… no and present… my true… to serve there with my Maker and present my true account, doth guard exact day labour, light denied? I fondly ask. Fondly meaning angrily and then, of course, the answer is: Patience to prevent that murmur then replied, God doth not need your talent… it says… they also serve to only stand and wait. Well, we reject the answer. But, Bob was feeling, I have this talent and I can't use it. And it was very poignant. Now, my feeling is we – he – we have ample opportunity now, to use this talent. No one can say we haven't had the opportunity or that we haven't used it. We want to go on using it, that's the issue now. But, we've… we've done, not skyscrapers, but the thinking and the design that leads the way for many skyscrapers. Even take, for example, the use of LED. Herzog and de Meuron with the huge Sony supported, or whoever, what giant of industry is supporting them next, buildings, wouldn't have done it without us. It's a shame we can't do it, but look how we have done it. And we're going to have to accept that that's our role. We should be happy to take small buildings now, if we can't get big, and just do that same thing.
Are you happy to do that or are you…?
[DSB] I'm happy to do that. I think Bob will be able to be happy to do that. I think, this Woodmere Museum and the Allentown Museum, the… we're used goods for museum people now, we… you know, someone else used us, so why would you go to us? Why wouldn't you go to the next signature and the one after that? It's flaccid and it's weak, and it's stupid but that's what they do. But, there'll be the same kind of people, the tea and sympathy clients who gave us work at the beginning, who'll give us work at the end.
Bob, do you feel that way?
[RV] Yeah, I think, that's pretty accurate.
[DSB] May not like it, but I think you can live with it.
[RV] Yeah, have to.
Internationally renowned architects Robert Venturi (1925-2018) and Denise Scott Brown (b.1931) have helped transform contemporary design through their innovative architecture and planning. Winners of numerous prestigious awards, their designs have championed multiculturalism, social activism, symbolism, pop culture, history and evolving technologies.
Title: Beethoven, Milton and changes in the kind of work we get
Listeners: Thomas Hughes
Thomas Hughes is Mellon Professor Emeritus of the History of Science at the University of Pennsylvania and Distinguished Visiting Professor at the Massachusetts Institute of Technology. His most recent books include Human Built World, Rescuing Prometheus and American Genesis. He is a member of the American Philosophical Society, US National Academy of Engineering, Royal Swedish Academy of Engineering Sciences and the American Academy of Arts and Sciences.
Duration: 4 minutes, 9 seconds
Date story recorded: 22nd to 23rd September 2006
Date story went live: 27 May 2010