NEXT STORY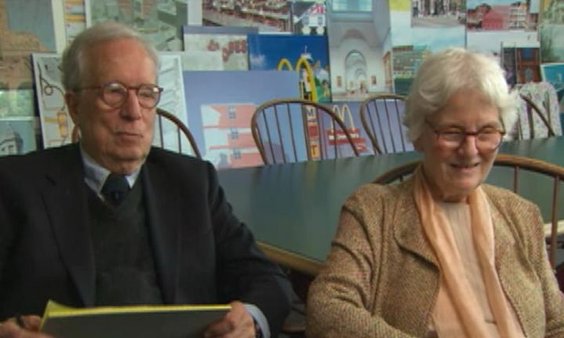 Interviews
Robert Venturi and Denise Scott Brown
Architect
1
...
8
9
10
11
12
[RV] I don't know, I just think I'm a person whose real interest is focusing completely on doing a good job and doing my work. And, I just don't really enjoy, kind of, analysing salesmanship and convincing, and all that. It's very important, but I'm not good at and I would rather focus on doing… doing it right and then I just hope and pray that some people will get it and accommodate. I think that's my… my approach. I really don't enjoy focusing on selling.
[DSB] I think, in architectural projects the selling happens somewhere other than that interview and people have already prepared their minds and very often they know who they want…
[RV] I think so, too.
[DAB] … from the start, and so, when you're in there then, you can lose it but you probably, if you were going to get it, you already have it. And what they go by is something that feels like a… a pair of comfortable old shoes. That's… it's no joke that a person who looks like them, feels like comfortable old shoes. Well, we don't look like many people. It's hard for me to look like a male client. And so, I think, it's as much all of those undertones in the selling process and the things that happen in the kitchen cabinet, as it is in the interview. Now, there have been some interviews where we've got it. We've looked up at the client and we know they're our kind of person, and they know we're their kind of person and we fall into each other's arms. And you can see it right after the meeting. But not too often because not very often are our kind of people in the front rows of the jury, they're on the back benches.
What are your kind of people?
[DSB] It's hard to know – complex, people with lots of words, with, kind of, soft mellow faces, with some insight for the intricacies, with a certain warmth. I don't know where else it goes after that, but I was very aware in the interviews with Cardinal Mahoney, for example. And he's… he's probably an interesting person in many respects and a contrarian one, and he bothers to stay in touch by Internet with… with priests who are no longer priests, for example and things like that. So, he's got some interest but he's got his role, and his job and his duties and he must be like this. Just… he looks like Moneo… Moneo… I predicted he would choose Moneo when everyone thought he'd choose Gehry. I was right. He looked like him and his manner was like him, and then, his… his chief assistant really wanted to drink beer with the boys. You could see in that pink shirt he was wearing was this beer stomach and so, he was another kind of a guy. Nothing wrong with him either, but in the back benches there were nuns and priests – young ones – and they were, kind of, you know, of the Left. And they loved the things we were saying about sanctifying secular architecture, you could just… 'Yes, yes, we're with you, we're with you'. Well, those in the back bench were our people. I was thinking, don't you have a little chapel somewhere that you are building that we could do for you?
Internationally renowned architects Robert Venturi (1925-2018) and Denise Scott Brown (b.1931) have helped transform contemporary design through their innovative architecture and planning. Winners of numerous prestigious awards, their designs have championed multiculturalism, social activism, symbolism, pop culture, history and evolving technologies.
Title: Salesmanship
Listeners: Thomas Hughes
Thomas Hughes is Mellon Professor Emeritus of the History of Science at the University of Pennsylvania and Distinguished Visiting Professor at the Massachusetts Institute of Technology. His most recent books include Human Built World, Rescuing Prometheus and American Genesis. He is a member of the American Philosophical Society, US National Academy of Engineering, Royal Swedish Academy of Engineering Sciences and the American Academy of Arts and Sciences.
Duration: 3 minutes, 37 seconds
Date story recorded: 22nd to 23rd September 2006
Date story went live: 27 May 2010