NEXT STORY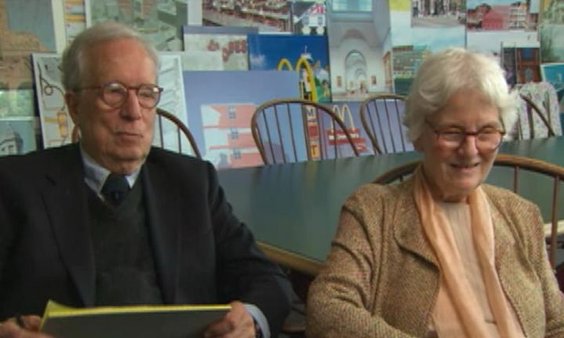 My love of the South African landscape (Part 2)
My love of the South African landscape (Part 1)
Robert Venturi and Denise Scott Brown
Architect
1
2
3
4
5
...
12
[DSB] I was well educated in Johannesburg; I have to be very grateful for the school they sent me to, mainly 'personned' by English ex-pats, not manned, because they were all women – and these great teachers, some of them I thank in the preface of our book, Architecture, Signs and Systems – and the school was a model of liberalism, but the culture was very English. And South Africa had Afrikaans culture, English speaking culture, and Jewish culture, but then also the textbooks and the kind of… what prevailed was English, and then we had also American – Hollywood movies, and American ex-pats – but the English were more prevalent, and so that affected me, because there's a feeling of patriotism in South Africa, shared by a lot of people. Even if you don't agree with the country, it's not my country right or wrong, it's my country wrong, but I love it. And I am going to protect it, and defend it, and help it to be what it should be. Put right, if you want to say, but, so there was that sort of feeling, and it ended up with a real love of the landscape, for one thing. And also, the sense that, we're being told how we ought to be by these English, they tell us our children are less well-educated, we don't know manners. My grandmother kept saying, 'The poor little children in England wish they had your spinach'. I'd say, 'They can have it'. And so, in the middle of all of that, I noticed particularly, English people who would say, 'Well, it's better in England and you should buy British', and during the war you wanted to, to help the English, but what's wrong with the things we make? And look how different they are. And then what's wrong with our landscape? I remember someone pointing out my beautiful bushveld landscape, and she found a piece of it, about this big, and she said, 'That could be a little bit of Surrey' – and I've taken that, not trying to produce Surrey in South Africa, why would you? It's ecologically not a good idea. We were into ecology long before this culture was taught how to think about architecture that orients correctly for the sun, and also of questions of passive sustainability, you know, by the use of masonry materials and, you know, etc, etc. So, thinking, there's an African way to be, there's an African way to build, let's look around us and see what that is, and learn from it. So I say, 'My view of Las Vegas is an African view of Las Vegas', because I brought just that same attitude.
Internationally renowned architects Robert Venturi (1925-2018) and Denise Scott Brown (b.1931) have helped transform contemporary design through their innovative architecture and planning. Winners of numerous prestigious awards, their designs have championed multiculturalism, social activism, symbolism, pop culture, history and evolving technologies.
Title: My love of the South African landscape (Part 1)
Listeners: Thomas Hughes
Thomas Hughes is Mellon Professor Emeritus of the History of Science at the University of Pennsylvania and Distinguished Visiting Professor at the Massachusetts Institute of Technology. His most recent books include Human Built World, Rescuing Prometheus and American Genesis. He is a member of the American Philosophical Society, US National Academy of Engineering, Royal Swedish Academy of Engineering Sciences and the American Academy of Arts and Sciences.
Duration: 2 minutes, 49 seconds
Date story recorded: 22nd to 23rd September 2006
Date story went live: 27 May 2010