NEXT STORY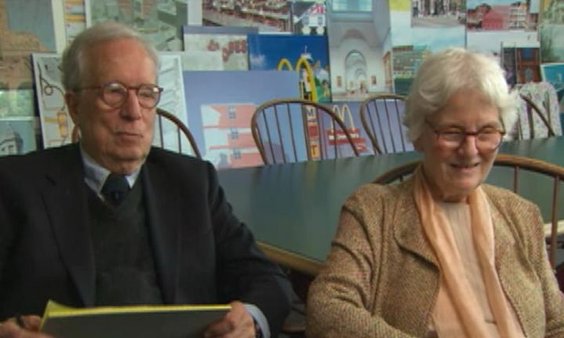 Alumni of the University of Witwatersrand
The Vanna Venturi house and the Philadelphia school
Robert Venturi and Denise Scott Brown
Architect
1
2
3
4
5
...
12
[DSB] It became an icon almost immediately. You see there was something happening in Philadelphia and journalists called it The Philadelphia School. And they ballyhooed it and everyone denied belonging to it but there it was. And it was in Progressive Architecture and they shared…
You mean the house?
[DSB] Not the house. The Philadelphia School. And they had pictures of Bob and Tim Vreeland and Lou Kahn and, etc., etc. So he was looked upon as a comer already just like that, because of those articles.
This is in the '60s?
[DSB] '60s, yes. And then, I remember when I was at UCLA and I met an architect there and he was showing me some buildings. He didn't know I knew Bob and this was 1965. And he said, 'I'm just sick of seeing that house in print everywhere'.
Yes. That early? In '65?
[DSB] Yes, yes. I was probably even before that.
I believe that there was a two-page spread in the New York Times of the house at one point, on one occasion.
[DSB] Yes.
[RV] I've carefully kept a… a track of… what's the word? A…
[DSB] Publicity?
[RV] Well a track of all the articles. Bill Whitaker is dealing with that. And so, it's a huge list of all the publications.
In the '60s?
[RV] All over. It's still… but mostly then, I guess. But, but at the same time, Philadelphia didn't have money. I didn't get any work in Philadelphia as a result of becoming a famous architect of a famous building in Philadelphia.
Internationally renowned architects Robert Venturi (1925-2018) and Denise Scott Brown (b.1931) have helped transform contemporary design through their innovative architecture and planning. Winners of numerous prestigious awards, their designs have championed multiculturalism, social activism, symbolism, pop culture, history and evolving technologies.
Title: The Vanna Venturi house and the Philadelphia school
Listeners: Thomas Hughes
Thomas Hughes is Mellon Professor Emeritus of the History of Science at the University of Pennsylvania and Distinguished Visiting Professor at the Massachusetts Institute of Technology. His most recent books include Human Built World, Rescuing Prometheus and American Genesis. He is a member of the American Philosophical Society, US National Academy of Engineering, Royal Swedish Academy of Engineering Sciences and the American Academy of Arts and Sciences.
Duration: 1 minute, 35 seconds
Date story recorded: 22nd to 23rd September 2006
Date story went live: 27 May 2010