NEXT STORY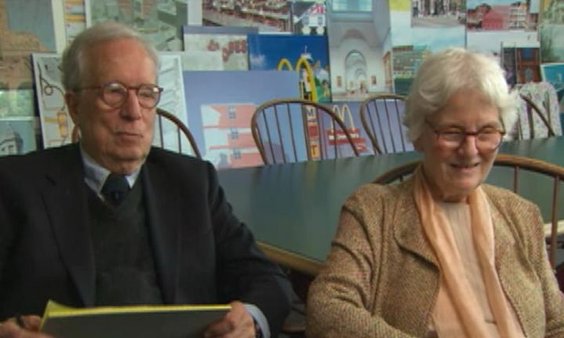 From South Africa through Europe to America
Movements in architecture
Robert Venturi and Denise Scott Brown
Architect
1
2
3
4
5
...
12
[DSB] The other thing that happened then was that this group were thinking in a parallel way to the way Peter and Alison Smithson were, who were of the New Brutalist group, and who'd recently moved to London from the North and were beginning to be noticed and important. They were not yet teaching at the AA. That came later. It was lucky it came at all, given that Alison Smithson said, 'We did not go to the AA. That's why we're good'. So they were contrarians and they became friends of mine, and important influences on me. And the issue here was… and the issue that involved a group of social scientists and the independent group was another 'is' and 'ought' issue. But the 'is' was not colonial and the 'ought' was not mother country. The 'is' was working class and the 'ought' was upper-middle class. So here were upper-middle class architects and professionals moving poor people from the East End out of London and to the new towns causing them enormous social hardship. And a group called Young & Willmott wrote a book called Kinship in the East End of London or something like that. And they made the case that the life of the street in the East End had many social skeins of support for poor people. You took them away from their mums and their neighbours and moved them to a place that was purely middle class and surrounded by green. Most of the rest of England may envy them but they would suffer there enormously.
And I think 40, 60 years later the people in the new towns are probably every bit as happy as the people in Levittown and that's not too very different. But at that stage, you could not say that. And so there was a movement among architects, learning from the social scientists. And that was the time when Peter Smithson talked about active socio-plastics and really tried hard to work with social scientists. Later he said you couldn't, it didn't work. I disagreed with him and I still do.
But so, they were thinking in the same way that we were thinking about that Welsh miner's village. A life of the street, a life on the ground, etc. And so that was very inspiring and interesting for me. And again I was involved with 'is' and 'ought'. With what we architects think is right and with what other people perceive and have the right to see happen to them because values cannot really be argued with. If it doesn't harm everyone else then they should be able to have what they need to conduct their lives.
Internationally renowned architects Robert Venturi (1925-2018) and Denise Scott Brown (b.1931) have helped transform contemporary design through their innovative architecture and planning. Winners of numerous prestigious awards, their designs have championed multiculturalism, social activism, symbolism, pop culture, history and evolving technologies.
Title: Movements in architecture
Listeners: Thomas Hughes
Thomas Hughes is Mellon Professor Emeritus of the History of Science at the University of Pennsylvania and Distinguished Visiting Professor at the Massachusetts Institute of Technology. His most recent books include Human Built World, Rescuing Prometheus and American Genesis. He is a member of the American Philosophical Society, US National Academy of Engineering, Royal Swedish Academy of Engineering Sciences and the American Academy of Arts and Sciences.
Duration: 3 minutes, 3 seconds
Date story recorded: 22nd to 23rd September 2006
Date story went live: 27 May 2010