NEXT STORY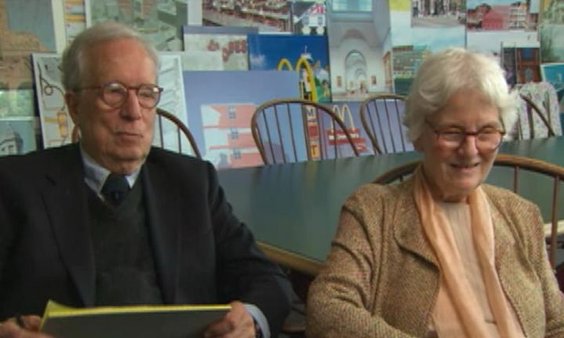 Differences in our backgrounds
Taking the city planning course at the University of Pennsylvania
Robert Venturi and Denise Scott Brown
Architect
1
2
3
4
5
6
...
12
[DSB] Now here the 'is' and 'ought' are again social and they're again class based. And it's 10 years later and it's America so it's a very different situation but we were well prepared aesthetically and in many other ways for this. And also now we were able to back up our educations because we had had undergraduate architecture educations with… through the city planning program at Penn, which is what we entered. We thought Lou Kahn would be in that program but to our amazement he wasn't. We couldn't understand that coming from Europe. How could Lou Kahn not be teaching in city planning? But of course it was a very different discipline. It was… it was a social science based discipline as much as a physical one at that stage. The important people to me there… many of them were important in different ways. David Crane was my student advisor and I've written recently quite a lot about his way of looking at Urbanism that helped it to relate to architecture. And in fact, when we first heard that there was no Kahn in city planning, we said to Crane we wanted to move to architecture. And he said, 'Because you are going back to Africa', which we were, 'you really, really need what this planning department will teach you. And I'll make sure you get enough of Lou Kahn as well'. And so Kahn was… well Crane was our mentor as long as he was there and also through the death of Robert. Britton Harris, an urban planner economist based. I must not say he was an economist; he got furious when I said that once. He's an urban planner but his discipline within that was economics and regional science. And also, through Dave Crane I took a course with Walter Isard, the regional economist. These have influenced everything I've said about activity patterns enormously. Crane was a great influence and seeing how these would tie into movement systems and understanding all of that. We were all critics of the systems planners as they began and it was a very interesting debate at that time. And then Herbert Gans, the sociologist enormously important in setting out a whole different way to think. Again, looking at the 'is' with creative eyes. And Paul Davidoff as a social activist and also a lawyer teaching planning law and many others. William Wheaton, another person, taught me a lot how to teach. So I finished at planning school as a widow. And immediately started teaching at Penn. And I was a sorrowing young widow from 1959 till 1967 basically. And in that time, I knew Bob. I met him as you can hear in 1960 and we started collaborating. But neither of us were ready to think other than platonically of each other, until we both left the University of Pennsylvania.
Internationally renowned architects Robert Venturi (1925-2018) and Denise Scott Brown (b.1931) have helped transform contemporary design through their innovative architecture and planning. Winners of numerous prestigious awards, their designs have championed multiculturalism, social activism, symbolism, pop culture, history and evolving technologies.
Title: Taking the city planning course at the University of Pennsylvania
Listeners: Thomas Hughes
Thomas Hughes is Mellon Professor Emeritus of the History of Science at the University of Pennsylvania and Distinguished Visiting Professor at the Massachusetts Institute of Technology. His most recent books include Human Built World, Rescuing Prometheus and American Genesis. He is a member of the American Philosophical Society, US National Academy of Engineering, Royal Swedish Academy of Engineering Sciences and the American Academy of Arts and Sciences.
Duration: 3 minutes, 19 seconds
Date story recorded: 22nd to 23rd September 2006
Date story went live: 27 May 2010