NEXT STORY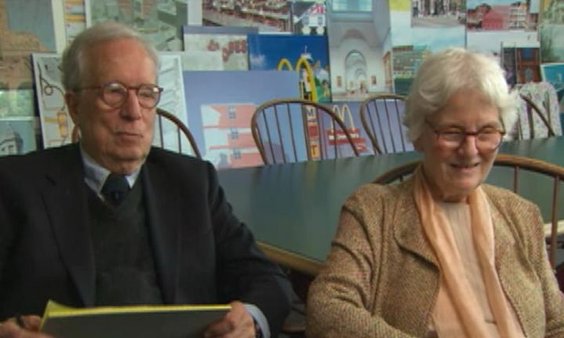 Early days working together (Part 2)
Early days working together (Part 1)
Robert Venturi and Denise Scott Brown
Architect
1
2
3
4
5
6
...
12
[DSB] Well, when Bob and I married and I came back to Philadelphia, I didn't think I would join this firm and yet it seemed as if our marriage brought bad luck. And it started to have emergency after emergency, and one way or another I got drawn in and found myself working for no money, full time and finally went to them and said, look this needs to be regularised. And they made me a partner but didn't give me my name on the firm for the next 11 years or so, in fact more, no, it was about 11 years. And then at that point, we had done for example, we were looked upon as that wonderful little dressmaker down the road – don't you tell your friends about her, she's so cheap and so good – and by various clients like Pennsylvania General Hospital, or was it called Philadelphia General Hospital that large old city hospital that was demolished? And so… and lots of small jobs and some rather larger jobs like Friends Neighbourhood Guild had been built. And I came into the office and at the same time or, you know, a year later we were doing in parallel the Yale study of Las Vegas and also working as advocate planners and architects for a very low income community in south Philadelphia.
[RV] South Street?
[DSB] South Street, for no money and helping them stop an expressway. That project has become very famous and I still feel very happy when I go down South Street and see what we saved. So, we were doing those two in parallel, very socially concerned and the other one people think of was not socially concerned, but of course it was; Las Vegas was a very socially concerned project in many ways. But also, then slowly the work came in. We found ourselves doing a new city in California in the desert, which was fascinating and we got work at New York University, New York State University and two buildings there. And we… Bob had the interest of Philip Johnson and he was helping to promote us partly through that work and partly through some housing, until we began to get beyond Philip's control and then we were kind of dropped by Philip. I've often thought this was difficult for us but good, because it kept us independent. Maybe being outside of New York was a good thing, not a bad thing.
And slowly we got more urban planning work of a certain kind. Small main streets like the one we're living on but in Jim Thorpe, Pennsylvania and Galveston, Texas and in Miami Beach, Washington Avenue, what a wonderful project. And we slowly built up an expertise in working with very small community groups, to produce rehabilitated main streets from the point of view of the interests mainly of the small storekeepers, but dealing with the parking and all sorts of other problems together, a wonderful preparation in many respects for other work.
But it was touch and go with us for a long time. Bob at the same time was running… or not running but being the owner of his father's fruit and produce business which was there to keep his mother supported and that too began to have difficulties. So now we had within a couple of blocks of each other, Venturi Incorporated the fruit and produce business and Venturi and Rauch the architecture business, both of them not doing so very well, thank you. And then when the architecture business began supporting the fruit and produce business instead of vice versa after some hair raising and picturesque experiences with the unions, we closed it. Now we were in the practice of architecture and we were not teaching any more, but times were still very hard on us.
Internationally renowned architects Robert Venturi (1925-2018) and Denise Scott Brown (b.1931) have helped transform contemporary design through their innovative architecture and planning. Winners of numerous prestigious awards, their designs have championed multiculturalism, social activism, symbolism, pop culture, history and evolving technologies.
Title: Early days working together (Part 1)
Listeners: Thomas Hughes
Thomas Hughes is Mellon Professor Emeritus of the History of Science at the University of Pennsylvania and Distinguished Visiting Professor at the Massachusetts Institute of Technology. His most recent books include Human Built World, Rescuing Prometheus and American Genesis. He is a member of the American Philosophical Society, US National Academy of Engineering, Royal Swedish Academy of Engineering Sciences and the American Academy of Arts and Sciences.
Duration: 4 minutes, 54 seconds
Date story recorded: 22nd to 23rd September 2006
Date story went live: 27 May 2010