NEXT STORY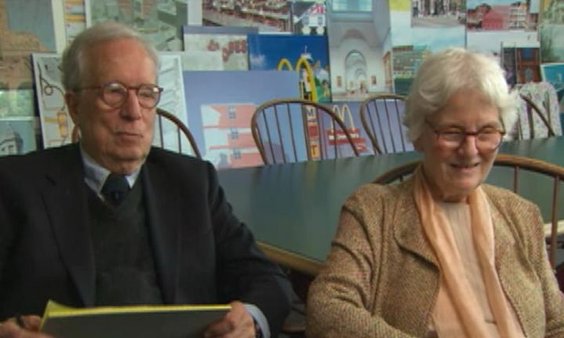 More on education
Princeton and architects that I like
Robert Venturi and Denise Scott Brown
Architect
1
...
4
5
6
7
8
...
12
[RV] So I… I really can't say that much more that is interesting about my education, except that thank God I went to Princeton, it was an accident almost, thank God. I think it was rather good in my case that I wasn't part of movements, part of a movement and part of a school of architecture, that I could be… I think therefore that I could be independent. I had wonderful teachers at Princeton University; it was a place also where they encouraged you as an undergraduate, even though you were going to major in architecture and did, the last two years, to take lots of varieties of Liberal Arts. So, I think I got a very good Liberal Arts background. I wasn't entirely happy when I went there for my Masters degree, but it was… it was good, I think in the end. And then I… I… there's not much more to say about my education before that – I've already spoken about my parents and their liberal ideas. I went to the Episcopal Academy which was a school where you got… which had a very sort of traditional idea, by no means liberal, you had a very sound education in the general parts of… general aspects of education. So, I got to… for that reason, at Princeton I could be very free and happy and confident when I got there, because I got such a good education at this conservative boys… boys school.
When you were at Princeton in graduate school, were there any architects whom you especially appreciated and felt that you were influenced by, while you were in graduate school?
[RV] I didn't think that way too much, but it is interesting when a little later after that, when I was a young architect and working and so forth, this is an over-simplification but in those days, this is in the kind of '50s, you could be… you were either a… you were either a Mies van der Rohe guy or a Frank Lloyd Wright guy. When I was working for Saarinen it was a… and I was a Frank Lloyd Wright guy… I was a Frank Lloyd Wright – I think you'd say that was an influence. Later, I changed around completely and I became not Frank Lloyd Wright and became Mies van der Rohe, although I've written recently and lectured recently in Chicago about Mies van der Rohe and my kind of yes and no about Mies. Mies I thought was very good but Mies was very different from me, when I could say that less is a bore rather than less is more. And the reason that I could say that was that I was Mannerist and he was not Mannerist, he did not accept the contradictions that were so much part of the era.
What about the Finnish architects?
[RV] Well, Alvar Aalto. Yes, I would have to say, he is my favourite architect of the 20th century, although I admire Le Corbusier very much. But Alvar Aalto is my favourite and I… I also have written, wrote on him an essay, where… I make a terrible mistake at the end, where I say, 'Ah, one good thing about him is that he's never written about architecture'. Well, it turns out he's never written about architecture that was translated into English at the time, but he had written about architecture. But no, the point is that… I consider him a kind of impure and Modernist, who was a… who was Mannerist, I would interpret him as, but I love him…
[Overtalking]
And I've gone to Finland to watch him. I interpret him as, incidentally he was a Mannerist but that isn't… I don't say I love him because he was a Mannerist. I'd say I love because I love him and his work, but oh by the way he was that way.
I was lucky when I was at Princeton in my senior year of '47, it was the year of the 200th Anniversary of the founding of the University of Princeton and different departments in the school… in the university had kind of celebrations. And the celebration in the School of Architecture was a week when all the great architects of the world – except Le Corbusier – all of the great architects of the world came and were there. You name him, he was there, including Frank Lloyd Wright and all the foreigners and all that stuff. And it was just thrilling for me as a young architect. My dear teacher, Sherley W Morgan had Mr Wright to lunch at his club at Princeton, and he invited me. I was the only one and I sat next to Wright at lunch and I could see all of these architects and hear them. One story I love was that at one of the informal meetings held at the Princeton Inn where the architects had, sort of, gathered and we students were there, to talk informally, and Frank Lloyd Wright got up and there was a sort of a… a small black board that was put up in the lobby there for him and he gave a little speech about the significance and the… of the Japanese-Asian philosophy and how it's more superior to American. And he drew two dots on this… on this board, he drew a dot here and a dot here and he said, 'When an Asian goes from here to here, he takes an indirect route'. And he drew a kind of S like that and then he said, disdainfully, 'An American when he goes from there to there, is efficient and makes a straight route'. And this wonderful guy George Howell got up and he said, 'Ah, but Frank, there is a third way, the American way which is combination of the both', and he wrote an S with a line through it. It was just fab, I loved it and it was so quick and good. But that was a wonderful experience and I met… I didn't talk to him. I did talk to, I did talk to… at a reception, I went up to the head of the school at Harvard, whose name I keep forgetting, you just mentioned him. Who's the head of the school at Harvard?
Walter Gropius.
[RV] Who?
Walter Gropius?
[RV] Walter Gropius, Walter Gropius, why do I keep forgetting it? And I… I said, 'Mr Gropius may I ask you a question?'
[DSB] What year were you in?
[RV] I was in my senior year and I was 22… 22, and I… 20, yeah 22, and I had had a martini so I felt kind of proud – not proud, but courageous. And I said, 'Mr Gropius could you explain to me', this is at a reception, I mean… 'the difference between your philosophy and that of Frank Lloyd Wright's?' And Mr Gropius answered, 'Young man, could you direct me to the rest room?' And immediately, and I did, and then immediately afterwards, I said, 'I deserve that answer', that was stupid to ask such a question at this time.
Internationally renowned architects Robert Venturi (1925-2018) and Denise Scott Brown (b.1931) have helped transform contemporary design through their innovative architecture and planning. Winners of numerous prestigious awards, their designs have championed multiculturalism, social activism, symbolism, pop culture, history and evolving technologies.
Title: Princeton and architects that I like
Listeners: Thomas Hughes
Thomas Hughes is Mellon Professor Emeritus of the History of Science at the University of Pennsylvania and Distinguished Visiting Professor at the Massachusetts Institute of Technology. His most recent books include Human Built World, Rescuing Prometheus and American Genesis. He is a member of the American Philosophical Society, US National Academy of Engineering, Royal Swedish Academy of Engineering Sciences and the American Academy of Arts and Sciences.
Duration: 7 minutes, 44 seconds
Date story recorded: 22nd to 23rd September 2006
Date story went live: 27 May 2010