NEXT STORY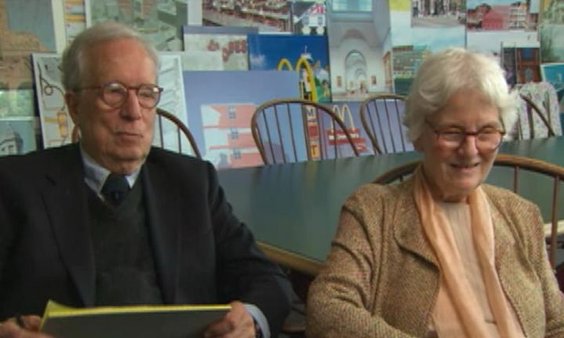 Places that have had an effect on us
Robert Venturi and Denise Scott Brown
Architect
1
...
4
5
6
7
8
...
12
[RV] I think it is significant that in a way we are constantly being educated. We are constantly absorbing, we are constantly… partly because we like to look at the every day and learning from it. I am never bored. I take the train to New York and I decide, will I sit on the left side or the right side, which side do I want to see this time? And I look out of the window and I take route 95 up to New York in the car and I'm constantly thrilled by what I see. I find my favourite church to the left in north Philadelphia. I forget the name of it. It's a church where the façade has in it… its tower, but the tower is two dimensional, it's part of the façade, the tower is a sign therefore, and I learn from that. And I learn, of course a lot from the industrial architecture, so the… that, that, the constant learning. Then we've done an enormous amount of travel throughout Europe, lots of continents, but of course mostly Europe, but also Asia, China, Japan where again we constantly, constantly learn. I remember the one, our first time in Japan was one week and I was just sort of ecstatic. I was like intoxicated the whole time I was there and that was from loving the current Tokyo which… what's the name of the main street there, the…?
[DSB] The Ginza?
[RV] The Ginza, which is just teeming with signage, with neon, with lights with iconography of all sorts and with all kinds of architecture. And it's a city where you have a hundred storey high rise here and right next to it is a, a religious shrine that's very, very rural and so it's enormous complexity and contradiction, and then of course you find that in other cities there. And again this combination of the… of the traditional and the… that are… and the current that are so vividly juxtaposed. But, but we're just constantly learning from where we travel, either we go to new places or we go back to old places. Most of our travel in the last 20 years has been related to working abroad, which is more fun even than leisurely travelling, I think. But we could just write several volumes on, sort of, directly what we learn from looking at all kinds of architecture, including Hong Kong, Shanghai, Rome, Florence, what's the capital of… anyhow, all sorts of places. And I think that, that business of being constantly educated is important. And I think, it derives also from the fact that we are not… we do not have ideology, we do not have, sort of, this is the way, this is the right way and therefore you don't have to look at anything else, and you just focus, and I think the fact that we don't focus on a few things, we focus on lots of things is constantly stimulating to us, constantly, constantly thrilling. And I, kind of, enjoy making an analogy these days, and I think it really connects to our… to the complexity, I'm going to save that for a little later. So, that's what I can say about the education part, that education for us is not only formal education. I think I did mention that I did have this combination of going to a liberal school when I was very, very young, a… a Friend's School, where you were sort of allowed to do anything you wanted and I was jumping all over the place and I wasn't learning much, what do you call it now? There's a name for it, Denise?
[DSB] Non-directive school.
[RV] No, a child who's jumping around all the time.
[DSB] ADD.
[RV] AVD?
[DSB] ADD.
[RV] What's it called?
[DSB] Well, it's Attention Deficit Disorder if you want to…
[RV] Attention Deficit Disorder, I had…
[DSB] Or else dyslexia as well.
[RV] And on the other hand I was looking around, or maybe dyslexia and then they also…
[DSB] It's not a disorder, it's a difference and a pretty creative way to be and…
[RV] Yeah.
[DSB] Many creative people have that.
[RV] I remember at one time at the Friend's School we went on a picnic or something, and they were worried about me, because the boys were over there playing baseball and different things like that, and the girls were over here doing other things and one of them was playing in a sandbox. Well, I was over with the girls playing in the sandbox because I was building buildings in the sandbox and so they decided that I better go to a school where there was more focus on the academic. And I'm really glad I did and at Episcopal I went to a place where we went to Episcopal chapel every morning, then on… then on Sunday, or first day as the Quakers call it, I went to Friend's Meeting. And then I did learn all of these academic, conventional academic subjects of history, English, mathematics and so forth, science courses, which I wasn't so good at. And I did pretty well there, because I focused a lot and I did very differently from how I had done in the Friend's School. I just changed, became really focused. Then when I went back… when I went to Princeton I could become free again, the way I was at the beginning.
Internationally renowned architects Robert Venturi (1925-2018) and Denise Scott Brown (b.1931) have helped transform contemporary design through their innovative architecture and planning. Winners of numerous prestigious awards, their designs have championed multiculturalism, social activism, symbolism, pop culture, history and evolving technologies.
Title: More on education
Listeners: Thomas Hughes
Thomas Hughes is Mellon Professor Emeritus of the History of Science at the University of Pennsylvania and Distinguished Visiting Professor at the Massachusetts Institute of Technology. His most recent books include Human Built World, Rescuing Prometheus and American Genesis. He is a member of the American Philosophical Society, US National Academy of Engineering, Royal Swedish Academy of Engineering Sciences and the American Academy of Arts and Sciences.
Duration: 5 minutes, 48 seconds
Date story recorded: 22nd to 23rd September 2006
Date story went live: 27 May 2010