NEXT STORY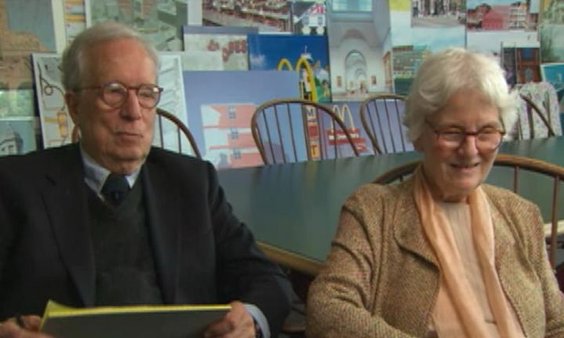 Designing a chapel and a trip to Ravenna, Italy
Places that have had an effect on us
Robert Venturi and Denise Scott Brown
Architect
1
...
4
5
6
7
8
...
12
[RV] I would say there was Rome, where I learned a lot about space and urban design that accommodated the pedestrian and created architecture with enormous spatial and later symbolic effect, so Rome. Then there is Las Vegas – I combine Las Vegas with Los Angeles because the Las Vegas of then, which was a city of the automobile, a city of the… of the… of the automobile, with the signage, what's the word, the strip city.
[DSB] And then Tokyo.
[RV] And then there was Tokyo, which is a city of the coming together of cultures and the coming together and creating in crazy ways of being extremely, deriving not from a kind of Parisian, let's call it, urban design effect. Then there was Shanghai, which I just adore, again Shanghai, I always wanted to go to and eventually got to and have been back three or four times – where we do have a job now. And in Shanghai there is the phenomenon, that I was aware of before I went there, of the coming together of cultures, which interests me very much. I mean way… going back 150 years of the English, the French, the German, Jewish also, that kind of migration there, and there are these areas within the city that go back. You visit the edge of the old city and you find, kind of, suburban houses that could be right on the main line or on Long Island, I mean, I just can't believe it, that you're in China, and then of course you have the other real Chinese influence too. So, the coming together of cultures fascinates me and again, it involves complexity, contradiction and having a wide range. And of course we also love Hong Kong for that reason. We're very delighted to be working in Shanghai. Before that we, or Denise, was working in Tsinghua.
[DSB] Beijing.
[RV] At the University at Beijing, at the University of Tsinghua doing a campus study for them. I really wasn't working then, on that… and then we have designed these two high rises. We always wanted to do high rises in America. Somehow in America, developers don't come to us, they consider us too highfaluting, they don't realise we are… we are very practical and good at coming in on the budget, and on time. Someone said, 'Ah you're arty and crafty, that means...' But anyhow, and so this wonderful developer who loves what we've done and we've done these high rises that really do connect with our thoughts about doing a building which is a generic loft, although a high rise one, quite Mies van der Rohe looking, ironically, but then…
And this is in?
[RV] This is in… in Shanghai. Unfortunately the Government has stopped all, about a year ago, stopped all building temporarily, because they thought that it was bad for the economy, too much development. But it is going to start up again and that developer still loves the building and wants to go ahead. So we've had all sorts of weird experience when we were… a few weeks ago we went back on our vacation, to visit one of my most… one of my most favourite cities in the world, which is what in France?
[DSB] Toulouse.
[RV] Toulouse, Toulouse where we have done… where we did, and finished a very big project, for a… as a… it's a state capital called…? It's a state – the equivalent of a state capital – a provincial capital, its call the Hôtel du Département de la Haute-Garonne. And we went back there and it was just heaven to go back because I love the city. I love the historical architecture but also they were maintaining our building very beautifully. The French were actually behaving themselves beautifully, maintaining our building and understanding it and appreciating it. So that was a happy, a happy experience. Unfortunately, we can't go to Italy to look at any work, because we haven't done any work there.
[DSB] We've done a small building…
[RV] Very, very modest work, don't count.
[DSB] Some decorative arts.
[RV] Decorative arts we've done. But certainly that Toulouse experience was just fantastic, really there's a great church of the Jacobean which I love, which is a conventional Gothic church that… in brick, because that town is in brick. But right up the nave are columns, columns going right up the middle of the nave, no one knows why, don't know why and that's a contradictory duality that I adore and I, and I went there. And then there's this wonderful cathedral that's Gothic that starts this way, and then moves over there and goes that way for some circumstantial reason – another complexity in contradiction which is really wonderful. And so anyhow, we're just, we're just thrilled all the time. Of course we're thrilled when we go to Venice but… and, so that's it. But we particularly love Shanghai, we particularly love Rome, Hong Kong, I have my 21 favourite cities that…
[DSB] London.
[RV] London, I adore. I adore the capital of, of… what is it? One of the…? I'll, sort of, come back to that one. But as we go and on, I adore, I adore and I went back 50 years later, a couple of years ago, to my first trip of the, of the city in Turkey, called…
[DSB] Istanbul.
[RV] Istanbul, and the main thing I love about Istanbul is Hagia Sofia, which is my favourite building in all history and I could go on for a half hour on that. I won't, but I just… I worship that building and I've… when I visited it 50 years ago I said, 'This is my favourite building'. When I went back 50 years later, I said, 'Yes, it's still is my favourite, my favourite, my favourite building'. But I love Chicago, I love LA, I love Miami Beach so I have a… we have a wide range of cities that we particularly learn from.
Internationally renowned architects Robert Venturi (1925-2018) and Denise Scott Brown (b.1931) have helped transform contemporary design through their innovative architecture and planning. Winners of numerous prestigious awards, their designs have championed multiculturalism, social activism, symbolism, pop culture, history and evolving technologies.
Title: Places that have had an effect on us
Listeners: Thomas Hughes
Thomas Hughes is Mellon Professor Emeritus of the History of Science at the University of Pennsylvania and Distinguished Visiting Professor at the Massachusetts Institute of Technology. His most recent books include Human Built World, Rescuing Prometheus and American Genesis. He is a member of the American Philosophical Society, US National Academy of Engineering, Royal Swedish Academy of Engineering Sciences and the American Academy of Arts and Sciences.
Duration: 6 minutes, 59 seconds
Date story recorded: 22nd to 23rd September 2006
Date story went live: 27 May 2010