NEXT STORY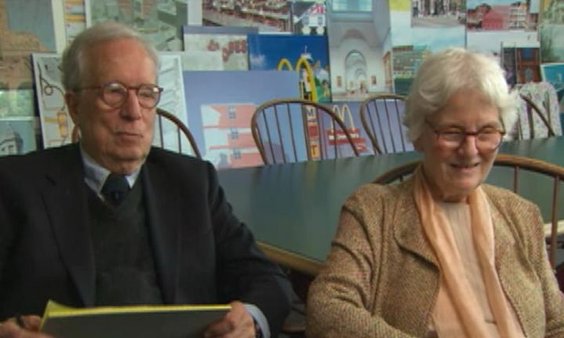 Learning by doing; how to run studios (Part 1)
Robert Venturi and Denise Scott Brown
Architect
1
...
4
5
6
7
8
...
12
[DSB] Informal learning, going back to that theme, I think that I learned a great deal from my mother, in particular… both parents. And luckily she was very broad, because any field that she had managed to learn about, or have an interest in, I felt could belong to me too. So, if she could be good at words, I could be good at words; if she could be good at learning languages I could do that. And she drew all the time, my mother. And she had studied architecture, so, as a small child, I said, I'm going to be an architect like my mommy. Imagine my surprise, when I got to university and found it wasn't women's work! 'But what are all these men doing here?' It was a rather different story from Bob's – being thought of as a girl. Maybe it's the same story... I thought architecture was women's work.
[RV] That's funny… weird.
[DSB] But anyway, going on from there my mother's influence went also to having, what I call, swivel-tilted heads. She was always looking wherever she went and she would go driving in the countryside looking at buildings, and we would go with her in the back of the car. And so, long before Bob and I met, we shared many things, but one of them was having this swivel-tilted view of the world, you're always looking – like this [swivels head]. I can't now wear progressive lenses because they taper off – this way [nods vertically], I need to be able to look like this, not cross eyed but across that way, so I have to have bifocals or trifocals instead, and surveying the horizon, surveying the near landscape and everything in-between. So, then also my mother had friends at school and if you read one of the Oeuvres Complètes by Le Corbusier, there's a letter written to some young architects and he says, 'I love the way you react to my work and are learning from my work. And have me… find a Croesus', he says, 'who will bring me out to Johannesburg and we can do a project together'. And it never happened, but that group of people were my mother's friends at university, they were failing architecture school, because they were doing Modern. So, when she dropped out because she could no longer afford to be in school, she married after some years and we moved back to South Africa. And we built about the second, what Americans would call, international style house, what we called Modern house in Johannesburg, and it was a really very beautiful house.
[RV] A beautiful house.
[DSB] Bob and I went back there and saw it. Unfortunately they'd put a roof on it. They said, 'You would have too – the roof leaked after this time'.
[RV] A sloping roof?
[DSB] Yes, a sloping roof, a real roof, not the one we used to play on. We used to climb up and get on the roof and play there. And so, the…
I was swivel-tilted at that time. And then in parallel with the interests in Modern there was, of course, African housing. And as an architecture student, I became very interested in some of that. And then even more so, what Africans did with industrial waste, what Africans did by way of making sandals out of car tyres for example – which was standard rough country wear in large parts of Africa. And the whole thing of beadwork, which came from many places including Venice and Manchester… the beads Africans used. The fabrics which came from Manchester and were made into wonderful clothes, which were African theme fabrics made for the African market. And then the tin cans and the wire that they found to make toys with. And all of those thrilled me as a young Modernist and they were found objects. That's another phrase the Modernists used, you would discover found objects. Sculptors discovered bits of driftwood or beach pebbles and it influenced the sculpture of people like Henry Moore. And architects following that had found objects. And then some of the found objects were industrial grain silos of America that Gropius discovered and introduced to Le Corbusier. And I said later, our found objects were Las Vegas and Levittown.
Internationally renowned architects Robert Venturi (1925-2018) and Denise Scott Brown (b.1931) have helped transform contemporary design through their innovative architecture and planning. Winners of numerous prestigious awards, their designs have championed multiculturalism, social activism, symbolism, pop culture, history and evolving technologies.
Title: Learning from my mother
Listeners: Thomas Hughes
Thomas Hughes is Mellon Professor Emeritus of the History of Science at the University of Pennsylvania and Distinguished Visiting Professor at the Massachusetts Institute of Technology. His most recent books include Human Built World, Rescuing Prometheus and American Genesis. He is a member of the American Philosophical Society, US National Academy of Engineering, Royal Swedish Academy of Engineering Sciences and the American Academy of Arts and Sciences.
Duration: 4 minutes, 56 seconds
Date story recorded: 22nd to 23rd September 2006
Date story went live: 27 May 2010