NEXT STORY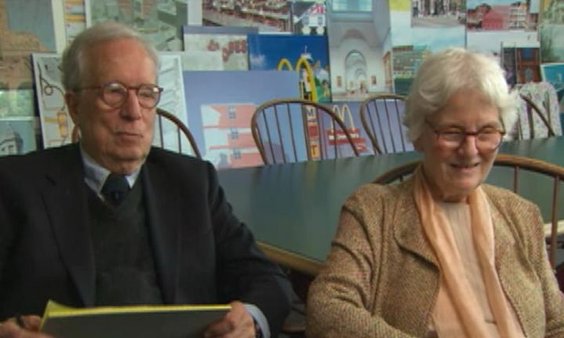 Symbolism and signs
Robert Venturi and Denise Scott Brown
Architect
1
2
3
4
5
...
12
[DSB] These Renaissance architects knew the orders very, very well. They started as children and they… it was part of their bones and then they got bored, so what do you do when you get bored? You start breaking the rules. And the sly, clever, breaking of the rules in painting and art was looked upon as decadence by the early historians, as neurosis. And the notion that Mannerism is something effete is one that we've contested, and precisely because our societies are complex today. We say, 'We too live with the orders, the "order" of transportation, social order, the systems whose patterns we are studying'. But when they overlap, they are in conflict; inevitably they're in conflict, because of the complexity of our society. So how the one gives for the other is fascinating to us.
If you think of the outskirts of New York, and there is marsh ways and waterways and fields and then roadways, and that whole… and expressways, and then pylons and electrical ways and old factories, and the whole thing jams up, and it's like a playground of the Gods. I say, 'It's Mount Olympus on a Saturday night'. Well, that's a very interesting architecture. It has, you could say, no order or many conflicting orders. And building in the middle of this… I have a picture of Rem Koolhaas swinging on a trapeze over Mount Olympus you see… and the buildings that he does… well, that coping with that disorder of the complexity of systems is a very nice, present-day Mannerist task, which is not in the least decadent. The question is to draw an agonised beauty out of all of that, and that's I think, a lot of the challenge for us, to do that. So, I think Mannerism's been a very creative field for us, in that sense, to think about those conflicts and how we can work cleverly. The Modernism felt that the architect as an Urbanist had to produce order, and of course, we suffered from that view in urban renewal in America, and I've reacted and so did Bob, in the 1960s, through the whole social revolution here, to that way of thinking, and this has caused us to have a great many different views.
I have used various metaphors for my role. I first, in the 60s, trying to relate social planning, which I was very much involved with in the 60s, and still am, to physical planning, I said I was… and to architecture, because I maintain I am an architect, an architect and a planner, not an architect-planner. And I say I'm a circus horse rider, and my two horses – architecture and planning – are going like this, and I try to bring them this way. But more recently I've seen myself in another role. Modern architects saw the architect as a master planner, and the mastery of environment is something that the social planners reacted against.
Do you see it as a mistress planner?
[DSB] No, I don't see it as any sort of mistress or master planner. I see it as a role that has to be involved with intervention and reaction. Particularly the public sector planner makes an intervention, hoping the private sector will react to continue the pattern, because no public sector architect or planner in America can do much. So the theory of intervention and reaction seems a much more kinetic one, a much more open one, and in that respect, there was a very wonderful poem by a Belgian poet, Verhaeren, about the sailor who goes down in the ship, and he's trying to master… he actually says, 'master' the waves… but he can't, but he has consciousness even though the waves don't, and that's his only glory. And he goes down in the waves. Well, I said, 'That's what the architect planner does, goes down trying to be a master planner'. But if you could think of yourself, instead of a sailor, as a surfer, now you're managing the waves, and with a little bit of luck you might even hit a cool spot and build a building. But don't try to do it at the World Trade Center, keep away from that kind of project, where the waves will just inundate you and kill you, unless you happen to be very, very powerful and well-connected and able to push your way through. And then what do you get as a result? Maybe not the greatest architecture. But the notion of being a surfer, and a strategist, and clever, and finding beauty in unexpected places, and laughing a little as you do it in order not to cry, this has been, I think, part of understanding what your roles are in a Mannerist situation.
Internationally renowned architects Robert Venturi (1925-2018) and Denise Scott Brown (b.1931) have helped transform contemporary design through their innovative architecture and planning. Winners of numerous prestigious awards, their designs have championed multiculturalism, social activism, symbolism, pop culture, history and evolving technologies.
Title: Mannerism (Part 2)
Listeners: Thomas Hughes
Thomas Hughes is Mellon Professor Emeritus of the History of Science at the University of Pennsylvania and Distinguished Visiting Professor at the Massachusetts Institute of Technology. His most recent books include Human Built World, Rescuing Prometheus and American Genesis. He is a member of the American Philosophical Society, US National Academy of Engineering, Royal Swedish Academy of Engineering Sciences and the American Academy of Arts and Sciences.
Duration: 5 minutes, 20 seconds
Date story recorded: 22nd to 23rd September 2006
Date story went live: 27 May 2010