NEXT STORY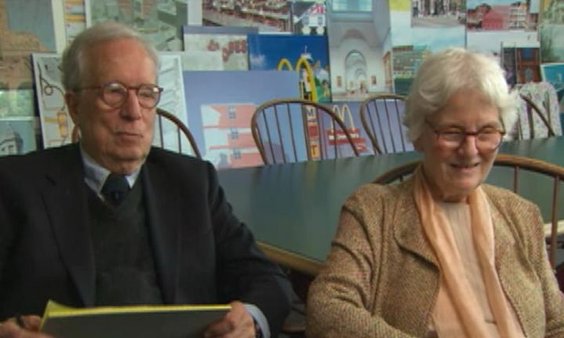 The Byzantine complexity
Not every presentation ends in success
Robert Venturi and Denise Scott Brown
Architect
1
...
5
6
7
8
9
...
12
[RV] I remember going there, I remember making a presentation, but I did not get any sense that we were… had made a particular, any faux pas in the presentation and these things are Kafkaesque; they really are; they're very hard to judge – these kinds of interviews. So I have no answer to that. Obviously they liked the other guy better; he said the right things and I didn't. But I was simpatico, I was trying my best, being honest – that's all I can say. I don't know what… and very often you don't know. But very often you go into an interview and the decision has really already been made, no matter what you say or how you act you don't get the job.
[DSB] And you can sometimes tell that. A recent situation… someone said of our project, 'They've really done a marvellous project'. And one of the interviewers there said, 'Aren't we lucky we have several very qualified candidates', and he meant I'm not giving it to them. And I knew that as he said it.
[RV] There was another project we went to where we learnt afterwards that one of the interviewers said, 'Venturi came and he… he brought his wife with him'. Misunderstandings are just amazing.
Who was that?
[DSB] No, you can't say…
[RV] I can't tell.
When was that?
[RV] A long time ago.
[DSB] Yes. Probably the early '70s.
Do you remember the presentation you gave to the Getty?
[RV] I don't remember any details about it actually, Jim.
[DSB] But you know, you could say this. If they liked what they got they wouldn't have got that from us and, therefore, they weren't our clients and we weren't their architects and sometimes, I'm sure that was a privilege to do that work… but sometimes the ones you don't get… you should say, let our competition get it… be brought down by that project. Why should we suffer through that difficult situation?
[RV] There is, you know, the phrase of Oscar Wilde – the only thing worse than not getting what you want is getting what you want. Sometimes that applies with architectural projects.
Internationally renowned architects Robert Venturi (1925-2018) and Denise Scott Brown (b.1931) have helped transform contemporary design through their innovative architecture and planning. Winners of numerous prestigious awards, their designs have championed multiculturalism, social activism, symbolism, pop culture, history and evolving technologies.
Title: Not every presentation ends in success
Listeners: Thomas Hughes
Thomas Hughes is Mellon Professor Emeritus of the History of Science at the University of Pennsylvania and Distinguished Visiting Professor at the Massachusetts Institute of Technology. His most recent books include Human Built World, Rescuing Prometheus and American Genesis. He is a member of the American Philosophical Society, US National Academy of Engineering, Royal Swedish Academy of Engineering Sciences and the American Academy of Arts and Sciences.
Duration: 2 minutes, 30 seconds
Date story recorded: 22nd to 23rd September 2006
Date story went live: 27 May 2010