NEXT STORY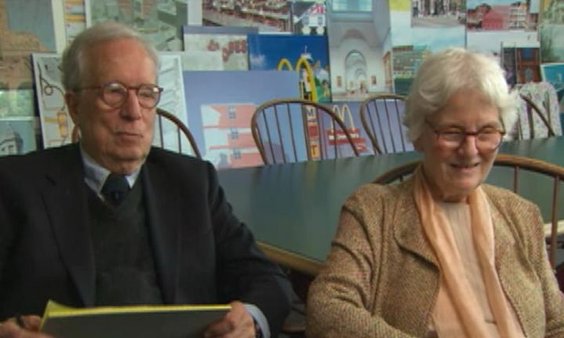 Designing laboratory buildings (Part 2)
Designing laboratory buildings (Part 1)
Robert Venturi and Denise Scott Brown
Architect
1
...
5
6
7
8
9
...
12
[RV] We have found since around 1980 that we have designed many scientific laboratory buildings in universities. And we found from the very beginning that the decorated shed – or let's not even say decorated, let's emphasise the loft building – was extremely significant. That was not an original idea with us, although to some extent it was because, as I've mentioned, Louis Kahn designed a famous scientific research laboratory building at the University of Pennsylvania, which was a glove and not a mitten and which turned out to be not effective to the… for the users, because it did not… did not accommodate this opportunity for flexibility. So, we loved the idea that you could design the loft building for the laboratory in that it accommodated flexibility, but also it could accommodate very explicitly community, and I've written about this, where the users can communicate with each other. They can focus very much and not communicate but connect on their immediate job, they can work as a group and therefore focus, but also intercommunicate among each other as they're working as a team. And then, there is the opportunity, we discovered and emphasize that at the end of the long, long…
[DSB] Corridor?
[RV] Shed, of the corridors…
[DSB] The street through the building.
[RV] The street through the building, there could be light at the end, that there would not be a laboratory at the end there would be light. And that made for amenity, but also you could go up there and sit around the window if you wanted to get a cup of coffee, or you could go up there to sit and communicate. And therefore the question of intercommunication among the academic scientific users was important. And that helped to create a sense of community, which should exist and it also gave variety at the end that was valid. It was not the variety of the Louis Kahn building, which was invalid, but at the end there were these… that was noticeable on the outside or is noticeable, where there're different kinds of windows and there are window seats on the inside that make for that. So, that became a kind of system that we found was workable in almost all of the laboratory buildings we did and that made for buildings that were on the outside quite consistent, they could easily be boring. I think, the first one we did of these was at the University of Pennsylvania – we also worked at Princeton a lot, and then on and on. The outside could be boring, but there is a long tradition of long buildings and they accommodate almost inevitably and automatically the architectural element of rhythm and just generally a kind of even rhythm and sometimes it's A A A A, sometimes it's A A B A A B, or whatever. You find that in a Palace like Versailles and many other places where… that exemplify good and effective architecture. And so, we have enjoyed working and emphasising that kind of architecture, where there was the danger of being boring but also to accommodate flexibility on the inside and the outside. But there were the opportunities to have variations within the system, slight variations but they could be very, very effective. It's a little bit like a man wearing a conventional suit. You make the… the tailor makes the suit so it fits him very well and is appropriate. It's artful in that way, but then also he can wear a necktie that could be not conventional necessarily and it can, kind of, involve a, kind of, expressionistic element.
Internationally renowned architects Robert Venturi (1925-2018) and Denise Scott Brown (b.1931) have helped transform contemporary design through their innovative architecture and planning. Winners of numerous prestigious awards, their designs have championed multiculturalism, social activism, symbolism, pop culture, history and evolving technologies.
Title: Designing laboratory buildings (Part 1)
Listeners: Thomas Hughes
Thomas Hughes is Mellon Professor Emeritus of the History of Science at the University of Pennsylvania and Distinguished Visiting Professor at the Massachusetts Institute of Technology. His most recent books include Human Built World, Rescuing Prometheus and American Genesis. He is a member of the American Philosophical Society, US National Academy of Engineering, Royal Swedish Academy of Engineering Sciences and the American Academy of Arts and Sciences.
Duration: 4 minutes, 29 seconds
Date story recorded: 22nd to 23rd September 2006
Date story went live: 27 May 2010