NEXT STORY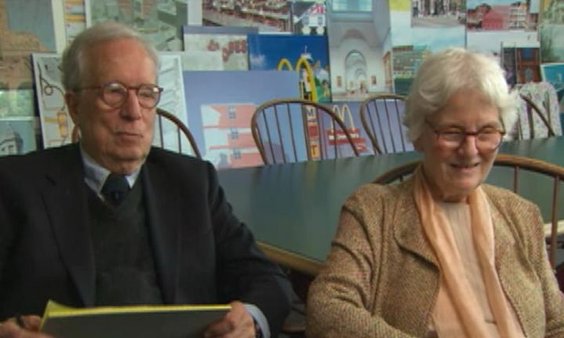 Using the generic in architecture; planning for change
Designing laboratory buildings (Part 3)
Robert Venturi and Denise Scott Brown
Architect
1
...
5
6
7
8
9
...
12
[RV] There is one frustration that should be mentioned with the lab as a decorated shed – the academic lab especially – and that is the decoration on the exterior. The decoration – we love using that word because it was a word that was terribly bad and out of fashion in the Modernist period. The Modernist period which we love, but we're now beyond that. The decoration… because the decoration cannot be extremely whamo in its effect. A building in a campus context has to be recessive on the outside. Very seldom can you have a building that is… that it can be aggressive and can distract you, let's say, when you're walking down the… in front of it and talking to a colleague about the importance of a particular scientific experiment you're involved in, or whatever. So the… we never could… well except for with one exception, we never could use electronic iconography that probably we cannot. We are beginning that maybe able to do that in one particular project we now have in UC Santa Barbara. So, the… let's call it the ornament – the decorated shed – the decoration part in these buildings has been recessive. We've not been able to, kind of, promote our idea in a grandiose way. It is interesting that the nanosciences building we have… we're just completing in the University of California, Santa Barbara, the building is located right at the main entrance, the main automobile entrance, as you come in. So, the building not only has to be effective as a building, in terms of its interior uses, but on the exterior it has to have some, well, connection with the campus as a whole. And one end of the building is not a scientific lab, but a lab… an area of the building that is… where they study dramatic presentations, so, theatre and stuff. And so, that aspect, that one end of this long lab with the rhythmic windows…
[DSB] It's a digital lab, isn't it?
[RV] Yeah, it is largely that, but at the one end of it… that's not on the outside. On the one end there is a wall without windows and on that wall we are now working on a… let's call it a… let's call it a sign board, a billboard which identifies the university, welcomes you as you come in. And one problem with this element of architecture is there can be a lot of arguments among the different users and different groups of people on the campus as to what the content should be as well as what the medium should be. And unfortunately, the medium of electronics is expensive and so we're having some trouble with that. But, ideally we would like to have an electronic system there which can vary over time, make announcements – at four o'clock on Thursday afternoon there will be a lecture by so and so, in such a hall. But then it can also give philosophical ideas or whatever. Again, it's for essentially moving cars, vehicular traffic so it can… has to be not too much involved in detail but it must also connect with appropriate scale. So, we love that project and we are now focusing on that issue and we hope there we can really do what we're talking about in an academic building.
Internationally renowned architects Robert Venturi (1925-2018) and Denise Scott Brown (b.1931) have helped transform contemporary design through their innovative architecture and planning. Winners of numerous prestigious awards, their designs have championed multiculturalism, social activism, symbolism, pop culture, history and evolving technologies.
Title: Designing laboratory buildings (Part 3)
Listeners: Thomas Hughes
Thomas Hughes is Mellon Professor Emeritus of the History of Science at the University of Pennsylvania and Distinguished Visiting Professor at the Massachusetts Institute of Technology. His most recent books include Human Built World, Rescuing Prometheus and American Genesis. He is a member of the American Philosophical Society, US National Academy of Engineering, Royal Swedish Academy of Engineering Sciences and the American Academy of Arts and Sciences.
Duration: 4 minutes, 21 seconds
Date story recorded: 22nd to 23rd September 2006
Date story went live: 27 May 2010