NEXT STORY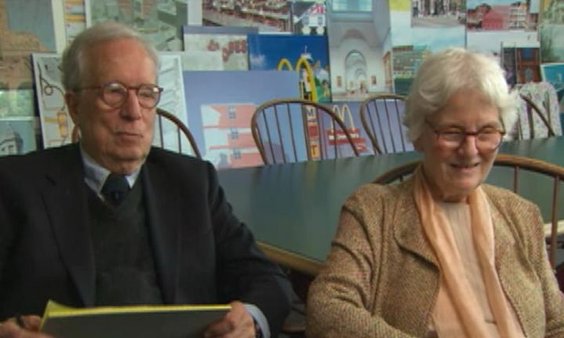 History of Philadelphia and its architecture (Part 1)
Robert Venturi and Denise Scott Brown
Architect
1
...
6
7
8
9
10
...
12
[RV] When we began this, around 1980, this designing of lab buildings, series of lab buildings, we had great fun visiting our friend Phil Finkelpearl up in North Eastern Massachusetts and visiting Lawrence, Massachusetts and other industrial older, 19th century industrial cities. And learning from the great system of New England mills…
[DSB] Learning from lofts.
[RV] And learning from lofts. It was just fabulous. It was just fascinating. The buildings are so beautiful and fortunately not all of them have been demolished and they are being used for other uses. We also were working at that time up in Dartmouth and we'd take a train – a plane up to – what is the capital city of New Hampshire? God, but anyhow, that city is along a river and you drive past it as you drive up to Dartmouth. Oh my, you pass these beautiful, beautiful loft buildings that are still there.
Textile mills, or…?
[RV] Textile mills, I think, yeah. I forget the name of that city.
Is it Portsmouth?
[RV] No.
Hanover?
[DSB] Hanover, yes.
[RV] Is it Hanover? No, Hanover…
[DSB] Well…
[RV] No, Hanover is…
[DSB] Is where Dartmouth is.
Yes.
[RV] Where Dartmouth is, so it's not that. But, anyhow, it is a city that is… well anyhow, we learned a lot specifically from visiting, or certainly looking at the exteriors of New England mills, which are just beautiful buildings. And then, of course, we have beautiful ones in North Eastern Pennsylvania in the city of Bethlehem, which again was a great city for steel production and which no longer is. And we're advising that city, please acknowledge the beauty and the importance of these buildings and use them for other means as you can.
[DSB] The campus buildings of Dartmouth, once you've looked at the mills, they're the same pattern, smaller in scale but they're just, again, these very simple regular buildings which were mills and then, when they were academic buildings, they gave them a little decoration over – around – the main door, and a cupola. And that's what differentiates them but not much more. That's why College Hall on most campuses has had huge varieties of uses within it.
[RV] That's right. And yet, very often they have on the symbolic side, elements which make them symbolically…
[DSB] Different.
[RV] Iconic, iconic buildings; Nassau Hall, William and Mary Hall. So, they're both effective as symbols and effective as loft buildings, which are not articulated architecturally a lot, and all that stuff. They rely on surface treatment with just a little, maybe, cupola on the top, as in Nassau Hall, which is different... But… so, we learned a lot from this great history that accommodates that. I remember writing a letter to the Mayor of Bethlehem in Pennsylvania, saying, you must really work at maintaining these great buildings you have and accommodating new uses for them, because it will be considered historically – your city – the equivalent of Athens of our period.
Internationally renowned architects Robert Venturi (1925-2018) and Denise Scott Brown (b.1931) have helped transform contemporary design through their innovative architecture and planning. Winners of numerous prestigious awards, their designs have championed multiculturalism, social activism, symbolism, pop culture, history and evolving technologies.
Title: Learning from lofts
Listeners: Thomas Hughes
Thomas Hughes is Mellon Professor Emeritus of the History of Science at the University of Pennsylvania and Distinguished Visiting Professor at the Massachusetts Institute of Technology. His most recent books include Human Built World, Rescuing Prometheus and American Genesis. He is a member of the American Philosophical Society, US National Academy of Engineering, Royal Swedish Academy of Engineering Sciences and the American Academy of Arts and Sciences.
Duration: 3 minutes, 40 seconds
Date story recorded: 22nd to 23rd September 2006
Date story went live: 27 May 2010