NEXT STORY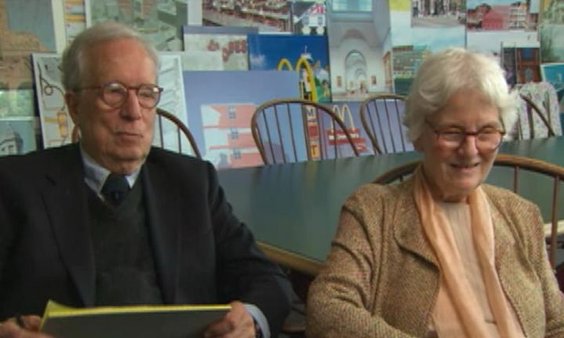 Downtown Memphis, Tennessee
History of Philadelphia and its architecture (Part 2)
Robert Venturi and Denise Scott Brown
Architect
1
...
6
7
8
9
10
...
12
[DSB] It's been resistant to change, because it's been family owned and passed between families and people didn't want to lose that. But I think, very slowly, for example, people in our office moved into some of the little old houses. And suddenly, McMansions appeared at the top of the hill in Manayunk, we haven't seen that in years – new housing. I look out of my window there and I see new houses. It's a shock. And they're not suburban McMansions, they are apartment buildings, but they're big and box-like and you find some more… more ambitious in-fills happening where some houses have been demolished. And they even found it feasible financially, I'm still trying to work out how, to demolish part of the hillside up Shurs Lane and build row houses, having produced a bulldozer and got rid of the rock. I don't know how they afforded that. Someone's uncle must have owned a bulldozer, I feel, I don't see any other way it could have happened.
[RV] But it is interesting that the housing, the old housing, which is very picturesque in this part of the town, never has become a art…
[DSB] Gentrified.
That's interesting.
[RV] Gentrified, art place. It really is… it really is very interesting because it's so picturesque you know – the river… the, this and that. By the way, it is interesting just to answer your original question about the significance of the… of the traditional loft buildings, industrial loft buildings in Philadelphia in general. It's almost as though we don't mention it much because it just sort of goes without saying that you're right, that they're just enormous… there's an enormous tradition and I'm sure it's had an effect on us.
[DSB] And we are in one of them, our office is in one of them.
[RV] It's rather interesting that if you go right across the river here, you are in an area that was donated or sold to the Roberts family in the late 17th century by William Penn. They were naturally Quaker farmers and that whole acreage was farmland and then eventually the family went into industry, became very wealthy. And then around… they became Episcopalians around the time of the civil… the time of the revolution. Then there were huge industrial buildings on this side of the river, further that way, that we remember, that were very soon demolished. Across the river, that were the Roberts family, I don't know… I'm not sure what the product was, but they were huge beautiful buildings that were torn down and then they built this industrial… this commercial stuff. But it's just very interesting evolution of Quaker farmland and then they became Quaker estates of the family members… became… one of them was a President of the Philadelphia Saving Fund Society. Another was the President of the… in the 19th century, of the Pennsylvania railroad. I happen to know a number of them, because they went to the school I went to – the Episcopal Academy – and then of course, they came down the hill and across the river with these factories. So, it's a fascinating, kind of, indication of evolutionary history of the city in this period of Quaker industrial to commercial… then to industrial, yeah industrial and then other kinds of uses. Actually, the Chairman of the… the Director of the American Academy in Rome when I was there was Lawrence Roberts, buried nearby here, who was a wonderful person in my life and he was from that family, and they then became academic and stuff like that. So, it's really interesting evolutionary story.
[DSB] And if you walk along the tow path by the canal down there, it's very romantic.
Yes.
[DSB] And the canal was cleaned out, but it doesn't operate as a canal anymore. On the other hand, there are fish and turtles and sea snakes in there, and garbage in there that they all happily feed on, obviously being a modern city. And you see people fishing there and there're geese that land there. And in the 1970s they took down a great many of the mills that were on that tow path, but many remain and some are disused and the desuetude of the whole thing is part of its romance. There's a restaurant down at the end which looks out on the canal and the river, very picturesque. I wish the food were better. And you can walk considerable length along it and I sometimes do that. It's just enjoyable. It's like it replaces for me things like the wilderness in Africa, that I knew very well, because it is in disorder. If it was all remade and made a pretty place for living and modernised and all that, I'd want to move on somewhere else.
[RV] But you're right that the city in general and in the immediate location, has had an influence on us, there's just no question about it. But as the sort of immediate influence you're not so conscious of, in a way as you are of the influence of architecture in Rome and so forth.
[DSB] But this research studio that I would have liked to have run –, it… it would also look at that… those remains and say what should you do now? And I think, there are places one should look for where there's still a configuration, a confluence of uses and nuclei of commercial uses. And particularly those ones which are near water because that's where people will want to live and fixing up the old mill buildings into loft apartments. And pushing development under the expressway at places where you can. There are certain places where you can go under and particularly if those places where you can go under also have a commercial nucleus there. That's the place you should look for development. And because I do a lot of poring over maps to understand about systems and patterns, and how they're emerging, I wouldn't be at all surprised to find if I went to some of those that I've noticed I would find that in fact they are right now being developed. So, when you look at something and you work out what the pattern should be and you go and find it is happening, it's a wonderful feeling.
Internationally renowned architects Robert Venturi (1925-2018) and Denise Scott Brown (b.1931) have helped transform contemporary design through their innovative architecture and planning. Winners of numerous prestigious awards, their designs have championed multiculturalism, social activism, symbolism, pop culture, history and evolving technologies.
Title: History of Philadelphia and its architecture (Part 2)
Listeners: Thomas Hughes
Thomas Hughes is Mellon Professor Emeritus of the History of Science at the University of Pennsylvania and Distinguished Visiting Professor at the Massachusetts Institute of Technology. His most recent books include Human Built World, Rescuing Prometheus and American Genesis. He is a member of the American Philosophical Society, US National Academy of Engineering, Royal Swedish Academy of Engineering Sciences and the American Academy of Arts and Sciences.
Duration: 7 minutes, 9 seconds
Date story recorded: 22nd to 23rd September 2006
Date story went live: 27 May 2010