NEXT STORY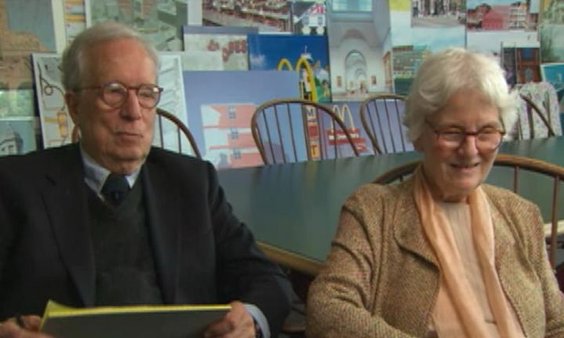 Campus planning for Dartmouth College
Downtown Memphis, Tennessee
Robert Venturi and Denise Scott Brown
Architect
1
...
6
7
8
9
10
...
12
[DSB] The kind of Urbanism that we have worked on, which has been to do with little main streets and their revivals, and poor neighbourhoods and helping them. And working with little communities where the people are not upper middle class people who bring their lawyers to the meeting and want to maintain their property values but people trying to preserve their homes and, you know, having a different view of things. That has been wonderful work. But, there reached a point where we could not afford to do it anymore – the fees were extremely low. Under Nixon-ism and Reagan-ism, planning commissions became like haunted houses and they had no staffs and no data and no money and what they could pay you, you couldn't do the work on.
So, the last one I did was for Memphis… Memphis Tennessee… for the downtown. And the cultural patterns were amazing with the clubs and with a black population right in the inner city, and with Elvis Presley having grown up in public housing there and with the cobblestones and the historic quality of the relation to the Mississippi at that point. Though there are amazing stories to do with spotting the trends that were likely to happen as a result of some… of some innocuous things that I saw there. I've learnt how to be an urban detective. I went down on to the cobblestones and it was very desolate there – incredible feeling of history. And the old cotton factor's offices were being moved into by who else – architects like us here, wonderful architects' offices – but otherwise the cobblestones were used as a parking lot. And a mud island had surfaced in the 1920s and was being developed. It was able to be used for building and I had seen a plan for a route coming through there –, it was called Route FAP3 and I knew that there was a route… a ring road round the whole of Memphis. And I was on these cobblestones, and they were used for parking, they were not treated with respect and love.
I said, 'Okay, but then here's something that doesn't follow. The ramp down to these cobblestones has not been made permanent, it's a mud ramp. Now, they want parking here. This whole society is trending to finding places and they're using it, but they haven't put a ramp there. Why not?' And I looked and suddenly I had a picture in my mind of an urban renewal area about to be demolished, all boarded up. And I said, 'They're going to demolish the cobblestones and put an expressway across the front'. Then I went back to that map of the ring roads and I put in FAP3, which was authorised, but not built, on Mud Island and there was this much space with no expressway that was the cobblestones.
So, I went to the next citizens meeting and I showed them that map. And I didn't need to say a word they all started screaming. And then the engineers were there and they said, 'Only she says there's going to be an expressway there', and they were all saying, 'You're lying'. And it was an amazing, amazing meeting.
And so, what happened was the express… the FAP3 was dropped and… but they… it was a pyrrhic victory because they took all that money that was needed in the city and put it out in the suburbs. And the engineers were saying, 'You people want development, why don't you help us? Be rational, do the right thing. Wreck the cobblestones'.
Anyway, it was… so, but, those were wonderful days and I love that kind of planning where we were into folk music, black patterns of living and medical centers and environmental problems with the danger of earthquakes. And the whole of the bluffs falling into the river, and yet they were building skyscrapers on the bluffs and we started warning people. It was really wonderful work and there was a very strong character there and the design component of helping to maintain that character as they grew. But I said at the end of that, I can't make our firm lose the kind of money we're losing, for doing that kind of work and particularly since there was little support for it, in the end, in Memphis. So, just as I said that, Dartmouth approached us and said, would you like to do some campus planning?
Internationally renowned architects Robert Venturi (1925-2018) and Denise Scott Brown (b.1931) have helped transform contemporary design through their innovative architecture and planning. Winners of numerous prestigious awards, their designs have championed multiculturalism, social activism, symbolism, pop culture, history and evolving technologies.
Title: Downtown Memphis, Tennessee
Listeners: Thomas Hughes
Thomas Hughes is Mellon Professor Emeritus of the History of Science at the University of Pennsylvania and Distinguished Visiting Professor at the Massachusetts Institute of Technology. His most recent books include Human Built World, Rescuing Prometheus and American Genesis. He is a member of the American Philosophical Society, US National Academy of Engineering, Royal Swedish Academy of Engineering Sciences and the American Academy of Arts and Sciences.
Duration: 4 minutes, 47 seconds
Date story recorded: 22nd to 23rd September 2006
Date story went live: 27 May 2010